After Setbacks, Mitch McConnell Calls for Full Obamacare Repeal Vote
The Senate majority leader conceded late Monday that "the effort to repeal and immediately replace" the Affordable Care Act "will not be successful." He's now pivoting to a repeal-and-delay plan.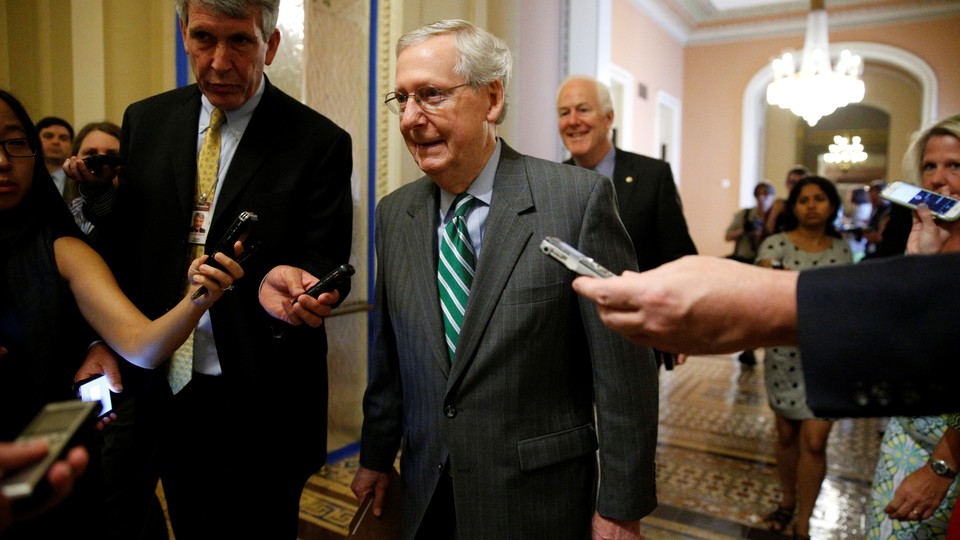 Updated at 11:30 p.m. ET
Late Monday night, Senate Majority Leader Mitch McConnell called for a "repeal of Obamacare with a two-year delay" after two Republican defections derailed the latest iteration of his party's plan to roll back the Affordable Care Act.
"Regretfully, it is now apparent that the effort to repeal and immediately replace the failure of Obamacare will not be successful," McConnell said in a statement. "So, in the coming days, the Senate will vote to take up the House bill with the first amendment in order being what a majority of the Senate has already supported in 2015 and that was vetoed by then-President Obama: a repeal of Obamacare with a two-year delay to provide for a stable transition period to a patient-centered health-care system that gives Americans access to quality, affordable care."
Shortly before the GOP leader's announcement, Trumpcare was thrown into peril in the Senate when Republican Senators Mike Lee of Utah and Jerry Moran of Kansas simultaneously tweeted their opposition to the repeal-and-replace legislation, jeopardizing McConnell's vote count. Last week, GOP lawmakers Susan Collins and Rand Paul came out against the legislation. Monday's news from Lee and Moran brought the total number of "no" votes up to four.
McConnell could only afford two defections from the 52-member Senate Republican conference. Republicans planned to push their bill through using a process known as reconciliation—which has a lower, 50-vote threshold for passage—and with the help of Vice President Mike Pence in the event of a tie.
The setback cast fresh uncertainty on the Republican effort to dismantle former President Barack Obama's signature health-care law. Promises of repeal constituted the central pillar of the GOP platform when the party was out of power in the White House. But despite having control of both the presidency and Congress now, Republicans have not yet managed to deliver on their health-care agenda. That has left President Trump without any major legislative achievements to capitalize on, and has created division within the ranks of congressional Republicans.
The president weighed in on the fate of the law Monday night on Twitter: "Republicans should just REPEAL failing ObamaCare now & work on a new Healthcare Plan that will start from a clean slate. Dems will join in!"
Prospects appear dim, however, that GOP leaders can find enough votes to pass a repeal plan without an immediate replacement, given how many Republican senators would likely balk at the potential for uncertainty. The New York Times reported Monday evening that  a repeal-only vote "has almost no chance to pass, however, since it could leave millions without insurance and leave insurance markets in turmoil."
A central sticking point in congressional health-care deliberations has been a clash between moderate Republicans—who feared the Senate's most recent legislation would have gone too far in altering key parts of Obamacare, like its Medicaid expansion—and conservative Republicans, who expressed dismay that the bill did not go far enough in undoing it. Analyses of a recent iteration of the Senate's bill determined that, if enacted, the legislation would leave upwards of 20 million Americans without health insurance in the next decade.
"We must now start fresh with an open legislative process," Moran said in his statement Monday, a criticism directed at Senate Republican leadership over the secrecy with which the latest legislation was crafted. "This closed-door process has yielded the [the Better Care Reconciliation Act], which fails to repeal the Affordable Care Act or address health care's rising costs. For the same reasons I could not support the previous bill, I cannot support this one."
In his statement, Lee stated that he had "decided I cannot support the current version of the Better Care Reconciliation Act." Lee argued that "in addition to not repealing all of the Obamacare taxes, it doesn't go far enough in lowering premiums for middle class families; nor does it create enough free space from the most costly Obamacare regulations."
The health-care bill had already suffered a setback over the weekend when news broke that Arizona Republican John McCain would not be able to return to Washington for a previously anticipated vote this week due to surgery he had to remove a blood clot. McConnell then announced that the Senate would "defer" consideration of the health-care legislation during the senator's recovery.
Republican leadership has been attempting to pass legislation without Democratic support, but Democrats have said that they would be willing to work with Republicans on fixes to Obamacare if repeal were no longer on the table.
On Monday evening, Senate Minority Leader Chuck Schumer reacted to Lee's and Moran's announcements by calling for both parties to work together on legislation that "improves our health-care system." In a statement, Schumer called the defections "proof positive that the core of this bill is unworkable." But he held out the possibility of compromise: "Rather than repeating the same failed, partisan process yet again, Republicans should start from scratch and work with Democrats on a bill that lowers premiums [and] provides long-term stability to the markets."
McCain joined the bipartisan push on Monday evening, calling for Congress to "return to regular order, hold hearings, receive input from members of both parties, and heed the recommendations of our nation's governors so that we can produce a bill that finally provides Americans with access to quality and affordable health care."
Monday's development is the latest in a series of obstacles the Republican health-care push has faced in both chambers of Congress. In March, House Speaker Paul Ryan abruptly pulled a vote on the House version of the legislation, only to cobble together the votes needed to pass a version of the bill in May.
All along, activists have kept up a steady campaign of opposition to the legislation, protesting GOP lawmakers at town halls and with sit-ins timed to when Republican senators are home from Washington.