Health Care's Bipartisan Moment?
After the failure of the Senate Republican repeal plan, Democrats say they are ready to deal.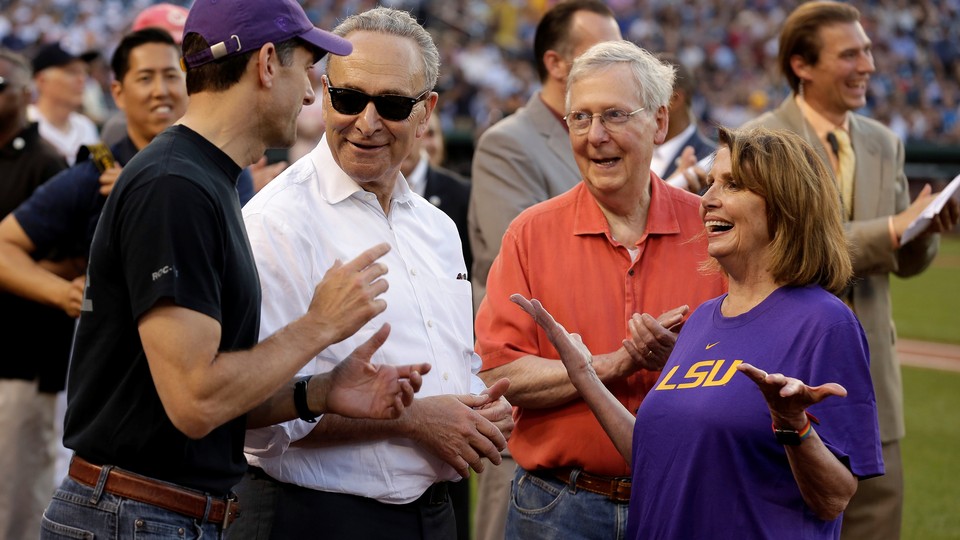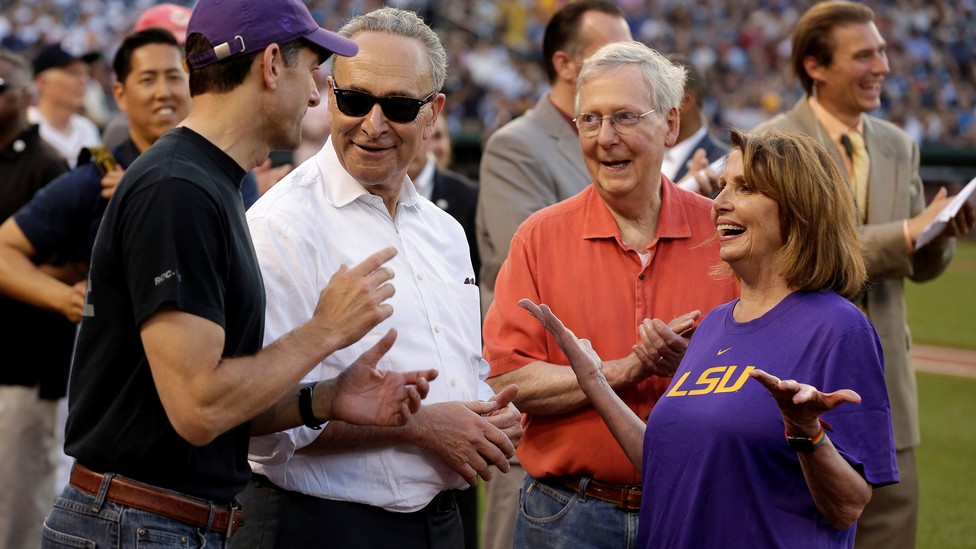 As soon as three Republican senators torpedoed the GOP's latest repeal-and-replace push early Friday morning, a simmering question bubbled back up again.
Is it finally, at long last, after seven years of one-party efforts, time for bipartisanship on health care?
The short answer is maybe.
Fresh off their biggest victory of Donald Trump's still-young presidency, Democrats on Friday seized an opening to offer up their own ideas to fix the Affordable Care Act with the hope of sustaining a law that, while free of an immediate legislative threat, still faces uncertainty under the stewardship of an administration rooting for its failure.
"I hope we can work together to make the system better in a bipartisan way, and I'm optimistic that can happen," Senate Minority Leader Charles Schumer said during a Friday press conference that was part victory lap, part political opportunism. "Nobody has said Obamacare is perfect. Nobody has said our health-care system doesn't need fixing."
Democrats had refused to negotiate with Republicans on health care until the GOP gave up on repeal, and while the party hasn't quite done that, Schumer's offer is an indication that Democrats are increasingly confident it is dead. Congress is headed for a long summer recess and will have to fund the government and raise the debt ceiling when lawmakers return in September. That leaves only a small window for health care before the clock runs out on the GOP's reconciliation process—its only legislative vehicle for repeal—on October 1.
Whether Republicans are ready to join Schumer remains entirely unclear, as the same tactical and policy divisions that stymied their repeal effort quickly resurfaced on Friday. President Trump lashed out, returning to his earlier suggestion of sabotaging the law administratively—letting it "implode," in his tweeted words—and waiting for Democrats to come begging for a deal. But the president again betrayed a fundamental misunderstanding of legislative politics and the Senate's basic rules in a later tweet, when he called on Republican to fully eliminate the filibuster and return to a 51-vote for passing bills.
It was not the filibuster that thwarted the repeal effort, however. Senate Republicans were already using a budget process requiring a simply majority vote, and Trump's own vice president, Mike Pence, was in the chamber on Friday morning waiting—and hoping—for the chance to put the bill over the top. (The president soon issued somewhat of a clarification, but did not retract his call.) "His analysis is based on fluff. I just don't get it," Schumer said of the president's tweets.
In defeat, Senate Majority Leader Mitch McConnell alluded to the possibility of bipartisanship, but he began with a rueful tone toward Democrats and seemed to draw a line through one of their top priorities. "Now I think it's appropriate to ask, what are their ideas?" McConnell said moments after his proposal went down. "It'll be interesting to see what they suggest as the way forward. For myself I can say—and I bet I'm pretty safe in saying for most on this side of the aisle—that bailing out insurance companies with no thought of any kind of reform, is not something I want to be part of."
Schumer made clear that what McConnell referred to as a bailout of insurers—the permanent payment of cost-sharing reduction fees to help stabilize the individual market—would be a top demand of Democrats. He also promoted proposals from Senators Tim Kaine of Virginia and Tom Carper of Delaware that would reestablish a reinsurance program to provide further help to the market, an idea that Republican state legislators in Alaska and Minnesota have embraced.
As for what changes to Obamacare that Democrats might offer up as concessions to Republicans, Schumer wouldn't say. "I'm not going to get into negotiations here the day after, but there has to be a give and take," the New Yorker said.
The appetite for bipartisan talks appears to be stronger in the Senate than in the more conservative House, where a number of Republicans issued statements urging their Senate colleagues not to give up on repeal. Schumer said he had already spoken to House Speaker Paul Ryan about working together, but in a statement of his own, Ryan made no mention of turning to bipartisanship.
"We were sent to Washington to fulfill the pledges we made to our constituents," he said. "While the House delivered a bill to repeal and replace Obamacare, unfortunately the Senate was unable to reach a consensus. I am disappointed and frustrated, but we should not give up. I encourage the Senate to continue working toward a real solution that keeps our promise."
If a bipartisan deal emerges, it would probably come out of the Senate, where some behind-the-scenes talks have already begun. The House is prepared to move quickly to the GOP's next priority: tax reform. But no breakthroughs on either issue are imminent. The House is leaving Friday for a five-week recess, with the Senate expected soon to follow.