Where Donald Trump Jr. Is Still Loved
Trump's legions of internet fans have a special affection for the president's eldest son: "There's a sense that he's kind of one of us."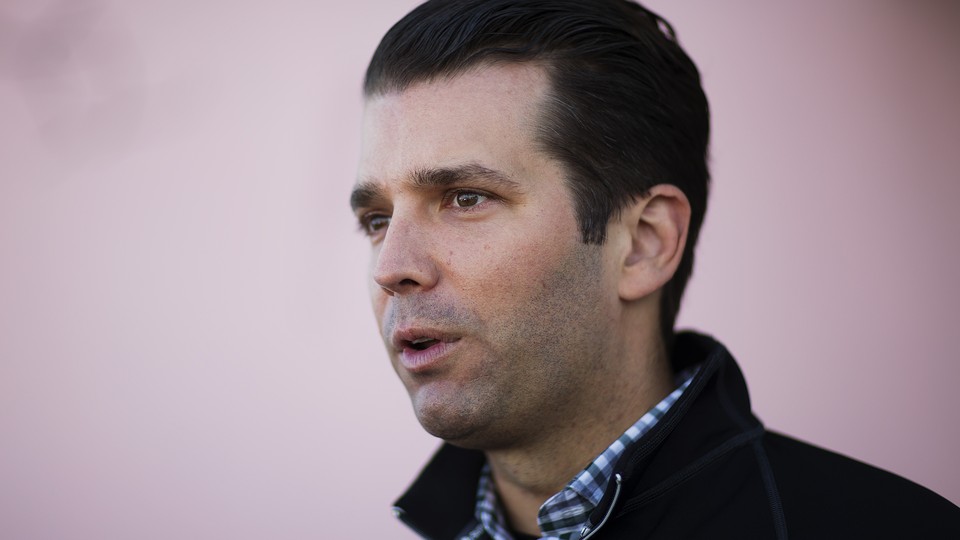 Donald Trump Jr.'s bombshell disclosure of emails arranging a meeting with a Russian lawyer during the campaign has intensified scrutiny of Russian efforts to aid his father during the 2016 election.
But the incident also calls attention to Trump Jr.'s position within Trump world as a bridge to the fringe elements of Trump's support, and someone in the inner circle who is plugged into alternative information streams.
Among the Trumps, Trump Jr. is second only to his father when it comes to Twitter presence. Trump Jr. tweets aggressively in defense of the president, and against his enemies both real and perceived. He frequently interacts with ascendant figures of the pro-Trump alternative media landscape, people like Mike Cernovich and Jack Posobiec, retweeting and amplifying their voices. As Trump Jr. has come under attack, they have returned the favor by mounting a full-scale defense of him online.
"He's active on Twitter, he seems to share a similar worldview and sensibility as a lot of us, so there's a sense that he's kind of one of us," said Jeff Giesea, an organizer within the pro-Trump movement and former employee of Peter Thiel's Thiel Capital Management.
"We're all part of the same team in a way," Giesea said. "I think Mike Flynn Jr. kind of has that similar vibe," he said, referring to the son of the former National-Security Adviser Michael Flynn.
Trump Jr. is a particular favorite of the online Trump cheerleading squad, more so than the other Trump children. Eric Trump, also a Trump Organization executive, has maintained a relatively low profile; Ivanka Trump has been the object of criticism from some in the base for appearing to want to moderate her father.
"Eric is in this for his dad, if Trump weren't POTUS, Eric wouldn't have much if anything to say about politics other than anodyne observations about democracy and elections. He wouldn't be involved in politics at all," said pro-Trump blogger and Twitter personality Mike Cernovich. To Cernovich, Ivanka is "not a natural Trump supporter" and "wants to be liked by the D.C. chattering class," though he described the base as "highly protective" of her.
But then there is Don.
"Don Jr. truly believes in Trump's America First policies and would have been a supporter even without the family ties," Cernovich said. "He enjoys raising Hell and calling CNN fake news. He's not merely being loyal to his father, this is fun for him. Don Jr. does a great job of going hard without being nasty, a style I need to adopt for myself more frequently. This style of going hard without being gratuitously mean endears him to the base."
"Don Jr. is a hugely vocal supporter of President Trump on Twitter," said Posobiec, another pro-Trump media personality who came to prominence as one of the first tweeters of the hacked Emmanuel Macron emails (and who, like Cernovich, has made appearances recently in the White House press briefing room). "He is there with us day in and day out fighting back against the fake news hysteria and the obstruction in Congress. He is with us in the trenches."
Trump Jr. mixes with this crowd on Twitter, more so than possibly any other close Trump associate. A scan of his feed shows that in recent weeks, he's retweeted Posobiec and activist Stefan Molyneux, and he has praised Cernovich at one point, calling for him to win a Pulitzer.
Cernovich said he doesn't directly talk to Trump Jr. "He's retweeted me a few times, but I don't know if he talks to anyone else," Posobiec said.
One of the unsolved mysteries of President Trump is how edgy internet memes find their way onto his social-media feeds, something that has occurred since during the campaign. There was the Star of David tweet last summer, which Trump social-media guru Dan Scavino said later in a statement was "lifted from an anti-Hillary Twitter user where countless images appear"; most recently, and most explosively, there was the video of Trump wrestling an opponent with a CNN logo superimposed over his face, tweeted over the July 4 weekend.
One White House official told me that there is internal speculation inside the White House that Donald Jr. may have been the one who found the video and passed it on; a White House spokesperson did not respond to a request for comment on this. The video originated on Reddit, where a version was originally posted by a user called HanAssholeSolo.
However Donald Jr. regards Trump's internet loyalists, and whether or not he serves as a conduit of their memes and views to the president, they clearly regard him as one of their own. On Tuesday, the release of Trump Jr.'s email chain with Rob Goldstone, the British music publicist who brokered the meeting, shows Goldstone clearly characterizing the meeting as related to the Russian government. The emails confirm The New York Times's reporting.
This didn't faze Trump Jr.'s defenders, though.
".@DonaldJTrumpJr posted the full email, as suspected the lying NY Times fabricated another fake story!" Cernovich tweeted.