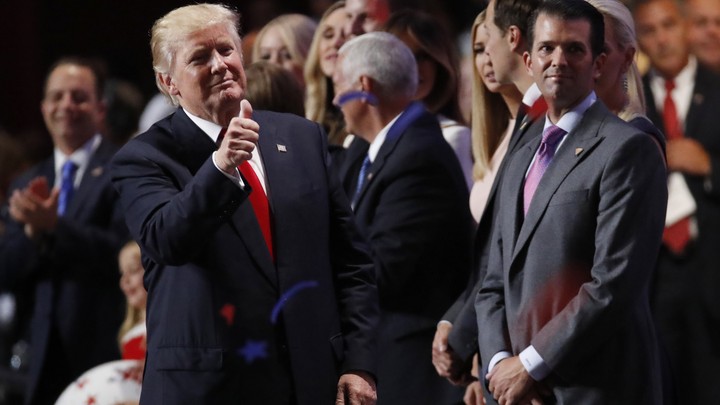 Donald Trump Jr. was told a "Russian government attorney" wanted to convey information to him that was damaging to Hillary Clinton, because the Russian government wished to aid the presidential campaign of Donald Trump Sr. "If it's what you say I love it," he responded, and met with her on June 9, 2016.
That's according to documents released by the president's eldest son on Twitter on Tuesday. The documents (more easily viewed here) fully vindicate a series of New York Times articles in the preceding three days, and contradict Trump Jr.'s previous statements.
In a June 3, 2016, email, Rob Goldstone, a music publicist and acquaintance of Trump Jr. wrote to him:
The Crown prosecutor met with [musician Emin Agalarov's] father Aras this morning and in their meeting offered to provide the Trump campaign with some official documents and information that would incriminate Hillary and her dealings with Russia and would be very useful to your father.

This is obviously very high level and sensitive information but is part of Russia and its government's support for Mr. Trump.
The final sentence is essential because it shows that Trump Jr. knew going into the meeting that the purpose was to receive information damaging to the Clinton campaign. Trump Jr. had previously denied that he knew what the meeting was going to be about before he entered it.
In a later email, dated June 7, Goldstone wrote to Trump Jr. that he wished to "schedule a meeting with you and The Russian government attorney who is flying over from Moscow." That's important because Trump Jr. previously claimed that he did not know that the woman, Natalia Veselnitskaya, was Kremlin connected. She has also claimed that she was not working on behalf of the government. Goldstone also previously untruthfully told the Times that he did not know the source of the information that Veselnitskaya was offering.
Finally, the emails make clear that Jared Kushner, President Trump's son-in-law and a White House senior adviser, and Paul Manafort, then Trump's campaign chairman, were both copied in, meaning they too would have been aware of the purpose of the meeting and of Veselnitskaya's identity. Kushner failed to disclose the June 9 meeting when applying for security clearance, but more recently did disclose it, as did Manafort. Both Kushner and Manafort are under investigation for business dealings and in relation to a broader investigation into the Trump campaign's ties to Russia.
It's still unclear if any allegedly damaging information changed hands. Trump Jr. and Veselnitskaya both say it did not, though both have seen their previous accounts proven untruthful. In any case, the Trump campaign never produced any documents that fit the description in the emails. Trump Jr. has said that Veselnitskaya was "vague" about the damaging info and instead focused on frustrations over adoptions of Russian children by Americans, related to the Magnitsky Act, a U.S. law meant to punish Russian human-rights abuses.
Trump Jr.'s decision to release the full emails, after previously lying about his discussions, is yet another watershed moment. It provides the most solid evidence yet that members of the Trump campaign's inner orbit were ready and willing to collude with the Russian government, and it proves that the Trump campaign knew that the Kremlin supported Trump's campaign against Hillary Clinton. (In mid-July, weeks after the meeting, Trump Jr. appeared on CNN, where he blasted the notion that Russia backed his father as "phony" and "disgusting.")
This might also explain why in recent days Trump Jr. and some of his allies have gone from arguing that there was no collusion with Russia to arguing that such collusion is par for the course—though some experts believe there is already enough evidence to prosecute him for a federal crime, and campaign veterans deny that this in any way resembles standard operating procedure.
It's unclear why Trump Jr. would release the emails now, except perhaps to preempt a release elsewhere. Each of his previous denials has been met by new reports with stronger evidence of his dishonesty. In a statement with the documents, Trump Jr. said he released them "in order to be totally transparent." He also said that the meeting "occurred before the current Russian fever was in vogue," which makes little sense: like saying no one was angry about a crime before it occurred.
The biggest question still outstanding from the June 9 meeting is when Donald Trump Sr. became aware of it. The president's attorney, a White House spokeswoman, and Trump Jr. have all claimed that the elder Trump was not aware of the meeting and was only informed of it recently—even though two members of his close-knit family and the boss of his campaign were in attendance.
We want to hear what you think about this article. Submit a letter to the editor or write to letters@theatlantic.com.