Why Did Donald Trump Jr. Meet With a Russian Lawyer Promising Information?
The president's son says Natalia Veselnitskaya promised him "information helpful to the campaign." The meeting, which also included Paul Manafort and Jared Kushner, came days before the DNC reported its servers had been hacked.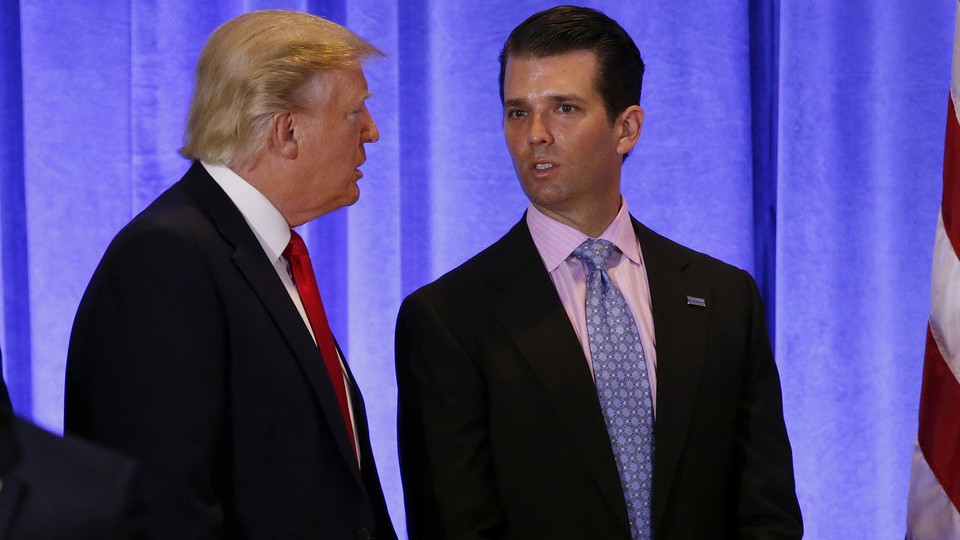 Donald Trump Jr. met with a Russian lawyer with ties to the Kremlin during the 2016 campaign after she promised him damaging information about Hillary Clinton, the president's eldest son said in a statement Sunday, shedding new light contacts between Trump's innermost circle and Russian figures last year.
Donald Jr. told The New York Times and other news outlets that he, his brother-in-law Jared Kushner, and then-campaign chairman Paul Manafort met with the lawyer Natalia Veselnitskaya at Trump Tower on June 9, 2016. He said she established contact with him through an unnamed acquaintance he had met during the 2013 Miss Universe pageant, which his father had organized in Moscow, and that he knew she might have "information helpful to the campaign."
"After pleasantries were exchanged, the woman stated that she had information that individuals connected to Russia were funding the Democratic National Committee and supporting Ms. Clinton," he said in a statement. "Her statements were vague, ambiguous and made no sense. No details or supporting information was provided or even offered. It quickly became clear that she had no meaningful information."
Sunday's revelation is the most concrete evidence yet that President Trump's campaign was receptive to foreign assistance to undermine Hillary Clinton's presidential bid during the 2016 campaign. It came one day after the Times reported Donald Jr.'s meeting with Veselnitskaya for the first time. In a statement provided for that article, he told the Times the meeting focused on Russian adoptions and the Magnitsky Act, a bipartisan act of Congress that sanctioned top Russian officials for human-rights abuses in 2012.
In statements to the Times and other news outlets, a spokesman for President Trump's legal team said then-candidate Trump "was not aware of and did not attend the meeting" with Veselnitskaya. Donald Jr. also said in his statement that he did not tell Kushner or Manafort about the reason for the meeting before it took place. Both Kushner and Manafort have reportedly come under scrutiny by federal investigators for their Russia-related ties before and during the election.
The June 9 date of the meeting places it before potential Russian interference in the election became public knowledge. Donald Jr.'s meeting with Veselnitskaya came five days before the Democratic National Committee admitted on June 14 it had been targeted by a cybertheft campaign, which it attributed to Russian hackers.
The following month, on July 23, Wikileaks released 22,000 stolen emails from the Democratic National Committee on the eve of the Democrats' national convention. Embarrassing disclosures in the emails led to the resignation of Debbie Wasserman Schultz as the party's chair. Three months later, on October 7, Wikileaks published emails stolen from Clinton campaign chairman John Podesta. The U.S. intelligence community concluded after the election that both cyberthefts were orchestrated by Moscow to damage Clinton's candidacy and bolster Trump's chances.
As a presidential candidate, Trump had publicly called on Russia to find a trove of deleted emails from the private email server Clinton maintained during her tenure as secretary of state. "Russia, if you're listening, I hope you're able to find the 30,000 emails that are missing," he said in a July 27, 2016, press conference, three days after the DNC email leak. "I think you will probably be rewarded mightily by our press." Aides subsequently claimed Trump was joking at the time, and none of the deleted emails from her private server ever publicly surfaced.
Before and since taking office, Trump and his associates have strongly denied allegations that he or his campaign colluded with the Russian government during the election. Those allegations are one part of the sprawling investigation into Russian interference currently overseen by Special Counsel Robert Mueller. Trump has described that inquiry as a "witch hunt" launched by Democrats to delegitimize his victory in the presidential election, and at one point reportedly considered ousting Mueller from his post.
Sunday's revelations also come one day after Trump's first face-to-face meeting with Russian President Vladimir Putin during the G-20 summit in Hamburg, Germany. The Washington Post reported last month that U.S. intelligence agencies had captured Putin's direct instructions to damage Clinton's electoral prospects in an effort to aid Trump. In a series of tweets Sunday morning, the president said he "strongly pressed" Putin about the election meddling, which Putin "vehemently denied." He also indicated he would work with the Russian president on hacking-related issues in the future.
"Putin & I discussed forming an impenetrable Cyber Security unit so that election hacking, & many other negative things, will be guarded and safe," Trump wrote.