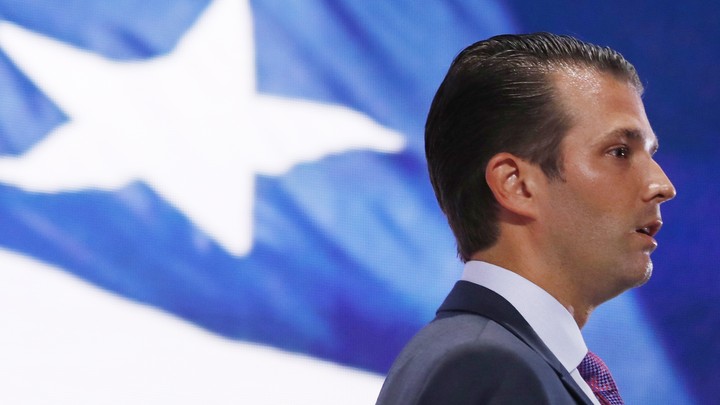 Updated on July 11, 2017 at 5:28 p.m.
As public attention over Russian involvement in the 2016 United States presidential election increasingly focuses on President Trump's son, Donald Trump Jr., Republicans and Democrats in Congress are expressing alarm.
Senate Democratic Leader Chuck Schumer said on Tuesday that a chain of email correspondence released by Trump Jr. earlier in the day mark "the end of the idea pushed by the administration and the president that there is absolutely no evidence of intent to coordinate or collude."
Hillary Clinton's former vice presidential running mate, Senator Tim Kaine, called the emails  "explosive," and raised the possibility of treason. Democratic Senator Ron Wyden, a member of the Senate Intelligence Committee, which is investigating potential links between Trump associates and Russia, reacted to the release of the emails with a statement saying that "there is no longer a question of whether this campaign sought to collude with a hostile foreign power to subvert America's democracy."
The accusations followed the publication of a bombshell New York Times report on Monday evening, citing three anonymous sources, which claimed that "before arranging a meeting with a Kremlin-connected Russian lawyer he believed would offer him compromising information about Hillary Clinton, Donald Trump Jr. was informed in an email that the material was part of a Russian government effort to aid his father's candidacy."
On Tuesday morning, Trump Jr. appeared to confirm the Times report when he posted a series of emails to Twitter.
One email sent by Rob Goldstone, a publicist who reportedly helped set up a meeting between Trump Jr. and the Russian lawyer, reads: "The Crown prosecutor of Russia met with his father Aras this morning and in their meeting offered to provide the Trump campaign with some official documents and information that would incriminate Hillary and her dealings with Russia would be very useful to your father. This is obviously very high level and sensitive information but is part of Russia and its government's support for Mr. Trump." Another email in the chain of correspondence sent by Trump Jr. reads: "if it's what you say I love it."
The email disclosures are the latest in a series of explosive revelations detailing ties between Trump allies and Russian operatives. The news will inevitably worsen the cloud of scandal and controversy surrounding the White House. It remains to be seen, however, exactly how it will impact the ongoing federal and congressional investigations into Russian involvement in the election.
During a press conference on Tuesday, Schumer called on Trump Jr. "and other campaign associates to turn over any and all documents, and electronic communications that investigators ask for." He added, "we need public testimony under oath of Donald Trump Jr. who has changed his story repeatedly."  
Representative Adam Schiff, the top Democrat on the House Intelligence Committee, described the revelations as "very significant" and "deeply disturbing," calling them "new, public information about direct contacts between the Russian government and its intermediaries, and the very center of the Trump family, campaign, and organization." He added: "we need to get to the bottom of exactly what happened, what was said in that meeting, what went into organizing that meeting, as well as if that meeting was just the beginning, or a testing of the wasters to see whether the campaign would be receptive to their engagement and involvement in the presidential election."
"Nothing is proven yet. But we're now beyond obstruction of justice in terms of what's being investigated. This is moving into perjury, false statements, and even into potentially to treason," Democratic Senator Tim Kaine, Hillary Clinton's former vice presidential running mate, told reporters Tuesday morning.
Kaine wasn't the only Democrat in Congress to raise the possibility of treason on Tuesday. Democratic congressman Seth Moulton wrote on Twitter in response to the email transcript, "If this isn't treasonous, I'm not sure what is."
Speaking to reporters on Tuesday, Republican Senator Lindsey Graham also expressed concern, saying: "Anytime you're in a campaign, and you get an offer from a foreign government to help your campaign, the answer is no. I don't know what Mr. Trump Jr.'s version of the facts are, definitely he has to testify, that email was disturbing … on its face this is very problematic."
A number of high-ranking Republican lawmakers had a far more muted reaction to the news, however, declining to wade into specifics when asked about the email revelations, or suggesting that they do not want to rush to judgement about the disclosures.
Senate Majority Leader Mitch McConnell deflected questions from reporters about whether he is personally concerned over the Trump Jr. revelations, and whether the latest developments make it harder to trust the president with respect to Russia. "The investigation in the Senate is being handled by the Intelligence Committee, and I'm sure they'll get to the bottom of whatever happened," he said.
Senator Richard Burr, the chair of the Senate Intelligence Committee, reportedly said that his panel will "go where the facts lead us," adding, "I don't form conclusions until I've finished the investigation."
In an interview with MSNBC on Tuesday afternoon after the emails had been posted to Twitter, Kaine said: "These emails are very explosive." He continued: "They should have turned this over to law enforcement immediately. Instead, they had this very, very troubling meeting. This is just wheelbarrows full of new evidence for the special prosecutor and the Senate Intelligence committee."
Kaine is not himself a member of the Senate Intelligence Committee, and neither is Graham. A Spokesperson for the Senate Intelligence Committee did not immediately return requests for comment. A spokeswoman for Republican Rep. Mike Conaway, who is overseeing the House Intelligence Committee probe of Russia involvement in the presidential election, wrote in an e-mail:  "Unfortunately, I can't comment on an ongoing investigation."
Democratic Senator Ron Wyden, who is a member of the Senate committee probing Russian election involvement, put out a statement on Tuesday saying "these emails show there is no longer a question of whether this campaign sought to collude with a hostile foreign power to subvert America's democracy. The question is how far the coordination goes."
Democratic Senator Tammy Duckworth said in a statement that "Today, Donald Trump Jr. undermined his father's denials by admitting that he and the President's closest advisors did, in fact, knowingly and gleefully seek help from Russian government officials who were trying to interfere in our election."
In his comments to reporters, Graham added: "We cannot allow foreign governments to reach out to anybody's campaign, and say 'We'd like to help you.' That is a non-starter. I know Donald Trump Jr. is new to politics. I know that Jared Kushner is new to politics, but this is going to require a lot of questions to be asked and answered."
Democrats have been attempting to focus public attention on the Senate Republican health-care bill, which GOP congressional leaders are trying to find enough votes to pass. Earlier on Tuesday, Democratic Senator Chris Murphy wrote on Twitter that the GOP health care bill should be a higher priority than the "Russia/Trump Jr. story" this week. Later in the day, after the release of Trump Jr.'s email chain, however, the senator tweeted again to say: "Oh my. I'm moving Russia/Trump Jr. up a notch [on the list of priorities]."
We want to hear what you think about this article. Submit a letter to the editor or write to letters@theatlantic.com.
Clare Foran
is a former associate editor at
The Atlantic
.