The Inadvisable President
Donald Trump is an impossible boss, demanding absolute personal loyalty—even when it conflicts with the law or other key principles—and offering little faithfulness in return.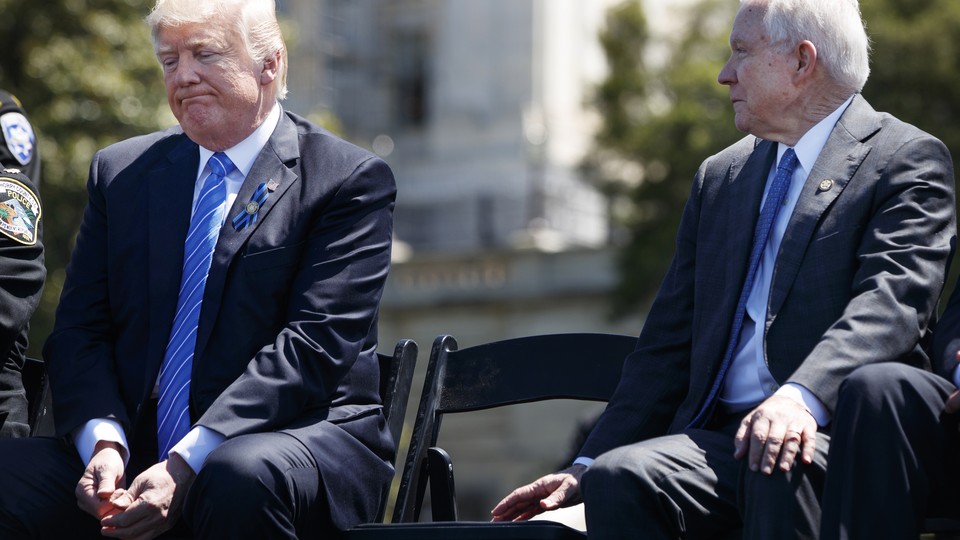 Maybe it should come as little surprise that a man who, until summer of 2015, was most famous for firing people, is not a good boss. Yet President Trump's comments Wednesday about Attorney General Jeff Sessions, delivered in an interview with The New York Times, still take one's breath away.
"Look, Sessions gets the job. Right after he gets the job, he recuses himself," Trump said. "So Jeff Sessions takes the job, gets into the job, recuses himself. I then have—which, frankly, I think is very unfair to the president. How do you take a job and then recuse yourself? If he would have recused himself before the job, I would have said, 'Thanks, Jeff, but I can't, you know, I'm not going to take you.' It's extremely unfair, and that's a mild word, to the president."
There's no obvious analogy for a president going after his own attorney general so aggressively in public, much less in an interview with a paper he has repeatedly derided as "failing." Trump's comments are not only a huge breach of protocol, they're odd because Sessions serves at the pleasure of the president, and Trump could fire him. The president's anger at Sessions for recusing himself from the Russia investigation has been reported before, and Sessions reportedly offered to resign in May—but Trump refused the offer. Yet this is different: Trump is going after Sessions publicly, assailing his judgment and saying unequivocally that he wishes he had another attorney general. Politico reports that Trump's comments came without warning to anyone in the administration.
Trump's broadside against Sessions is also remarkable because the attorney general has been one of his staunchest and oldest supporters. Sessions endorsed Trump in February 2016, when most Republican officeholders were keeping Trump at several arms' length, and he did so at great political risk to himself. The Alabama senator was a major influence on Trump's positions, from immigration to national security to trade policy, and he loaned Trump one of his own top aides, Stephen Miller, who then became a crucial Trump adviser.
But the president's fury shows the way that scrutiny of his ties to Russia has come to overshadow all else in the White House's vision. Trump recognizes the danger that the investigation poses to his agenda and indeed to his presidency itself. He desperately wants to be able to kill the investigation, and yet he realizes how little power he has to do that—hence his anger at Sessions, who he seems to think could have killed investigations into Russia before it was too late had he not recused himself, and who might never have appointed Robert Mueller as special counsel.
"Jeff Sessions, Jeff Sessions gave some bad answers," Trump said of the attorney general's confirmation hearings in the Senate. "He gave some answers that were simple questions and should have been simple answers, but they weren't."
Trump is right. Sessions erred badly in not disclosing meetings with Russian Ambassador Sergey Kislyak to the Senate, which was what forced him to recuse himself from Russia-related matters. But Trump refuses to acknowledge the necessity of Sessions's recusal. The attorney general was pinched in three ways: First, he was caught in an obvious conflict of interest, having met with Russian officials and not disclosed them; second, he did so while a campaign surrogate, implicating himself in the investigation; and third, he risked setting off a fight with the Senate, having misled them.
But for Trump, there is only one loyalty: to the president himself. When his aides and staffers make the mistake of following any other principle—rule of law, standard ethics policies, U.S. alliances—that might conflict with the principle of loyalty to Trump, the president becomes enraged.
This was true of James Comey, the FBI director whom Trump fired in May. In a January 27 dinner, Comey testified to the Senate, Trump told him, "I need loyalty, I expect loyalty." Comey was uneasy about that demand, and eventually offered "honest loyalty." A test of that loyalty came soon enough, on February 14, when Trump spoke to Comey alone and asked him to kill an FBI investigation into Michael Flynn, who had recently been forced to resign as national-security adviser, and had reportedly already lied to FBI agents at that point. "I hope you can see your way clear to letting this go, to letting Flynn go," Trump said, according to Comey. "He is a good guy. I hope you can let this go." (In his interview with the Times on Wednesday, Trump said he couldn't remember  this conversation taking place.) When Comey refused to allow presidential interference to kill the Russia investigations, Trump decided to fire him.
The Comey firing eventually led to the appointment of Robert Mueller as special counsel. After Comey was fired, Trump told NBC News's Lester Holt that he sacked the director over the Russia probe and then tweeted an apparent threat to Comey, saying he'd better hope there were not tapes of their conversations. Comey, in response, sent memos about his conversations with the president to a friend of his to disseminate to the press. Many analysts believed those memos suggested obstruction of justice by the president, and Deputy Attorney General Rod Rosenstein, acting as attorney general on Russia matters, decided that the normal course of business was insufficient to handle the mushrooming case, and appointed Mueller—the widely respected former director of the FBI—as special counsel.
It was a case of a respected career prosecutor making a reasoned judgment that the normal Justice Department channels could not guarantee the integrity of an investigation. But Trump unloaded on Rosenstein, too.
"So [Sessions's] deputy he hardly knew, and that's Rosenstein, Rod Rosenstein, who is from Baltimore. There are very few Republicans in Baltimore, if any. So, he's from Baltimore," Trump said.
The president's comments are misleading in several ways. For one thing, Rosenstein is not from Baltimore—a Philadelphia native, he lives in Bethesda, Maryland, though he was U.S. attorney for the state of Maryland; he is a Republican; and moreover, despite Trump's protestations of hardly knowing the guy, he was nominated for the job of deputy attorney general by Trump himself.
Trump could, as with Sessions, fire Rosenstein. But as he, or perhaps some of his advisers, recognize, such a move could be politically disastrous, raising even greater concerns about Trump interfering with ongoing investigations and obstructing justice. The same goes for Robert Mueller, the special counsel. Sporadic reports for weeks have said that Trump would like to fire Mueller—doing so would require either pressuring Rosenstein to do so, or else firing Rosenstein and finding an official willing to do the deed—Mueller's reputation among both parties has been unblemished for decades, but Trump is determined to make him out to be a political hack.
Speaking with the Times, Trump said Mueller had a conflict of interest because he had met with Trump about the FBI director's job. (The idea that Mueller, at age 72 and having served as FBI director for 12 years, the second longest tenure in bureau history, would sign on for a new 10-year term never made much sense.) And he implied that if Mueller began looking into Trump's personal business, beyond simply Russia collusion, he might fire him. Asked whether that would cross a "red line," Trump said, "I would say yeah. I would say yes," though he wouldn't commit to firing: "I can't answer that question because I don't think it's going to happen."
Right on cue, Bloomberg reported Thursday morning that Mueller is in fact looking into Trump's business record, as if someone was trying to dare Trump to fire the special counsel.
Trump's clashes with his top aides are not restricted to the investigations into Russian interference—though Russia plays a role there, too. The Associated Press reports that Trump's repeated overtures to Vladimir Putin's government are frustrating his top aides, and in particular H.R. McMaster, his national-security adviser, who is perhaps the White House official most respected by people outside the administration. The AP reports those tensions were on display during Trump's trip to the G20 summit in Hamburg:
McMaster expressed his disapproval of Trump's course to foreign officials during the lead-up to his trip to Germany. The general specifically said he'd disagreed with Trump's decision to hold an Oval Office meeting in May with top Russian diplomats and with the president's general reluctance to speak out against Russian aggression in Europe, according to the three foreign officials.
After that meeting with Russian officials, in which Trump disclosed classified information obtained from an ally to them, horrifying many American officials, McMaster gamely defended Trump, doing damage to his own reputation. For his pains, McMaster was subjected to leaks claiming the president was upset with him and wished to bring back Flynn, who was fired for lying to the vice president.
This demonstrates another reason why Trump is an impossible boss: He expects absolute personal loyalty from his aides, but aides cannot expect that the president will return the favor. Perhaps no humiliation is as great as Sessions—the long-time backer thrown to the wolves in an interview with the press—but Trump has repeatedly undercut other top aides.
For example, Trump has repeatedly made public statements at odds with Secretary of State Rex Tillerson's effort to broker a resolution between Qatar and several other Gulf States.
When Trump fired Comey, the administration initially claimed that he had been fired for his handling of the investigation into Hillary Clinton's emails. Comey's approach had been widely criticized as improperly harsh, but Trump had said it was unduly easy, making the excuse nonsensical. Nonetheless, Vice President Pence went out and publicly insisted that Comey was fired because the Justice Department had recommended it in light of the Clinton case. The following day, Trump told Holt that actually he'd decided to fire Comey on his own, because of the Russia case.
After meeting with Putin at the G20, the U.S. and Russia announced the creation of a joint cybersecurity task force. Given Russian interference in the election, the idea was widely mocked—like partnering with Bashar al-Assad to stop chemical weapons, quipped Senator Marco Rubio. Treasury Secretary Steven Mnuchin nonetheless played the good soldier, appearing on ABC's This Week to defend the idea. That evening, Trump torpedoed the joint push with a tweet.
Trump's willingness to humiliate his aides seems to connected to the same lack of interest in principle that animates his fury at the ones he believes have betrayed them. Just as he sees no excuse for prioritizing rule of law, longstanding alliances, or treasured norms over personal loyalty to him, his policy positions seem to be grounded not in ideology but in a simple calculus: What's best for Donald J. Trump? That makes it easy for him to change his position 180 degrees when the political winds change, but it makes it impossible for his aides to keep up.
As it happened, Sessions and Rosenstein both appeared at a press conference Thursday morning, where they were announcing what they portrayed as a major bust. Predictably, none of the reporters there were interested in asking about the case—they all wanted to talk about Trump. Sessions and Rosenstein both suggested they did not have plans to resign.
"We in this department will continue every single day to work hard to serve the national interest and we wholeheartedly join in the priorities that President Trump … gave us," Sessions said wanly. "I have the honor of serving as attorney general. It is something that goes beyond any thought I would have ever had for myself. We love this job. We love this department. I plan to continue to do so as long as that is appropriate."
Rosenstein was more terse. "We are working every day to advance the priorities of the Department of Justice," he said. "Proud to be here yesterday, proud to be here today, proud to work here tomorrow."
The question is, with a boss like Trump, why?