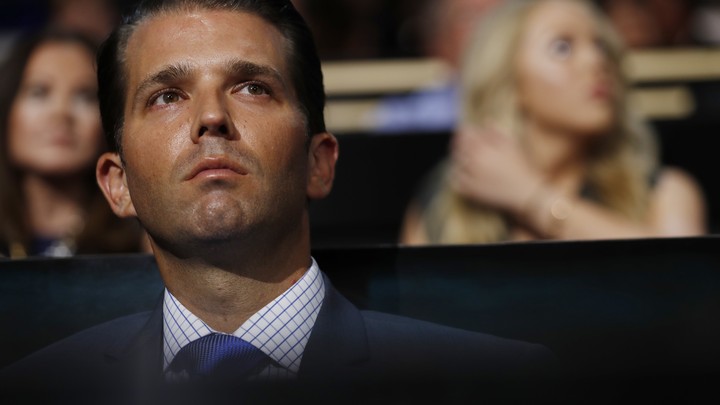 Last week, Donald Trump Jr. wasn't considered part of the sprawling Russia investigation that has consumed his father's early presidency. Now he is firmly at its center.
The New York Times reported over the weekend that the president's eldest son met with a Russian lawyer who promised damaging information about Hillary Clinton. On Monday, the Times reported that Donald Jr. received an email before that meeting that "indicates that the Russian government was the source of the potentially damaging information." The article attributed its sourcing to "three people with knowledge of the emails."
At face value, the Times report is the most significant development so far in the constellation of Russia-related scandals. It is the first indication that someone in Trump's inner circle was informed the Russian government wanted to pass along damaging information to undermine one American presidential candidate and favor another, and that he responded by signaling his willingness to receive it. And it will likely complicate efforts by the Trump administration to dispel accusations the president's campaign may have colluded with Moscow to damage Clinton's candidacy.
Some details about the email still remain uncertain. The precise contents of the email are not offered. Its exact tone and phrasing could produce different interpretations than what the sources told the Times; the report claims the email "indicates" that the source was the Russian government, but does not explain the nature of that indication. The Times report also says there is no evidence so far that Donald Jr. was informed the information could have been illegally obtained, or that he was offered the contents of hacked emails from either the Democratic National Committee or the Clinton campaign. If either of those things turned out to be the case, it would place the president's eldest son in significant legal peril.
According to the Times, the email was sent by Rob Goldstone, a British publicist who helped arrange the June 9, 2016, meeting between Donald Jr. and Russian lawyer Natalia Veselnitskaya. Goldstone represents Emin Agalarov, a Russian pop singer and a former Trump business partner. Donald Jr. said in a statement over the weekend that he and Goldstone became acquainted during the 2013 Miss Universe pageant in Moscow that his father organized. In earlier reports by the Times, Donald Jr. said Veselnitskaya's promises of information had come to naught. Instead, according to his account, she focused on the Magnitsky Act, a bipartisan act of Congress from 2012 sanctioning top Russian officials allegedly involved in human-rights abuses there.
In a statement to the Times, Donald Jr.'s private attorney Alan Futerfas called the Monday report "much ado about nothing," but he did not substantially challenge its accuracy. "During this busy period, Robert Goldstone contacted Don Jr. in an email and suggested that people had information concerning alleged wrongdoing by Democratic Party front-runner, Hillary Clinton, in her dealings with Russia," Futerfas said. "Don Jr.'s takeaway from this communication was that someone had information potentially helpful to the campaign and it was coming from someone he knew. Don Jr. had no knowledge as to what specific information, if any, would be discussed."
The timing of the email and the meeting will raise new questions for the congressional committees investigating Russian interference in the 2016 election, as well as Special Counsel Robert Mueller's parallel criminal and counterintelligence probe into whether any Americans broke the law. The Times report does not detail exactly when Donald Jr. received the email other than to note it preceded the June 9 meeting. That would date it at least five days before the Democratic National Committee first announced it had been targeted by a cyberattack on June 14—the first public indication of a hacking campaign against Democratic digital infrastructure.
Representative Adam Schiff, the ranking Democratic member on the House Intelligence Committee, noted the curious timing of the email on Twitter Monday night. He and other members of Congress, including Republican Senator Susan Collins of Maine, told reporters earlier on Monday that Donald Jr. should testify before Congress on the episode.
Dumping of stolen emails began in July 2016. If Don Jr. learned of Kremlin intent to help Trump in June, that was well before public knew. https://t.co/zvEKWmffVF

— Adam Schiff (@RepAdamSchiff) July 11, 2017
At the time, Trump had been the presumptive Republican nominee for president for more than a month. Clinton amassed enough pledged delegates to secure the Democratic nomination in early June. One month later, on July 23, Wikileaks published a cache of 22,000 stolen DNC emails on the eve of the Democratic National Convention. Four days later, then-candidate Trump publicly called on Russia to release 33,000 emails Clinton had deleted from the infamous private email server Clinton maintained as secretary of state. (No such emails ever surfaced.)
Some media reports at the time suggested that Russian hackers, possibly supported by Moscow, could be behind the cyberthefts. It was not until October 7 that U.S. intelligence officials publicly accused the Russian government of attempting to meddle in the presidential election. A few hours after that announcement, Wikileaks published a trove of thousands of stolen emails from Clinton campaign chairman John Podesta's email account. Trump won the election one month and one day later.
Monday's report on Donald Jr. adds another name to the list of Trump inner circle figures who have come under scrutiny for their Russia connections. Multiple media outlets previously reported that Jared Kushner, the president's son-in-law and a top White House adviser, has come under scrutiny from Mueller's team for his business dealings and his clandestine conversation with Russian Ambassador Sergey Kislyak. Former Trump campaign chairman Paul Manafort is also reportedly under federal investigation for his business dealings in Ukraine on behalf of Moscow-aligned political parties. Both men have strongly denied any wrongdoing. Donald Jr. told the Times that while they attended the June 9 meeting with Veselnitskaya, he did not inform them of its purpose ahead of time.
President Trump, for his part, has stayed uncharacteristically quiet on the growing scandal surrounding his eldest son. In a curt, one-sentence statement Monday night after the Times published its story, Trump spokesman Mark Curello said, "The President was not aware of and did not attend the meeting."
We want to hear what you think about this article. Submit a letter to the editor or write to letters@theatlantic.com.
Matt Ford
is a former associate editor at
The Atlantic
.