The Watchdog Inside the DA's Office
In Philadelphia and other cities, prosecutors have formed "conviction review units"—special teams that reinvestigate cases they may have gotten wrong.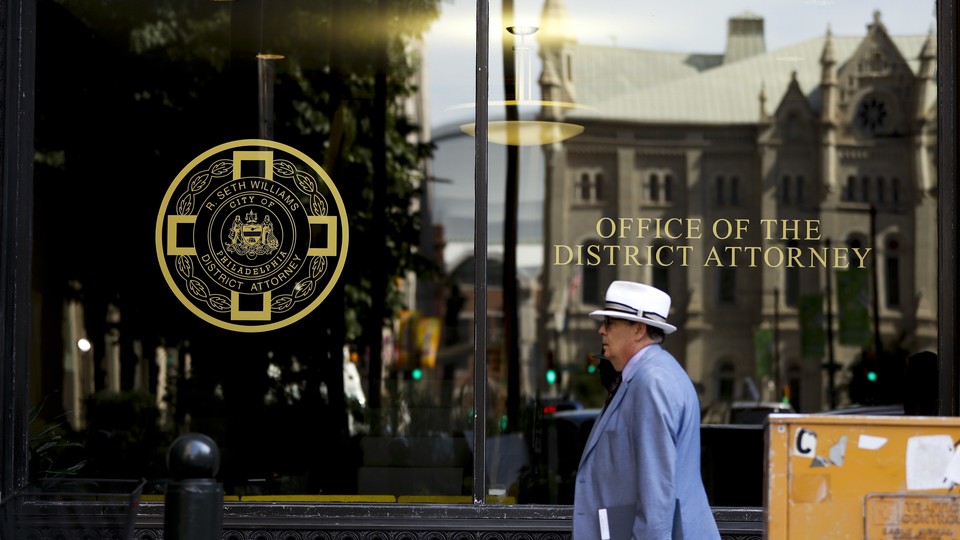 PHILADELPHIA—In the 24 years former inmate Shaurn Thomas spent trying to convince others of his innocence, he maintained that "the justice system was going to prevail sooner or later, and that somebody would hear my cries." Letters he'd written claiming he wasn't involved in a 1990 murder convinced local lawyers to offer their help, but Thomas wouldn't have gone free without the assistance of the Philadelphia district attorney's office—the same one that put him behind bars.
For eight years, his two-person legal team had gained little traction arguing that on the day of the murder, Thomas, then 16, was at a youth detention center for an unrelated matter. "Basically, the courts did not listen to us," said one of the two lawyers, Jim Figorski of the firm Dechert LLP. The tipping point came when the "conviction review unit" at the DA's office stepped in last year. "They finally sat down and gave us a forum, whereas nobody [else] did," Figorski said.
Known as the CRU, the group is tasked with reviewing and reinvestigating old cases when the inmates involved have a plausible claim of innocence. Since the mid-2000s, a relatively small but growing number of state and local prosecutors' offices have created units like this one, using them as a mechanism for internal review—much like the Department of Justice's Office of Professional Responsibility works for federal prosecutors. CRUs have the power to exonerate a person, or to determine that he or she deserves another chance in court. Through their work, CRUs seem to reject the notion that it's the job of advocates and activists to speak truth to power in the criminal-justice system; with CRUs, those in power are checking themselves.
In some instances, the units give prosecutors a chance to say, "'We truly believe this person is innocent and we're going to find a way to get this person out. We're going to review the facts again,'" said John Hollway, a University of Pennsylvania Law School professor who wrote a CRU best-practices guide in 2016. "This is an avenue that didn't previously exist."
In Philadelphia, the CRU made available evidence that Figorski and his partner, Marissa Bluestine, were denied access to: 36 pages of witness statements that had sat, untouched, in the city's police headquarters for over two decades and hadn't been shared with his original public defender. The transcripts contradicted accounts that Thomas had a role in the murder, the shooting death of a storeowner in North Philadelphia. Ultimately, the CRU lawyers determined they had insufficient evidence to keep him locked up, though they weren't absolutely convinced of his innocence. "Had that information been available at trial … prosecutors agreed the trial would likely have ended differently," read a statement from the Pennsylvania Innocence Project, the organization Bluestine works for. Thomas was released from a Pennsylvania prison in May.
Some criminal-justice observers connect the creation of CRUs with the reform-minded lawyers rising through the ranks of prosecutors' offices. Today there are about 30 units, largely clustered in the Northeast, California, and Texas, according to Hollway. Roughly half were created after 2013, and their track records vary: Since the Philadelphia unit was created in 2014, Thomas's case is the first and only one it's thrown out. By contrast some of the most robust—such as those in Dallas, Houston, and Brooklyn—have thrown out dozens. "It's encouraging to see a new generation of prosecutors that are much more open to self-evaluation and are open to recognizing the integrity and fairness," said Miriam Krinsky, the founder of Fair and Just Prosecution, a national nonprofit network for prosecutors supportive of criminal-justice reform.
Hollway echoed her take. "More prosecutors are embracing the idea that the obligation to do justice doesn't stop when you've gotten a conviction," he said. "There are moments that we don't have all the information that we wish we had, or we don't realize things we wish we had. The system is not perfect—our obligation is to make sure that our convictions are ones that are accurate and ones that we can live with."
CRUs, which vary in size and structure, typically receive petitions of innocence from inmates, lawyers, and prisoner advocates. For claims they consider plausible, the lawyers essentially serve as an internal watchdog for their colleagues past and present. Sometimes they'll find and introduce evidence, such as DNA testing, that wasn't available at an original trial. Sometimes they'll search for files withheld from defense teams, as in Thomas's case. And sometimes they'll investigate claims of misconduct. For example, since 2013 the Brooklyn CRU has reviewed over 40 cases involving one now-retired detective, who's suspected of coercing confessions. Earlier this month, the unit overturned for the eighth time a conviction supported by evidence he obtained.
In Thomas's case, the CRU did not argue that he was, without a doubt, innocent, but rather that he should be granted a new trial. In the end, prosecutors decided not to take him back to court, citing multiple reasons: "He was a juvenile [at the time of the murder], he was never alleged to be the shooter, he had spent substantial time in prison," DA spokesman Cameron Kline told me in an email.
An effective CRU has the potential to not only remedy individual miscarriages of justice, but also improve prosecutors' work. "When mistakes are made, it's important for offices to proactively take the lead, and try to identify what went wrong, how to correct the wrong, and how to prevent wrong from happening in the future," Krinsky said.
Still, CRUs are not a cure-all. And even if DA's offices have the political will to start their own, only large jurisdictions can typically afford to do so. The last time a national survey of state and local prosecutors' offices was taken, in 2007, three-quarters of them had on average four staff attorneys. "It's just really hard if you've got three attorneys to dedicate someone to a conviction review unit," Hollway said. Small offices barely have the means to give adequate time to their existing workloads—if that—but large offices can be more strategic with their resources. Hollway said that a successful CRU should be independent, well-staffed, flexible in terms of the cases it accepts, and transparent in its procedures. Without these elements, Krinsky agreed, a CRU "gives a veneer of credibility and a false sense of security to the community."
This was more or less the case in Philadelphia until February. Creating a CRU in 2014 was one of the few campaign promises kept by former DA Seth Williams, who was elected on a reformist platform and has since been indicted on federal corruption charges. For the first three years of its existence, however, the unit had only one staffer, who worked only part-time. In November, around the time that the unit would begin its revamping, The Philadelphia Inquirer and the Philadelphia Daily News reported that the CRU hadn't yet found any cases to throw out; that news worried skeptical defense attorneys and prisoner advocates, who doubted the unit had adequately considered the petitions of innocence that had been submitted. To date, the unit has received 87 petitions, according to its director, Elizabeth Graham-Rubin.
Perhaps not coincidentally, Williams was running for reelection against a pool of pro-reform candidates when he overhauled the unit. (He left the race when it became clear that the allegations against him could lead to prison time; he's currently being held in a federal detention center while awaiting his October trial.) Now, the CRU has three full-time staffers; access to several detectives, though none dedicated to the unit; and updated practices. These days, its website hosts a standardized application form for potential exonerees and a list of guidelines that weren't easily accessible before. The man likely to take Williams's job after November's DA election, Democratic primary winner Larry Krasner, said in a statement that he plans to expand the unit, too. "There has been progress, but not nearly enough," Krasner wrote. "A prosecutor's duty is to pursue justice, and freeing innocent people from prison is justice in its purest form."