Designing the Opposite of Rikers
A new report lays out design guidelines for community-based "justice hubs"—jails that create positive effects inside and outside their walls.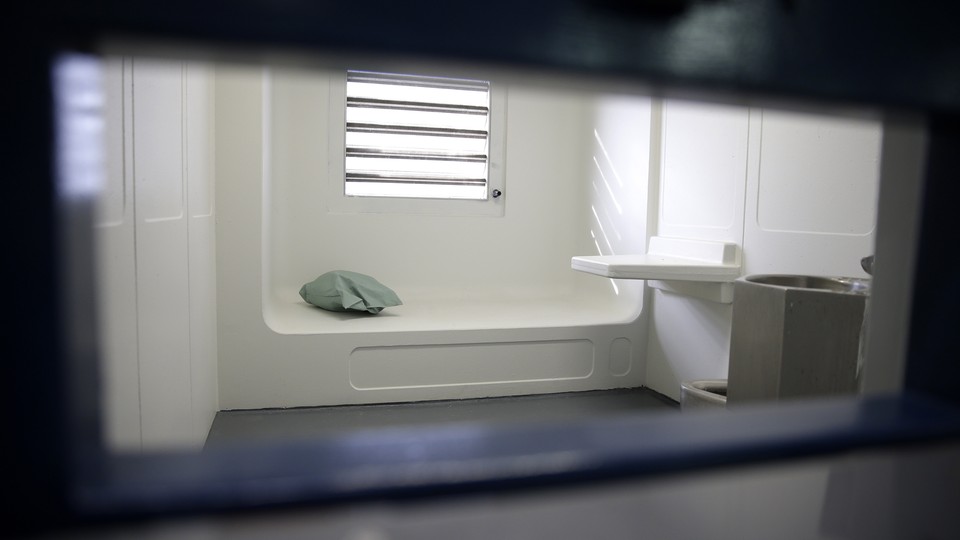 Kalief Browder was 16 when he was arrested in 2010, as he walked home from a party in the Bronx. He was accused of stealing a backpack. Unable to post bail, Browder ended up spending the next three years of his life at the infamous Rikers Island jail, nearly two of them in solitary confinement. He committed suicide in 2015, not long after his release.
Rikers Island, which has a gory history, has since become a concrete symbol of what ails the American criminal justice system. The vast jail complex earned a reputation as a cauldron of violence, one that continues to haunt those inmates who have made it out. "It smells like a hospital, but it feels like a madhouse," one formerly incarcerated man recalled in the New York Daily News.
In June, New York City Mayor Bill de Blasio released a detailed plan to shut down Rikers, and create a jail system that's "smaller, safer, fairer." But what would such a system look like?
One answer to that question comes in the form of a new report, which argues that through better design, jail facilities can produce positive effects on the folks inside and outside their walls.
The report is the result of the Justice in Design initiative, which the Van Alen Institute launched in collaboration with New York City Council Speaker Melissa Mark-Viverito and the Independent Commission on New York City Criminal Justice and Incarceration Reform she spearheaded. Over the last few months, this initiative has brought together architects, environmental psychologists, criminal justice experts, and community members from the Bronx, Brooklyn, and Queens—including those who were formerly incarcerated—to brainstorm a solution. Together, this team has come up with recommendations to reconfigure the geography, programming, and design of New York City's jails.
The report outlines a plan for "justice hubs," structures that are essentially the antithesis of Rikers jail complex, which was designed to house upwards of 10,000 inmates on an island in the East River. Per a report released by the Independent Commission on New York City Criminal Justice and Incarceration Reform:
[The isolation of Rikers] also contributes to a culture of violence and neglect. The design of the jails on Rikers with their long, linear corridors and the decaying physical plant (which provides multiple opportunities to fashion weapons) pose a constant threat to correction officers.
That's why, for one, "justice hubs" are rooted in each borough, close to courts. The obvious benefit of a dispersed network of jails is that detainees get easier access to legal counsel, hearings, service providers, and their families. "The crux of the project is looking at the jail system as something that could ideally be decentralized … leading to higher levels of efficiency not just for the jail system itself, but for the city," says David van der Leer, the executive director of Van Alen Institute.
In addition, such a system could help keep incarcerated individuals within their communities. "When they were located on Rikers, it was 'out of sight, out of mind," says Jessica Lax, the director of competitions at Van Alen. "But in borough-based jails, you start to think of these individuals as part of your community—[people] that you should be concerned about."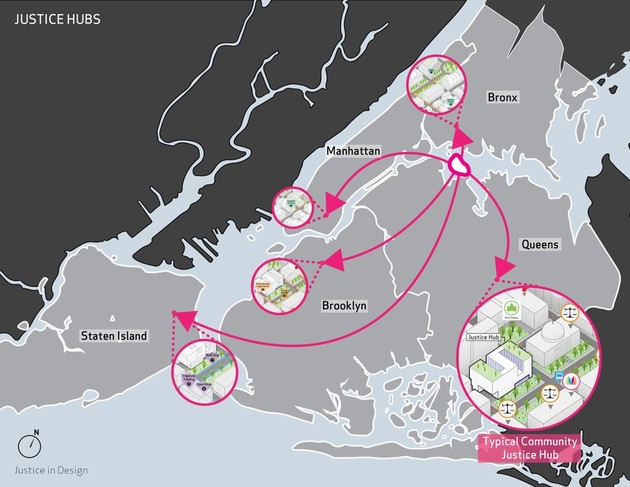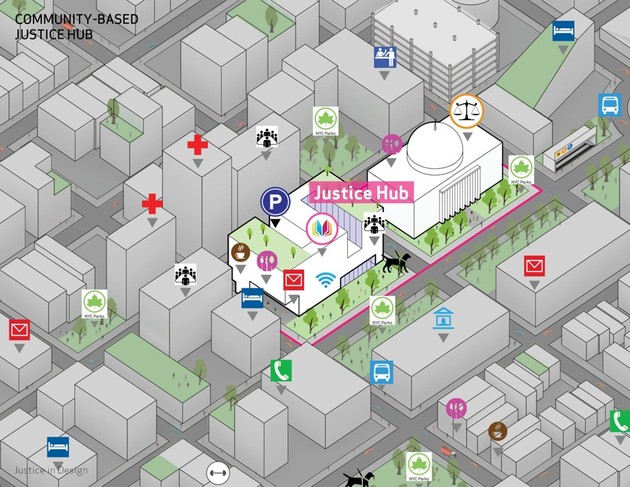 How the spaces we're in look, feel, and smell affects our behavior. Keeping that in mind, the team envision less oppressive interiors in justice hub for everyone who comes through them—detainees, staff, and visitors. They recommend more natural light, better ventilation, and surfaces that don't retain bad smells, as well as room to allow for easy movement. Indoor areas for rehabilitation services and outdoor spaces for recreation would make the space healthier.
In addition, the report suggests introducing justice hubs as assets for the neighborhoods they're place in, not problems. Overcoming the NIMBY fears of nearby residents would be a tall order: To that end, the authors recommend including amenities like libraries, public plazas, community gardens, art studios, and areas for providing medical and social services.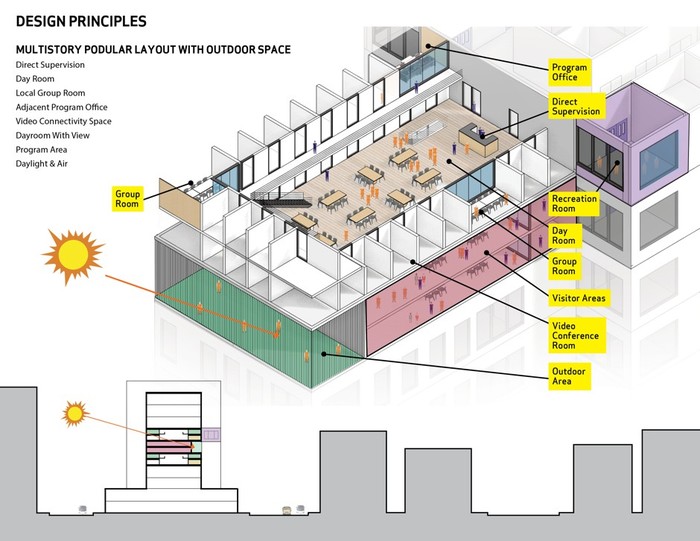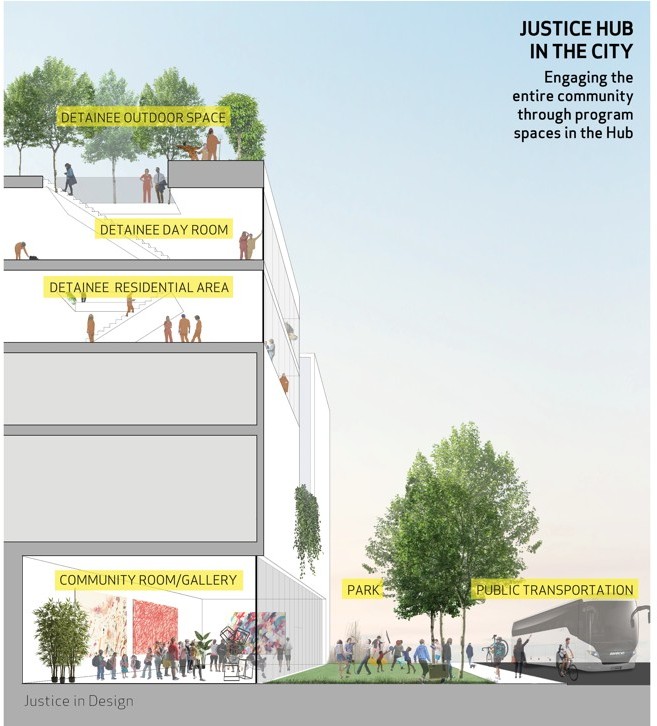 What are the odds of implementing these kinds of ideas? The notion of reforming a big American city's jail system along such radically humane Nordic lines may be a hard sell. One anticipated critique is that making jails nicer will fail to deter criminals. But the booming jail populations in the country largely consist of people being held in the pretrial period. Like Kalief Browder, many are in these facilities because they cannot afford bail. (In New York City, that's 75 percent of the jail population.) Jails also house individuals for authorities like Immigration and Customs Enforcement (ICE) for the purposes of deportation. In both these cases, the goal of detention is administrative, not punitive. And even in the case of incarcerated people convicted of the gravest crimes, there's a difference between a punitive environment and an inhumane one.
The team hopes that this justice hub model inspires local jurisdictions to rethink these institutions and their role. It's scalable to other cities, and elements might even be adapted to rural towns, which have now become the epicenters of bloated jail populations. In the struggle to chip away at mass incarceration on many different fronts, design has a role to play, van der Leer insists.
"What you want to set up [is] a humane system that allows people [to] rethink their potential in society," he says, "so that they don't come back."