Criminal-Justice Reform Survives Its First Stress Test
Why didn't the fall of former Philadelphia District Attorney Seth Williams on fraud and corruption charges doom his reform-minded agenda?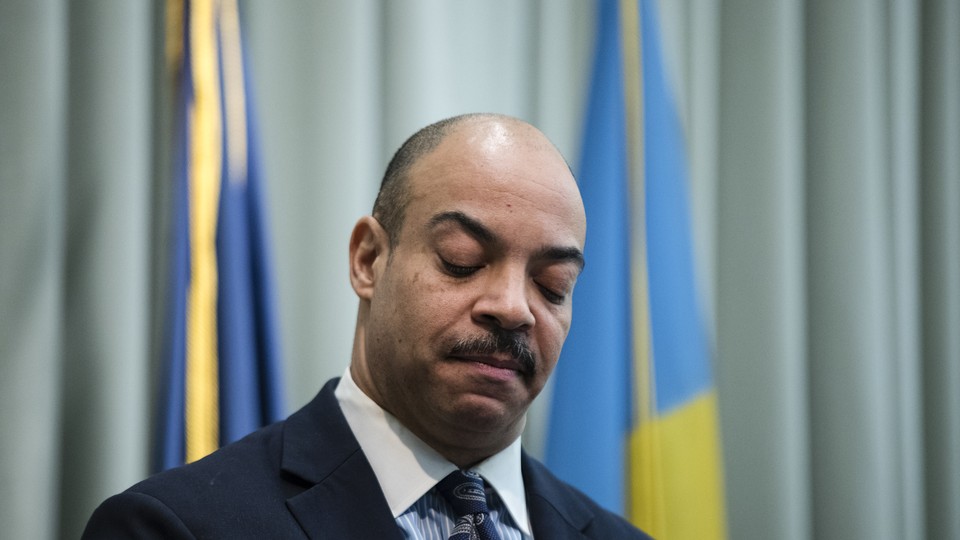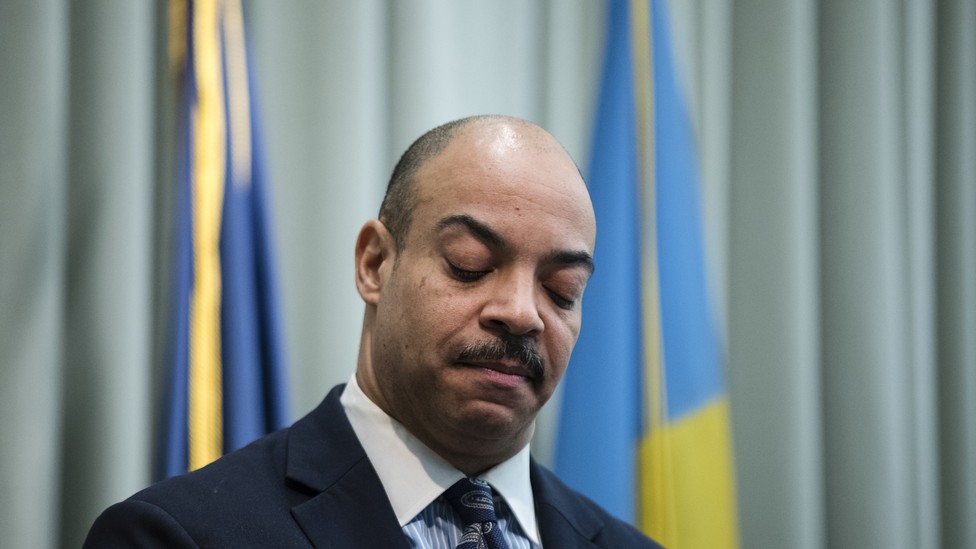 Philadelphia's district attorney, Seth Williams, resigned from his post last week on the same day that he pleaded guilty to a slate of federal felony fraud and corruption charges. He is now in jail awaiting sentencing. It's worth going through the tale of how Williams, one of the rare prosecutors who was focused on reducing incarceration, finds himself locked up today—and what this means for criminal-justice reform nationwide.
Years before then-Attorney General Eric Holder launched the "Smart on Crime" initiative, aimed at curbing frivolous arrests and incarceration, Williams was already on that path. He was elected to the district attorney's seat in 2009 in a city that then and now has some of the highest incarceration and violent crime rates in the nation. The fact that both of those rates are happening simultaneously is testament enough that voraciously locking people up is inadequate for reducing violent crime.
Which is why one of Williams's top priorities upon taking office was lightening penalties for minor weed arrests and letting first-time drug offenders off without jail. In 2012, when members of the Philadelphia police department's narcotics unit were arraigned on charges of robbing and assaulting alleged drug dealers, Williams wrote a letter to the police commissioner saying his office would no longer accept cases from those narcotics officers.
Such maneuvers were rebukes of the drug-war policing era, and were supposed to free up police and prosecutors to spend more time on more consequential crimes that posed a real threat to the public. The DA's office needed to boost its felony conviction rates, which had been lagging for years. It seemed to work—between 2009 and 2014, attempted murder and aggravated assault crime convictions rose from 34 to 42 percent, and homicide conviction rates rose from 79 to 90 percent.
This was the criminal-justice-reform platform Williams ran on—and won with—before such reforms became popular. But he squandered that political capital, spectacularly, by spending campaign cash on deep-tissue massages and taking five-star vacation trips paid for by wealthy friends. He pleaded guilty on June 29 to nearly 30 corruption and fraud charges tied to those extravagances, and other charges connected to the misappropriation of campaign funds.
This could have been the end of criminal-justice reform in Philadelphia, had voters decided that such an agenda can't be trusted given its chief messenger had proven himself untrustworthy. It doesn't help that violent crime has been on a small uptick in the city. Not to mention, there's a long and unfortunate history of political corruption tied to criminal-justice reform in Philadelphia. In the 1970s and 1980s, the Black Mafia, a notorious local organized crime outfit, used nonprofit fronts with names such as "Community Urban Development, Inc." and "Black, Inc." to obtain government grants meant for fighting crime and poverty to bankroll much of its own criminal activity.
But despite that history, the crime increase, and what looks like chaos in the district attorney's office, Philadelphia voters in May's Democratic primary decided that they were staying with the criminal-justice-reform ticket: They voted for civil-rights lawyer Larry Krasner—a candidate who doubled down on Williams' criminal-justice-reform agenda, and then some.
Krasner was the Bernie Sanders of the race, staking his platform on what his Republican opponent called "far left" policies. He drew campaign support from progressives like George Soros and members of Black Lives Matter. "What was interesting in 2017 was this race was no longer about candidates competing on who's going to lock the most people up," says Joe Dinkin, spokesman for the Working Families Party, which helped organize and get the vote out for Krasner's campaign. "They competed on grounds of broad agreement that the system of mass incarceration is broken, and overly punitive, and deeply damaging to families and communities. Larry was the clear leading candidate, as his entire record has been about keeping people out of prison."
As a private attorney, Krasner has defended Black Lives Matter members and protesters in court and he has mounted legal battles against numerous police officers involved in violence against civilians, and African Americans in particular. It's perhaps no surprise then that a group of ex-district attorneys and police union leaders strongly opposed his campaign. Because of this, Krasner understands that should he win the general election in November (which, given the Democratic dominance in city elections, is likely), his biggest lift will be "changing the culture of the district attorney's office," which he says has been moving in the wrong direction for too long.
"People find real change frightening, and they may perceive it as risky," says Krasner. "As a consequence there is the potential for a lot of institutional inertia and a lot of resentment. However, the election results from the primary indicate that there is a ton of popular support for real change. I'm looking forward to a very constructive relationship with the police officers, with the commissioner, and with the brass and the rank and file. I think they should care and do care about the popular vote, and I think the same is really true in the DA's office."
If that popular vote in Philadelphia is any indication, then the appetite for real criminal-justice reform is larger than credited for. Krasner is not the only district attorney of late who's won on a reform platform. Last year, Kim Fox won the state's attorney election for Cook County, where Chicago sits, while running on a reform platform similar to Krasner's and defeating an incumbent prosecutor who was aligned with Chicago Mayor Rahm Emanuel. Shortly after, former public defender Aramis Ayala won the state's attorney race for Orange-Osceola County, Florida, where Orlando is located, on a progressive criminal-justice-reform plank. Ayala has since locked horns with Florida Governor Rick Scott over the death penalty, which she opposes. And this year in Houston, Kim Ogg won the district attorney's race by pivoting her campaign on the decriminalization of marijuana.
These are only a few of a "wave of progressive-minded prosecutors" who've won district attorney races recently, reports Governing, and more candidates like them are afoot. And they're gaining traction because voters are demanding reforms, whether they're sick of their taxpayer dollars going to prisons, or drained from the devastating effects incarceration has on their communities.
These are the headwinds that Attorney General Jeff Sessions is flying into, with his message that it's time America gets tougher on crime— a message that many state Republican law enforcement leaders abandoned long ago, and continue to abandon Sessions on. In Philadelphia, the FBI had been investigating Williams since at least 2015, but it was Sessions who signed off on his 29-count indictment in March. If the Attorney General thought that might be the end of any criminal-justice-reform talk in that quarter of the nation then he will be highly flustered if Krasner is elected in November.
"Here's the bottom line: Nobody is going to hijack change and real reform when it's necessary," says Krasner. "Whether they find it uncomfortable or not, the people are not going to get hijacked. When the people vote for change and there's a team of progressive elected officials and lawmakers in place, change is going to happen."