Conservative Groups Fume Over Failed Repeal Votes
Activists on the right have been pushing to repeal the Affordable Care Act since 2010—only to see some Republicans defend the law once they got the power to get rid of it.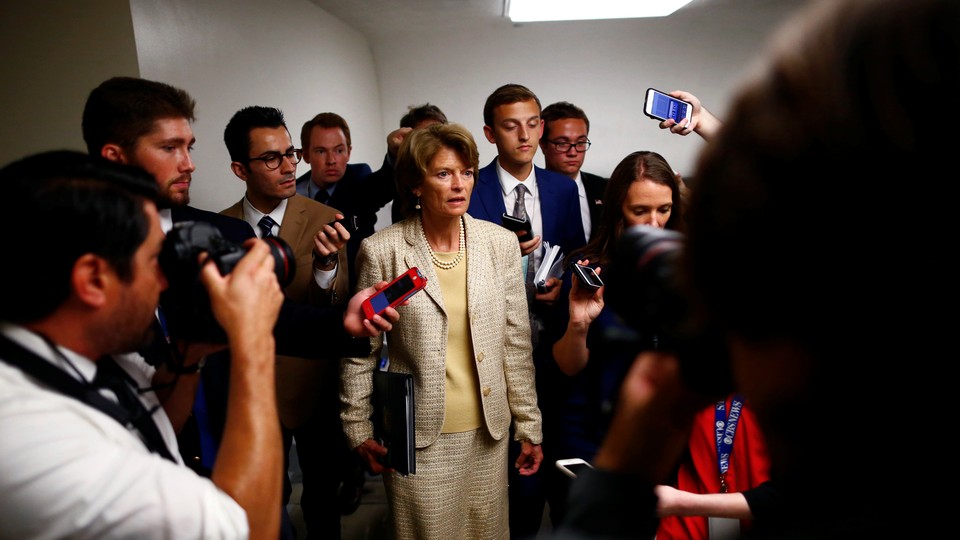 On Wednesday afternoon, the Senate failed to pass legislation that would have repealed major parts of the Affordable Care Act, including the law's individual and employer mandates, the Medicaid expansion, tax credits, and taxes. It was the same measure that passed the Senate through reconciliation in 2015 and was ultimately vetoed by President Obama.
After failing to pass the Obamacare replacement plan during a vote late on Tuesday night, the Senate moved on to the repeal-only vote. This time around, repeal could only afford to lose two senators, and it did. Actually, it lost seven, including six who had voted for the repeal bill in 2015.* Conservative groups see the vote's failure as the ultimate political hypocrisy—but Republican senators maintain that they're representing their constituents' best interests.
Wednesday's vote comes after weeks of confusion on health care. Last week, after it became clear that Senate Republicans didn't have the votes to pass their Obamacare replacement plan, Majority Leader Mitch McConnell suggested that the chamber would vote on repeal-only legislation, with no immediate replacement. The Congressional Budget Office has projected that, if that proposal passed, 32 million more Americans will be uninsured by 2026.
Republican Senators Susan Collins of Maine, Lisa Murkowski of Alaska, Shelley Moore Capito of West Virginia, and Rob Portman of Ohio, quickly emerged as political flashpoints after voicing their opposition to a repeal-only bill. Three of those four senators—Capito, Murkowski, and Portman—had supported the same repeal-only bill in 2015.
In a statement last Tuesday, Capito defended her change of heart by saying she "did not come to Washington to hurt people." And Murkowski and Portman both expressed concern that repealing the law without an immediate replacement would cause confusion.
Conservatives who have advocated for Obamacare repeal since its inception in 2010 feel like the rug has been pulled out from under them. They are dismayed that they can't pass the same repeal-only bill they sent to Obama's desk in 2015, despite having both a legislative majority and a Republican president to sign it into law.
"When you talk about not being a team player, it's Susan Collins and company," said David Bozell, the president of For America, a conservative action group, said in an interview. "Obamacare repeal has basically been the defining domestic issue of our time. To go against what the party has preached, at its most critical moment, is a real-head scratcher for a lot of folks." The "liberal Republicans" who voted against repeal will pay a political price, he said, but it won't simply be conservative groups going after them: "It's going to be the conservative base staying home."
For the past several election cycles, Republicans have campaigned and fundraised on Obamacare repeal, and conservative grassroots activists have dedicated years advocating for it. "This has been the main issue since I got into politics in 2010," said Jon Meadows, press secretary for the conservative action group FreedomWorks, which sent out a "Fraud Alert" on Twitter after this afternoon's vote. "I thought we were all supposed to be against it."
The two organizations, along with several others, have spent the last few weeks pressuring legislators to stick with their campaign promises to repeal Obamacare. They've posted video mashups of senators' contradictory quotes on social media. And two groups, Tea Party Patriots and Club for Growth, recently launched a website called Traitorous Republicans, targeting Capito, Murkowski, and Portman and urging people to call their offices and demand they vote for repeal.
Voting against repeal-only legislation is, according to Meadows and other conservatives, a vote against the GOP—and the entire party will pay for it in 2018 and 2020. He calls it "the greatest political fraud" in American history.
But according to strategists on the ground in some of these local districts, that's just political speak from groups representing the Washington donor-class.
"These people don't live in West Virginia," said Tom Susman, a Charleston-based strategist, told me in a recent interview. Susman thinks Capito's position will actually end up helping her in the state, where nearly one-third of the population is enrolled in Medicaid, many of whom gained coverage under the ACA's Medicaid expansion. West Virginia is also the epicenter of the nation's worsening opioid crisis, and people are using Medicaid to receive addiction treatment.
Obamacare repeal is no longer a political question, Susman said. "There's been a drastic change since 2015," he said. "The coal industry has collapsed, [there is] rampant unemployment, an opioid crisis that's come full bloom." The issue, he says, is more nuanced than activist groups would have you think. "If you don't have a replacement, then you do serious damage ... you hurt people."
It's the same in Alaska, according to Anchorage-based strategist Jim Lottsfeldt, who predicts zero backlash for Senator Lisa Murkowski for voting against repeal-only legislation. Back home, Lottsfeldt says, Murkowski isn't feeling any pressure to repeal the Affordable Care Act, which has expanded Medicaid and now covers nearly one-fourth of the state's population—a large chunk of which are children.
"Half of America thinks we're an island off of Hawaii because that's the box on the map they see us in," Lottsfeldt said. "We need people who will fight for us in Congress."
In the end, three additional Republicans, Nevada's Dean Heller, Tennessee's Lamar Alexander, and Arizona's John McCain ended up voting against straight repeal, ensuring that Republicans have failed to fulfill a promise they spent years making. On this issue at least, some Republicans appear to be facing an existential crisis.
"What are we here for?" Meadows asked. "If we don't stand for this, what do we stand for?"
Republicans might find the answer in "skinny repeal," a proposal that would only do away with the ACA's individual and employer mandates, which could come up during or after the next part of the process—a Vote-a-Rama that allows both parties to submit amendments to be voted on without debate. But even that measure isn't certain to pass.
---
* This article originally stated three of the senators had voted for repeal in 2015. We regret the error.