How Long Can Connecticut's Prison Reform Last?
Governor Dannel Malloy's allies worry the policy changes implemented under his watch will be undone once he leaves office.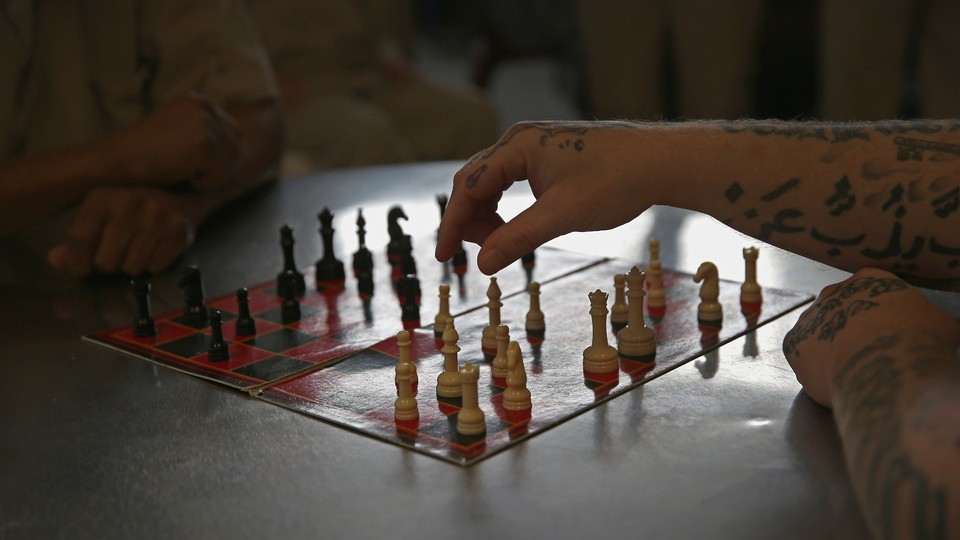 When Dannel Malloy, the Democratic governor of Connecticut, entered Germany's Heidering Prison two years ago this summer, he saw something more akin to an American college dormitory than a detention center. Heidering rejects the idea that prisons should aim to punish, and permits even convicted murderers to cook their own food, lock their own cells, and leave to see their families on weekends.
Germany "can actually call their [prisons] a corrections system as opposed to our penal system," Malloy told me. "I think their focus is the right one and our focus is the wrong one, and I think their focus is substantially better at reducing recidivism."
Since his inauguration in 2011, the governor has set about trying to make his home state's jails and prisons a little bit more like Germany's by curbing incarceration rates and rethinking how prisoners are treated. It's part of a justice-reform plan that he believes could be a model for reducing prison populations across the country.
But as his administration continues implementing that agenda, Malloy's allies and prisoner advocates worry: Can the governor's reforms outlast the governor? Many of them came through administrative edicts and could be undone immediately after he leaves office in January 2019. Even some of his legislative victories could be reversed under a new legislature and governor.
So far, administration-backed measures have ended the use of the death penalty, decriminalized possession of small quantities of marijuana, and altered the bail system, among others. Malloy's signature reform, his "Second Chance Society" legislation, makes it easier for people charged with nonviolent crimes to apply for parole and pardons, and reduces penalties for drug possession.
Inside prison walls, the person helping execute Malloy's agenda is Corrections Commissioner Scott Semple, who told me he envisions a "progressive prison system" with programs to help inmates prepare for life after incarceration—like his new reintegration centers for people nearing the end of their sentences, and a small initiative allowing inmates to take manufacturing courses at a community college.
He's also instituted the T.R.U.E. Program at one high-security prison. There, older inmates serving long-term sentences "mentor" and live in a unit with younger inmates, who also receive post-prison training. Some reform advocates hope the pilot can be replicated: "This is not namby-pamby therapy for cons, but a very well-thought-out, structured program that is intended to help people succeed when they are released, so they don't come back," said Nicholas Turner, president of the Vera Institute, a justice-reform organization.
There are now fewer prisoners and fewer prisons than there were when Malloy, a former prosecutor himself, assumed office. The state's male prison population has fallen by about 20 percent and the smaller female prisoner population by 7 percent, according to state government figures. In April, Malloy presided over the closing of a 254-bed section of the Corrigan-Radgowski Correctional Center in Connecticut's southeast—one of four prison annexes, plus three entire prisons, that have closed since 2011. Crime, too, has fallen statewide. (It's worth noting, though, that these reductions aren't only attributable to the administration—they've also been fueled by a broader drop in crime in Connecticut since at least 2008, part of a national trend of declining crime rates.)
Despite political will from the governor's office, there have been significant constraints on reform, including financial ones. T.R.U.E. is an illustrative example: The current program houses just 4 percent of the 18-to-25-year-old men in the state's prisons, a shadow of the ambitious 700-plus-person facility Semple initially envisioned. He curbed its scale because of repeated cuts to his department's funding, which are in part the result of state budget issues.
The most recent cut, nearly 12 percent this fiscal year, led to job losses within corrections, too: More than 180 employees were fired in spring 2016 and Semple said more layoffs are possible. "If I had more resources, I think the reforms could also go further," Semple said. Hope Metcalf, who heads up a division at Yale Law School focused on human rights, agrees: The department must be "well-resourced enough so that they can actually do what they would agree is a progressive vision for incarceration," she told me.
The next administration might not be as keen to remake the state's prisons in a tight budgetary environment. It's easy to see how Malloy's successor could begin to undo the changes implemented under his watch. While some measures have been codified—like bail and death-penalty reform—state lawmakers have generally been reluctant to legislate internal prison policy for fear of undermining corrections officers. Most internal changes have been enacted through administrative directives, which could be reversed if the next governor, or even the next corrections commissioner, disagrees with them.
The reform cause hasn't been entirely bipartisan, either. Malloy's Republican predecessor, Jodi Rell, supported tough criminal-justice policies; she vetoed a bill repealing the death penalty, introduced mandatory minimums for certain crimes, and called for "three strikes" laws. While members of the legislature's Republican minority have supported various reform measures, they've also said some proposals are too easy on offenders. "The Democrats then become skittish that their votes in favor of reform will be perceived as soft on crime," Mike Lawlor, the governor's top criminal-justice adviser, told me.
Pushback from both parties during last year's election season forced two Malloy-backed reforms to be shelved. "I definitely look at it as a soft-on-crime issue, which is consistent with the Malloy administration," conservative lawmaker Len Suzio told the Hartford Courant last year, in reference to one proposal. "The victims don't get a second chance—only the criminals." More recently, a bail-reform bill had significant opposition when it passed the state House in June. "I believe that it constitutes a danger to the public," another Republican legislator said at the time. "It will result in more defendants being released."
Advocates fear that a similar resistance will pervade next year's elections for the governorship, Senate, and House—and that Republican lawmakers who've promised to repeal reform measures will be given more of a chance to follow through. Another Democratic governor may not be as invested in reforms, either, particularly if he or she takes note of how little they bought Malloy politically at times. Opposing the death penalty during his 2010 campaign "almost cost him the election," Lawlor said. In a Quinnipiac University survey last year, 40 percent of voters approved of Malloy's policies on crime, while 44 percent disapproved. "I think the best we can hope for is another governor who keeps the reforms and doesn't undo them," said David McGuire, executive director of the ACLU of Connecticut.
Some still say Malloy hasn't gone far enough: Barbara Fair, a local reform advocate, told me his policies haven't reached the most vulnerable—referring to those who need mental-health treatment—or those in need of jobs. "If you are not addressing those things, you are not making real change," she said. "There is no real second chance if you can't find a job or somewhere to live. It is nice rhetoric, but not what we have found."
In preparation for Malloy's exit, reform advocates have pushed for legislation backing another of the administration's policy changes: a deliberate reduction in the use of solitary confinement. From fall 2011 to this June, the number of people held in what the state calls "administrative segregation" has fallen roughly 77 percent, according to figures from the corrections department and Yale Law School. The department has also cut down the list of infractions that can put inmates in solitary—an effort that began under Semple's predecessor, who left in 2014 and now works as the corrections director for Nevada.
Last month, a related bill passed the state legislature with Semple's support; he'd opposed an earlier iteration, which would've instituted one of the most comprehensive restrictions on solitary confinement in the country, after pushback from prison staff unions and corrections officers. The current bill bans juveniles from being placed in administrative segregation and requires the department to publish figures on its solitary population, which local advocates say they will use to monitor potential backsliding under a new administration. They have called the bill welcome progress, but a semblance of what was put forward earlier this year.
With roughly two years left in Malloy's tenure, the financial and political barriers to reform in Connecticut mean its prisons remain far removed from those in Germany. The governor told me he still wants to see them made into places of rehabilitation and second chances, and to see the unequal representation of racial minorities within the court and prison systems undone. But he acknowledged that it could be a long time before the state reaches those goals.
"Let's face it, Semple and Malloy wanted more reform," said Beatrice Codianni, who was previously incarcerated in Connecticut and is now the managing editor of Reentry Central, a website about criminal justice. "But they just couldn't do it. They couldn't get the [political] support to do it."
"We are still one of the more progressive states in the United States, so I don't want to say it's all useless," she continued. "I am glad that at least people tried to do something—and they are going to keep on trying."