Why a Republican Senator Wanted a Vote on Single-Payer Health Care
The amendment failed to pass on Thursday afternoon, after no lawmakers voted for it.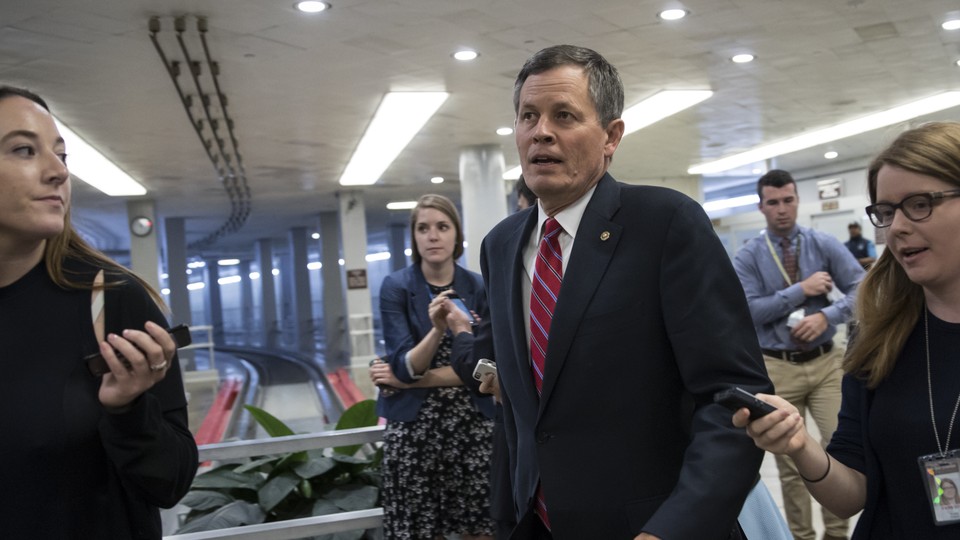 The Senate voted down a single-payer health care amendment introduced by Republican Senator Steve Daines on Thursday, in a political gambit aimed at putting Senate Democrats on the record on a divisive issue. The amendment failed to pass after no lawmakers from either party voted for it. Fifty-seven Senators voted against the amendment, while 43 voted simply "present." Four Democrats voted against the amendment: Senators Joe Donnelly of Indiana, Heidi Heitkamp of North Dakota, Joe Manchin of West Virginia, and Jon Tester of Montana.
Daines's amendment was far from a true test of Democratic support for single payer, however. Senator Bernie Sanders, the most popular progressive politician in the United States who supports a single-payer health-care system, denounced the amendment as a "political trick" designed "to embarrass Democrats," ahead of the vote. His office had previously announced that even he would not be voting for it, giving Senate Democrats cover to reject the amendment as a political ploy.
The Senate is currently debating legislation rolling back, at least in part, the Affordable Care Act. Senate Republicans are facing immense pressure to pass something after years of promising conservative voters they would repeal the law, but have so far faced setbacks and delays amid internal divisions over how far to go in dismantling former President Obama's signature health-care law. Democrats, meanwhile, have been united in opposing repeal. Attacking Democrats over single payer, a long-time liberal dream that critics say would be too costly to implement, was one way for Republicans to try and change the subject.
"This single-payer, it's the gold standard for the Democrats," Daines, who does not support single-payer himself, said in a brief interview on Thursday afternoon ahead of the vote. "In fact in the House, 115 Democrats have co-sponsored this exact bill we're going to vote on today. 115, that's about 60 percent. President Trump, the Republicans, want to make America great again. The Democrats want to make America like England again. This is a clear choice."
Support for single-payer has increased among congressional Democrats in the wake of the 2016 election. According to Daines' office, the amendment put forward by the senator is identical to single-payer legislation sponsored by Democratic Representative John Conyers, which now has the support of a majority of House Democrats, a threshold crossed after Trump won the White House. Sanders plans to soon introduce his own "Medicare for all" legislation. But Democrats are far from united in embracing single-payer legislation, and congressional Democratic leaders have not included single payer as part of any kind of formal Democratic agenda.
Ahead of the vote on Thursday, Conyers said in a statement that his legislation was being used "as a pawn," charging that "the process by which the Senate is considering changes to our nation's healthcare plan is a sham," and adding that "Senate Democrats are right not to take part in it."
Sanders took to the Senate floor ahead of the vote to denounce Daines' amendment. "I suspect that what Senator Daines is doing is nothing more than an old political trick, trying to embarrass Democrats," the senator said in his remarks. "I hope Senator Daines has seen the light, but I suspect not, and I suspect it's just a political game," he added.
The Vermont senator added he does hope soon to have a debate, in good faith, on the idea of single payer. "I do hope, by the way, at some point within this debate, if we can, if not, certainly in the near future, to, in fact, be introducing a Medicare-for-all, single-payer program," he said. "It will be somewhat different than my friend John Conyers' bill in the House, but what it will do is say that in America, if you are rich or if you are poor, if you are a man, woman, and child, yes, you are entitled to health care as a human right and not a privilege."
A better gauge of how many Senate Democrats are willing to back a single-payer proposal will be the number that sign on to the legislation that Sanders plans to introduce.