Bernie Sanders's Pitch to Trump Voters
The Vermont senator is making a pitch to the working class in a bid to defeat the Republican effort to dismantle the Affordable Care Act.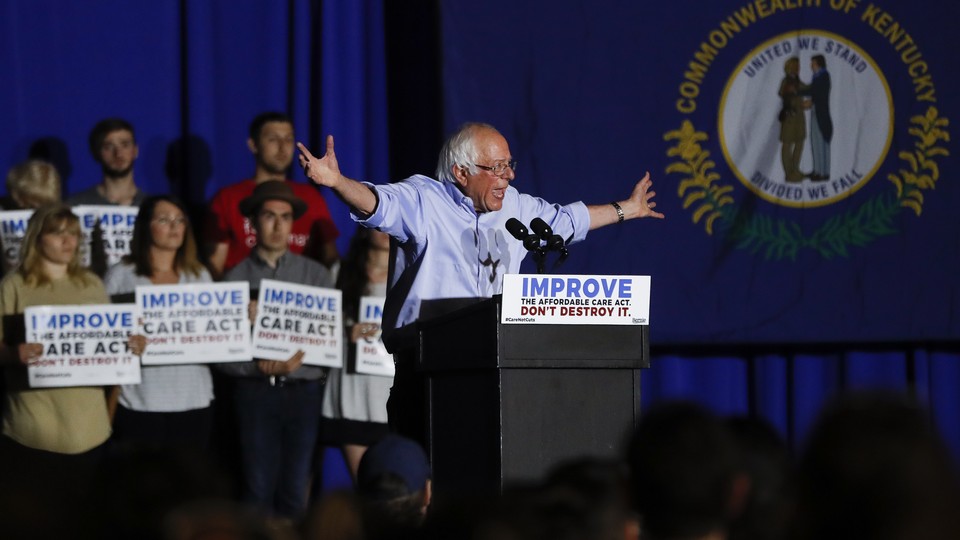 MORGANTOWN, W.Va.—When Bernie Sanders spoke at a rally on Sunday afternoon to stop the Republican effort to dismantle Obamacare, he didn't wait long to bring up President Trump.
"I am more than aware that Donald Trump did very well in the state of West Virginia, I got that," the Vermont senator told a crowd inside a hotel ballroom. "Donald Trump told the people that he was going to be a champion of the working class," he said. "I'm sorry to have to tell you this, but I suspect most of you already know it, Donald Trump was not telling you the truth."
If Democrats want to win back the White House, Congress, and hundreds of seats lost in state legislatures, the party may need to convince voters who pulled the lever for Trump of this fundamental argument: The president is not their champion, and never will be. Sanders, who posed a serious challenge to Hillary Clinton in the 2016 Democratic presidential primary while running as a self-described "democratic socialist," is doing his best to persuade them.
West Virginia was the senator's first stop on a day-long, two-state trip to campaign against the Senate Republican health-care bill. Next up was Covington, Kentucky, a city near Cincinnati, Ohio, where Sanders called the health-care bill House Republicans passed in May "the most anti-working class legislation that I have ever seen," adding that "the Senate bill, in many respects, is even worse."
It's unusual for a high-profile progressive politician to hold a rally in a red state like Kentucky, or even West Virginia, a former Democratic stronghold that has trended conservative in recent years, outside of a presidential campaign. That may be part of the reason why the Democratic Party's power has eroded so severely across the country.
"It's amazing, the degree to which, in this country, in states like West Virginia and Kentucky, Democrats have, to a large degree, forfeited these states, conceded these states to right-wing Republicans," Sanders said in an interview before boarding a plane to leave Kentucky. "In many cases, these are working-class states, these are states where people are struggling economically. The idea that Democrats would not be fighting, and investing in, and working with people in these states, is to me, beyond comprehension." He added: "You don't win if you don't show up."
A revised version of the Senate health-care bill is expected to be released on Thursday, and a vote could take place the following week. An initial iteration of the bill would have left 22 million Americans without health insurance, according to the Congressional Budget Office.
Liberal activists are doing everything they can think of to keep the legislation from passing, though their options are limited with Republicans in control of Congress. Sanders' Trump state tour is part of that mobilization. Last month, the senator traveled to Charleston, West Virginia, to protest the Republican health-care bill—along with two other states Trump won in 2016: Pennsylvania and Ohio.
The pitch Sanders is making to Trump voters remains untested. Sanders is an influential voice among Democrats—and by some measures, the senator, who remains an Independent, is the most popular politician in the United States—but his appeal to voters may not translate into mass appeal for the Democratic Party.
"He's trying to reach out to everybody. You don't see anybody else doing that," said Mark Herrmann, a self-described progressive who showed up at the Kentucky rally. When I asked if he was a Democrat, he replied caustically, "Not even remotely anymore. The Democratic Party now is a disaster, an absolute mess. I don't see a party now that represents me."
Sanders attempted to bridge the divide between his own brand of progressive politics and the Democratic establishment on a cross-country trip with newly-elected Democratic National Committee Chair Tom Perez, which included stops in red states like Kentucky and Utah. The so-called "unity tour" ended up showcasing tensions within the party over the issue of abortion and what it means to be a progressive, however. And the Vermont senator has not been joined by any nationally well-known elected Democrats during his recent health-care rallies in Trump states.
"A lot of folks go where the money is, and I understand that, we live in a time of Citizens United," Sanders said in an interview when asked if he thinks other senators will start reaching out to red states. "People spend their lives running around the country, raising money to take on the Koch brothers, and the billionaire class. I understand that, but at the same time, Democrats have got to develop a strategy that supports the folks in Kentucky, and West Virginia, and in Tennessee and Mississippi and Alabama, and Wyoming, and Utah. That's something we've got to do."
The question of whether Sanders will run for the White House again, and whether the senator is laying the groundwork for that now, loomed inescapably over the Trump-state tour. T-shirts left over from his last presidential run, with slogans like "Bernie for President," dotted the crowd. There was more explicit encouragement too. "Hindsight is 2020," one t-shirt read, a message that appeared alongside an image of the senator's face. "Bernie 2020!" someone yelled out in Kentucky as the senator delivered his speech. On Monday, a new round of speculation swirled on social media amid news that Sanders will visit Iowa in August.
Whatever his political ambitions, Sanders now has a ready-made audience on a scale he did not have before he ran for president, and that he can summon on short-notice as a way to elevate his ideas. It's evident he wants to use that platform to influence the direction of the Democratic Party.
"The current model has failed, very clearly," Sanders said in an interview on Sunday in answer to a question about what he wants to see from the party. "We need new energy, we need working people, we need young people. We have got to stop the same old, same old." As the senator works to advance his own political agenda, however, he too may need to show he can win over more voters than he did during the 2016 election.
In West Virginia and Kentucky, Sanders paired criticism of the Republican health-care bill, and defense of Obamacare, with his own idea of the kind of health policy the United States needs to implement in the future. "As soon as we defeat this disastrous bill, I will be introducing a Medicare-for-all, single-payer program," the senator told the crowd in Kentucky, a line that was met with enthusiastic cheers.
A majority of House Democrats have now signed on in support of single-payer legislation, a threshold crossed in the aftermath of Bernie Sanders' presidential bid, where the senator touted single-payer. In an indication that congressional leadership has not fully embraced the push, however, House Democratic Leader Nancy Pelosi is not a co-sponsor, though she has expressed support for single-payer health-care in general terms.
For now, Democrats in Congress are focused on defeating the Republican health-care push, and there are signs it is faltering. On Sunday, Republican Senator John McCain offered a grim assessment of the legislation's prospects, saying, "My view is, it's probably going to be dead" during an interview on CBS Face the Nation. Last week, McConnell reportedly conceded that Republicans may not be able to "agree on an adequate replacement" for the Affordable Care Act, and opened the door to potentially negotiating with Democrats to improve the law instead.
"If somebody opens the door, I think you walk in, but obviously you don't walk in if he's talking about tax breaks for billionaires. You don't walk in, if he's still talking about throwing 23 million people off their health insurance," Sanders said when asked if Democrats should be willing to negotiate. "You do walk in," he added, "if, by some chance, there are some Republicans who want to improve the Affordable Care Act. The Affordable Care Act has problems. Deductibles, premiums, co-payments are too high. Prescription drug costs are much too high. How do we improve that? Let's do that."
Whatever agenda Democrats decide to elevate as the party works to rebuild, liberal lawmakers may need to sell it by taking the message directly to voters in states where Trump prevailed.
"If the Democratic Party wants to regain their previous prominence, then they will need to spend less time in coastal liberal strongholds and more time on a 50-state strategy that stretches from California to Appalachia," Shane Assadzandi of Mountaineers for Progress, a progressive advocacy group based in West Virginia, wrote in an e-mail. "Republicans and Democrats alike have been treating West Virginia as a fly-over state for far too long."