Can a Bernie Sanders Ally Win the Maryland Governor's Mansion?
Former NAACP chief Ben Jealous has the endorsement of the Vermont senator in a statewide race that will test Sanders's political clout.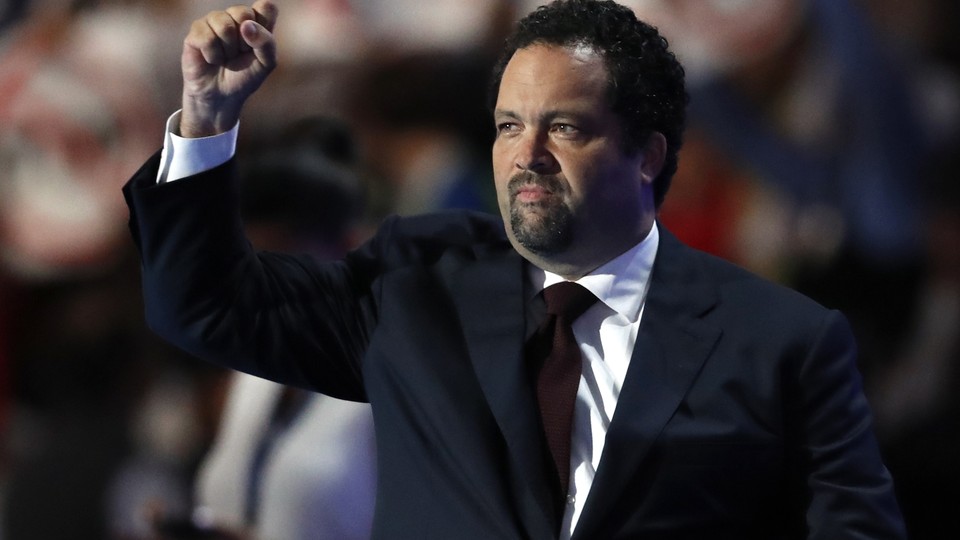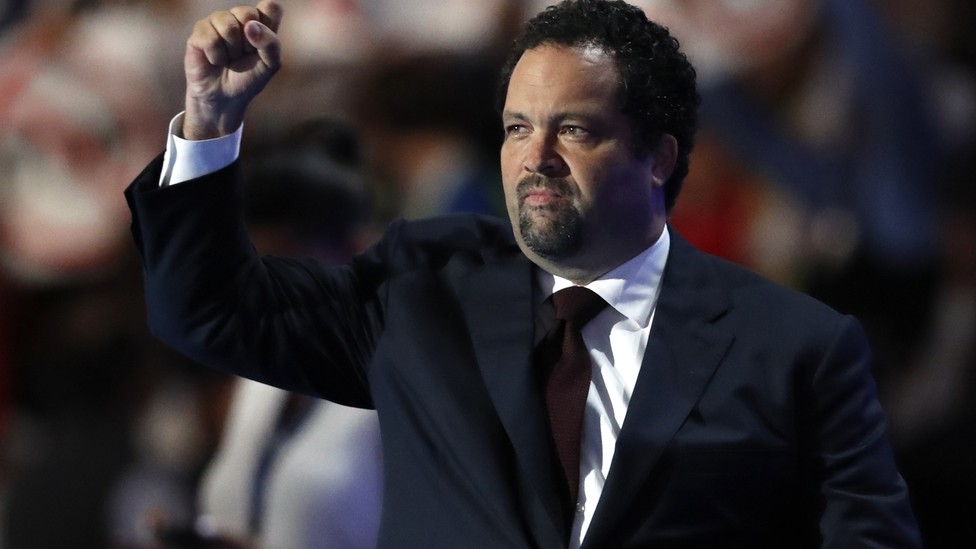 Ben Jealous is betting that a progressive Democrat can unseat blue state Maryland's  Republican governor Larry Hogan, despite the fact that Hogan remains exceedingly popular.
"Already, we are seeing signs, early signs, that we will be successful, [and] not just in the primary, in unifying Democrats, and pulling folks together," Jealous said in an interview on Thursday at a civic center in Silver Spring after Vermont Senator Sanders delivered a speech endorsing him.
The former head of the NAACP vying for the Democratic nomination in the Maryland governor's race is running on a Sanders-style agenda, including support for single-payer health-care, raising the minimum wage to $15 dollars an hour, and debt-free community and four-year public college.
The race will test the viability of a progressive platform in a diverse and heavily Democratic state that has a soft spot for centrist Democrats. It will also test the power of Sanders to play Democratic Party kingmaker, and whether the senator has become more influential with Democratic voters in Maryland since his presidential primary run, where he lost to Hillary Clinton.
Despite his popularity on the left, Sanders's endorsements in the post-2016 election landscape haven't translated into many tangible victories so far. The senator endorsed Rob Quist in the special election for Montana's house seat, Tom Perriello in the Virginia Democratic gubernatorial primary, and Keith Ellison in the race for Democratic National Committee Chair. Every candidate lost. Republicans haven't let that go unnoticed: "Bernie Sanders' record of endorsing losers doesn't bode well for Ben Jealous," reads the title of a post on the Republican Governors Association website.
But to hear the Jealous campaign tell it, Sanders has only become more beloved, and, more influential, in Maryland since his 2016 defeat. "The polling that we've done shows that Bernie Sanders is the most popular political figure in Maryland, and he's gotten more popular since the campaign," said Kevin Harris, a campaign spokesman. "We see his endorsement today as a tremendous asset for our campaign."
Sanders' star power brings with it a long list of advantages for any candidate he decides to endorse. As the most popular progressive politician, and by some measures, the most popular politician in the United States, the senator has a ready-made audience and network of support that any candidate he endorses can tap into to raise money, boost their name recognition, and bolster their liberal credibility.
"I don't really know anything about Ben Jealous, but I figure if Sanders is supporting him, then that's something," said Matthew Sisson, a 25-year old Maryland resident who showed up to the Silver Spring rally, and described his politics as "farther left than Democratic or liberal."
Jealous is a long-time ally of the senator. Jealous was co-chair of Sanders's campaign in Maryland. He was a prominent surrogate for Sanders during 2016. And his openness to policy items that read like a progressive wish list (when I asked Jealous if he would support a carbon tax, he told me he's "not opposed" to the idea) make him the kind of candidate Sanders hopes to see run in statewide races as a way of pushing his agenda forward.
"Sounds like Maryland is ready for a political revolution," Sanders himself said when he took the stage at Thursday's rally to give his political blessing, calling Jealous "one of the great progressive leaders, not only in the state of Maryland, but in the United States of America." The senator promised the crowd that "Ben is going to stand with the working people of this great state," warning that with President Trump in office, "now, we need more than ever, at the state-wide level, a very, very different kind of leadership."
Maryland's Democratic primary won't take place for nearly a year, in June 2018. The field for the governor's race is not yet set, and it's too early to know who will emerge as the Democratic favorite.
Maryland state senator Richard Madaleno is expected to challenge Jealous for the mantle of the progressive in the Democratic primary race. Madaleno has a well-established track record in office as a fierce critic of the state's Republican governor. He has called for a "state-run public option" if Republicans in Congress repeal former President Barack Obama's signature health-care law, the Affordable Care Act. Prince George's County Executive Rushern Baker, who said last month that he would run for governor, is viewed as a strong contender in the Democratic primary as well.
"To me, it looks like the divisions of the Democratic Party in miniature. It will show what happens when 'resistance'-style, progressive Democrats go up against more mainstream Democrats," said Mileah Kromer, a political science professor at Goucher College. "At this point there's no definitive front-runner, and there are strong candidates across the Democratic field."
There are ways that Jealous may improve on Sanders's record, however. The Vermont senator struggled during the Democratic primary to win over black voters, who make up a substantial portion of the Maryland Democratic electorate. And Jealous is emphasizing his track record as a civil-rights leader, and ties to the community.
"My family has been here for almost 80 years, we're rooted in West Baltimore. I was very involved in the state as a civil-rights leader while I was president of the NAACP, and I've stayed active through the uprisings," Jealous told me, referring to a period of unrest in Baltimore after Freddie Gray's fatal encounter with police in 2015. "It's being rooted in the black community here, being a product of the black community here, and the strength of my message, is what makes us confident we can pull folks together."
Whoever wins the Democratic primary is expected to face off against Hogan, who has maintained a high approval rating within the state, despite Maryland's Democratic-lean. If Democratic voters are energized under the Trump administration, however, the Republican governor could be vulnerable.
"I think Maryland just took it for granted that it would automatically end up with a Democratic governor," Kathy Day, a Silver Spring, Maryland, resident in her mid-50s who came to Thursday's rally said, reflecting on why the state currently has a Republican in the governor's mansion. "I think we'd just become too lackadaisical, and were not really paying attention to the issues. Everyone's going about their daily life and not really seeing the big picture."