'As I Have Always Said': Trump's Ever-Changing Positions on Health Care
The president insists on his consistency, even as he continually reverses his views.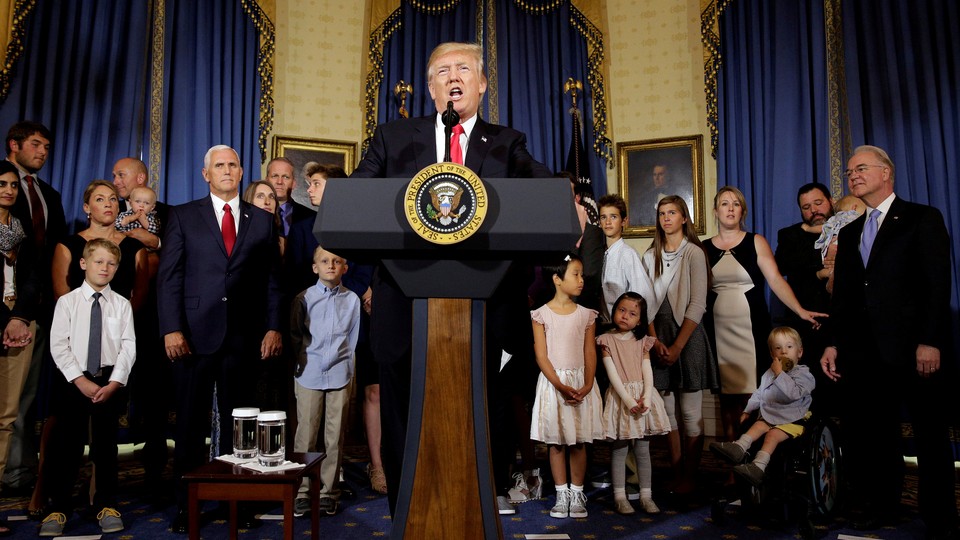 In the aftermath of the Republican health-care collapse early Friday morning, President Trump's response proved surprisingly restrained. There were no personal attacks on senators who voted against the plan, no multi-tweet tantrum. There was just one remark (followed hours later by a non sequitur about ending filibusters). That remark was, however, no more candid than many of Trump's prior statements:
3 Republicans and 48 Democrats let the American people down. As I said from the beginning, let ObamaCare implode, then deal. Watch!

— Donald J. Trump (@realDonaldTrump) July 28, 2017
As I said from the beginning. It's an amusing statement because Trump's views about health care have been anything but consistent. Rather, there have been three constants: agnosticism about what a plan should look like; a fanatical desire to notch a win regardless of the quality of that win; and a refusal to give up.
In the meantime, Trump has vacillated frequently, mostly pinging between three incompatible positions: first, that Obamacare should be repealed and replaced; second, that Republicans should repeal Obamacare and worry about a replacement later; and third, as here, that Republicans should simply let Obamacare die. Let's consider a somewhat simplified timeline of Trump's views.
September 27, 2015: Repeal and replace
"Obamacare's going to be repealed and replaced," Trump told Scott Pelley on 60 Minutes. "Obamacare is a disaster if you look at what's going on with premiums where they're up 45, 50, 55 percent."
He was vague on the details, but insisted that all Americans will have insurance. "There's many different ways, by the way. Everybody's got to be covered… I am going to take care of everybody. I don't care if it costs me votes or not. Everybody's going to be taken care of much better than they're taken care of now."
November 11, 2016: No preference
Jump ahead to right after the election. Trump told The Wall Street Journal he has no fixed position, but would consider just trying to fix the existing law. "Either Obamacare will be amended, or repealed and replaced," he said.
November 13, 2016: Simultaneous repeal and replace
Two days later, Trump was again on 60 Minutes, where he told Lesley Stahl he wants both to eliminate the law and to put in place a new one at the same time.
Lesley Stahl: And there's going to be a period if you repeal it and before you replace it, when millions of people could lose—no?

Donald Trump: No, we're going to do it simultaneously. It'll be just fine. We're not going to have, like, a two-day period and we're not going to have a two-year period where there's nothing. It will be repealed and replaced. And we'll know. And it'll be great health care for much less money. So it'll be better health care, much better, for less money. Not a bad combination.
January 9, 2017: Simultaneous repeal and replace
Despite Trump's statements, Republican leaders began floating the idea of repealing Obamacare first and replacing it later, likely recognizing that while a majority of the GOP caucus in both houses favors repeal, they have divergent views about what a replacement look like. (After seven years of promising repeal, leaders still had no viable plan.) But Senator Rand Paul believes that Congress should do both at once, and he convinced Trump to go along with it. The Wall Street Journal reported:
"I believe we should vote on replacement the same day we vote on repeal," Sen. Rand Paul (R., Ky.) said in an interview Monday. Mr. Trump called the senator on Friday night "to say he agrees completely," Mr. Paul said.
January 15, 2017: 'Insurance for everybody'
Trump told The Washington Post that he was close to unveiling a plan with the leaders of the House and Senate that would give insurance to everybody, lower deductibles, and lower premiums.
Although he was coy about its details—"lower numbers, much lower deductibles"—he said he is ready to unveil it alongside Ryan and Senate Majority Leader Mitch McConnell (R-Ky.)."It's very much formulated down to the final strokes. We haven't put it in quite yet but we're going to be doing it soon," Trump said….

"We're going to have insurance for everybody," Trump said. "There was a philosophy in some circles that if you can't pay for it, you don't get it. That's not going to happen with us."
As of late July, Republicans have not offered any plan remotely resembling this.
March 7, 2017: Trump backs House plan
On March 6, House Republican leaders unveiled their repeal-and-replace plan, which immediately took fire from all sides. Conservatives saw it as far too timid, but it also failed to meet the criteria that Trump had laid out. It increased premiums, slashed Medicaid (despite a Trump campaign promise not to touch entitlements), and would result—the CBO said a week later—in 21 million more uninsured Americans by 2021. Nonetheless, Trump backed the plan:
Our wonderful new Healthcare Bill is now out for review and negotiation. ObamaCare is a complete and total disaster - is imploding fast!

— Donald J. Trump (@realDonaldTrump) March 7, 2017
March 24, 2017: Wait for Obamacare to collapse
On March 24, the House bill collapsed, with Speaker Paul Ryan pulling it and acknowledging he didn't have the votes to pass it. "I've been saying for the last year and a half that the best thing we can do politically speaking is let Obamacare explode," Trump says in the Oval Office. He said he planned to move on to tax reform and let Democrats come to him when the current system collapses.
"I honestly believe the Democrats will come to us and say, look, let's get together and get a great healthcare bill or plan that's really great for the people of our country," he said. "And I think that's going to happen."
April 2, 2017: Repeal and replace
Trump scolded anyone who was so foolish as to take him at his word when he said he was going to move on and let Obamacare collapse:
Anybody (especially Fake News media) who thinks that Repeal & Replace of ObamaCare is dead does not know the love and strength in R Party!

— Donald J. Trump (@realDonaldTrump) April 2, 2017
April 30, 2017: Lower premiums and deductibles
The president again promised that any plan will have lower premiums and deductibles:
...healthcare plan is on its way. Will have much lower premiums & deductibles while at the same time taking care of pre-existing conditions!

— Donald J. Trump (@realDonaldTrump) April 30, 2017
May 4, 2017: Trump praises the House's second repeal-and-replace plan
On May 4, the House managed to pass a revised version of their bill, salvaging a significant victory from what had seemed like defeat. Trump threw a party in the Rose Garden for House leaders.
And I will say this, that as far as I'm concerned, your premiums, they're going to start to come down. We're going to get this passed through the Senate. I feel so confident. Your deductibles, when it comes to deductibles, they were so ridiculous that nobody got to use their current plan—this nonexistent plan that I heard so many wonderful things about over the last three or four days…. And this is, make no mistake, this is a repeal and replace of Obamacare.
June 13, 2017: Trump calls the House plan "mean"
Despite his public praise for the House plan, he told senators that it is "mean, mean, mean" during a meeting at the White House and added, "We need to be more generous."
June 26, 2017: Wait for Obamacare to collapse
With the Senate process faltering, Trump once again returned to the idea of simply allowing the existing market to collapse:
Republican Senators are working very hard to get there, with no help from the Democrats. Not easy! Perhaps just let OCare crash & burn!

— Donald J. Trump (@realDonaldTrump) June 26, 2017
June 30, 2017: Repeal now, replace later
Four days later, Trump returned to the leadership plan he had rejected back in January at Rand Paul's suggestion. He now thought it might be best to repeal and worry about the replacement down the road:
If Republican Senators are unable to pass what they are working on now, they should immediately REPEAL, and then REPLACE at a later date!

— Donald J. Trump (@realDonaldTrump) June 30, 2017
July 17, 2017: Repeal now, replace later
On July 12, Vice President Pence traveled to Kentucky, where he promised simultaneous action: "And before the summer is out, we will repeal and replace Obamacare." But five days later, Trump was once again pushing the repeal-and-wait strategy.
Republicans should just REPEAL failing ObamaCare now & work on a new Healthcare Plan that will start from a clean slate. Dems will join in!

— Donald J. Trump (@realDonaldTrump) July 18, 2017
July 18, 2017: Wait for Obamacare to collapse
No sooner had Trump reaffirmed his commitment to repeal-and-wait than he changed his mind, once again deciding the best thing to do is allow the current system to collapse. The next day, he tweeted:
As I have always said, let ObamaCare fail and then come together and do a great healthcare plan. Stay tuned!

— Donald J. Trump (@realDonaldTrump) July 18, 2017
July 22, 2017: Simultaneous repeal and replace
Five days later, Trump was once again backing the Senate's repeal-and-replace plan.
The Republican Senators must step up to the plate and, after 7 years, vote to Repeal and Replace. Next, Tax Reform and Infrastructure. WIN!

— Donald J. Trump (@realDonaldTrump) July 22, 2017
July 28, 2017: Wait for Obamacare to collapse
So much for that. With the Senate plan having collapsed again, Trump claimed he had always supported simply letting the system run its course. In addition to his early morning tweet, he told an audience on Long Island, "You know, I said from the beginning, let Obamacare implode, and then do it. I turned out to be right. Let Obamacare implode."
* * *
The historical record shows just how untrue Trump's claim to have "always" supported letting Obamacare fail is. Other than his commitment to do something about Obamacare, everything else has been negotiable. One element of this is surely Trump's continued illiteracy about both the existing health-insurance market and what the current plans will do—see, for example, his repeated promises of lower premiums. But it also reflects his determination to win. When your priority is a win at all costs, it's less important what sort of win that is. That's also why Trump's most recent insistence that he's going to let Obamacare collapse should not be taken at face value, nor should the apparent death of the bill be considered final. Several times now, the Republican repeal effort has been declared dead, and several times it has been brought back to life mostly by force of the president's determination to act. It's the one thing that really hasn't changed.