What If It's All True?
For months, President Trump and his aides have insisted that any suggestion of collusion with Russia was bogus. But if the Trump campaign was eager to receive information from the Russian government, what else might have happened?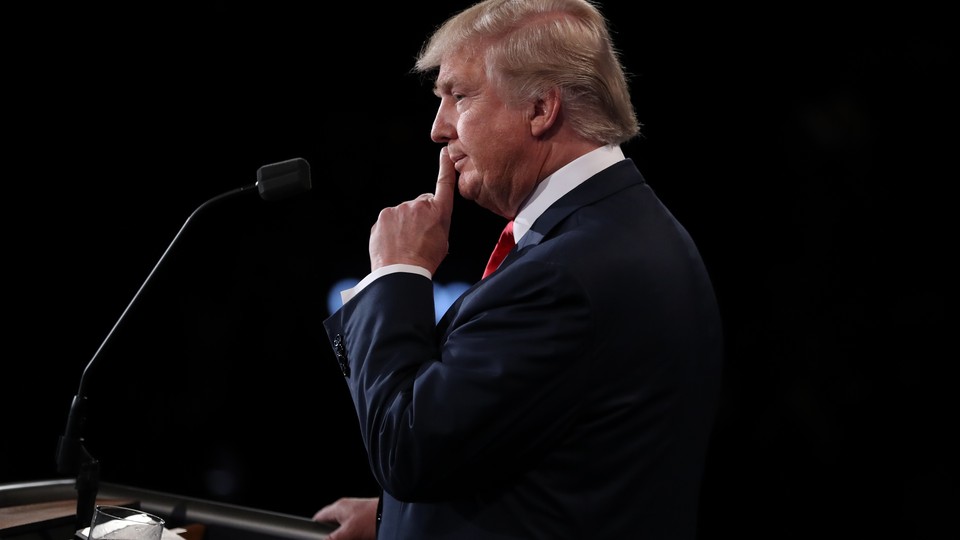 For months, rumors, innuendos, and allegations about collusion between the Trump campaign, the Trump administration, and the Russian government swirled around Washington, sometimes in great gushing floods, other times in lazy rivulets. Time and again, Donald Trump and his allies denied it. They said there was no contact before the election. They said that any meetings that were held were routine, or that campaign officials might not have known they were meeting with Russian officials. They pinned any misbehavior on low-level staffers and failed disclosures on honest oversights.
The most far-fetched claim of all was that the Trump campaign could have colluded with the Russian government. Donald Trump's affection for Vladimir Putin could be explained away by his admiration for authoritarians, his ignorance of foreign affairs, and an opportunistic chance to hurt both Barack Obama and Hillary Clinton. Apparent Russian hacking targeting John Podesta and the Democratic National Committee made sense given Putin's hatred of Clinton and desire to disrupt the American election. But the notion of actual attempts to work together seemed implausible to even many of Trump's harshest critics—a liberal fever dream at best, a return to McCarthyist red-baiting at worst.
Yet with Donald Trump Jr.'s release of self-incriminating emails on Tuesday, the nation learned that the wildest of fantasies was all too real: Granted the chance to take what he believed to be damaging information about Hillary Clinton from a Russian government official, provided because the Kremlin wished to aid his father, Trump Jr. eagerly seized the opportunity. "If it's what you say I love it," he wrote to an intermediary. Not only that, but he brought along his brother-in-law Jared Kushner and Trump campaign chairman Paul Manafort.
The disclosure of the emails raises a host of questions: Did anyone tell Donald Trump, and if so, when? (The White House and Trump's attorneys both say he did not attend and was not aware.) Did lawyer Natalia Veselnitskaya actually hand over any incriminating information at the June 9, 2016, meeting at Trump Tower? (Both she and Trump Jr. say she did not.) Why release documents that, according to some analysts, already implicate Trump Jr. in a federal crime? And why do it now?
That's a particularly vexing question because Trump and his aides have so staunchly rejected any suggestion of collusion with the Russians—setting aside President Trump's refusal to accept the consensus that Russia was behind interference in the election.
On July 24, 2016, for example, Trump Jr. appeared on CNN's State of the Union and proclaimed the notion that Russia wanted to help his father "phony" and "disgusting":
This was some six weeks after Trump Jr. met with a "Russian government lawyer" who wanted to give him information because the Russian government wanted to help his father.
The following day, Trump himself weighed in on Twitter:
The new joke in town is that Russia leaked the disastrous DNC e-mails, which should never have been written (stupid), because Putin likes me

— Donald J. Trump (@realDonaldTrump) July 25, 2016
Two days later he granted an interview to a local CBS station in Miami, disclaiming any connection to Russia at all: "I have nothing to do with Russia, nothing to do, I never met Putin, I have nothing to do with Russia whatsoever."
Trump claims that he was unaware of the June 9 meeting at the time. (In a June 7 victory speech, it's worth noting, Trump promised revelations about crimes by Hillary Clinton in the near future, perhaps on June 13. No such speech ever materialized.)
Trumps père and fils were not alone. NBC News put together a sizzle reel of Trump officials—including Paul Manafort, who was present at the June 9 meeting—denying any sort of contact between the Russians and the campaign:
In October, when Clinton accused him, during the third and final presidential debate, of being a puppet of Russian President Vladimir Putin, Trump shot back, "No puppet. No puppet. You're the puppet."
After the election, suggestions of collusion became more prominent, and Trump's denials became even more absolute.
In February, The Washington Post revealed that Michael Flynn, then the national-security adviser, had lied to the public and to Vice President Mike Pence about conversations with Russian Ambassador Sergey Kislyak, claiming he did not discuss sanctions when he had. Flynn was forced to resign on February 13.
The following day, The New York Times reported, "Phone records and intercepted calls show that members of Donald J. Trump's 2016 presidential campaign and other Trump associates had repeated contacts with senior Russian intelligence officials in the year before the election." That story focused in particular on Manafort, who worked for and with various Kremlin-linked officials and businessmen before joining the Trump campaign. Two weeks later, Attorney General Jeff Sessions was forced to recuse himself from the Russia investigation after admitting he had not disclosed his own meetings with Kislyak to the Senate.
Throughout this, the White House insisted that there was nothing more than met the eye here. Flynn was fired for lying to the vice president—and not for having improper conversations with foreign officials, Press Secretary Sean Spicer said, praising Flynn's character and service. Manafort was just some guy who "played a very limited role for a very limited amount of time," Spicer said. Sessions said he had simply overlooked the meetings. When the president's son-in-law and senior adviser was revealed to have also left several key meetings off his application for security clearance, the White House said that was an honest mistake. When news broke that Kushner met with the chief of a Russian state bank, the White House chalked it up to ordinary diplomacy, though the bank insisted Kushner appeared as head of his family's business.
Meanwhile, behind the scenes, the president was scrambling to put a lid on any investigation. If those steps looked questionable when they were reported before, they seem even more nefarious in light of Trump Jr.'s admission of attempting to collude. He called up the heads of intelligence agencies and asked them to publicly state that there was no evidence of collusion between Russia and the Trump campaign. They declined, but doing so would of course have left them twisting in the wind when Trump Jr.'s email emerged. (Trump has repeatedly shown little compunction about allowing his aides to make untrue statements, or to contradict them.) It's unclear what U.S. intelligence agencies knew about Trump Jr.'s meeting with Veselnitskaya at the time, or more recently. CNN's Evan Perez reported Tuesday that the FBI did not have the emails that Trump Jr. released.
Trump was also pressuring FBI Director James Comey to drop an investigation into Flynn, calling him a "good guy." Comey was so rattled by the request that he asked Sessions to never let him be in a room alone with Trump again. Trump then fired Comey, a decision that the administration publicly attributed to Comey's mishandling of the investigation into, ironically, Hillary Clinton's emails. Pence and White House spokeswoman Sarah Sanders both said so. But then Trump told NBC News's Lester Holt that in fact he had decided to fire Comey over the Russia investigation.
Trump's abrupt dismissal of Comey—and a resulting skirmish in which Trump threatened to release tapes of his conversations with Comey, only to say later that no such tapes existed—eventually led to the May 17 appointment of Special Counsel Robert Mueller, who is now investigating a range of issues, including, apparently, collusion with Russia and whether Trump obstructed justice.
That day, Trump issued an uncharacteristically short and detached statement. "As I have stated many times, a thorough investigation will confirm what we already know—there was no collusion between my campaign and any foreign entity," he said. "I look forward to this matter concluding quickly. In the meantime, I will never stop fighting for the people and the issues that matter most to the future of our country."
Perhaps the president should have checked in with his son, or his son-in-law, before speaking so bluntly. On Tuesday, he released a statement through Sanders, saying, "My son is a high-quality person, and I applaud his transparency." That's his only comment thus far, other than a statement that he was not aware of the meeting, an unusually staid response for the loquacious Trump.
If Trump really knew nothing about the June 9 meeting, one wonders what it was that he was so eager to suppress in his calls to the intel chiefs and his firing of James Comey. And as the collusion scenario that once seemed so implausible is verified by an email trail, which of the other allegations are true, too?