Watergate Lawyer: I Witnessed Nixon's Downfall—and I've Got a Warning for Trump
Richard Ben-Veniste on the uncanny parallels between the scandal he investigated and the controversy over the White House's alleged links to Russia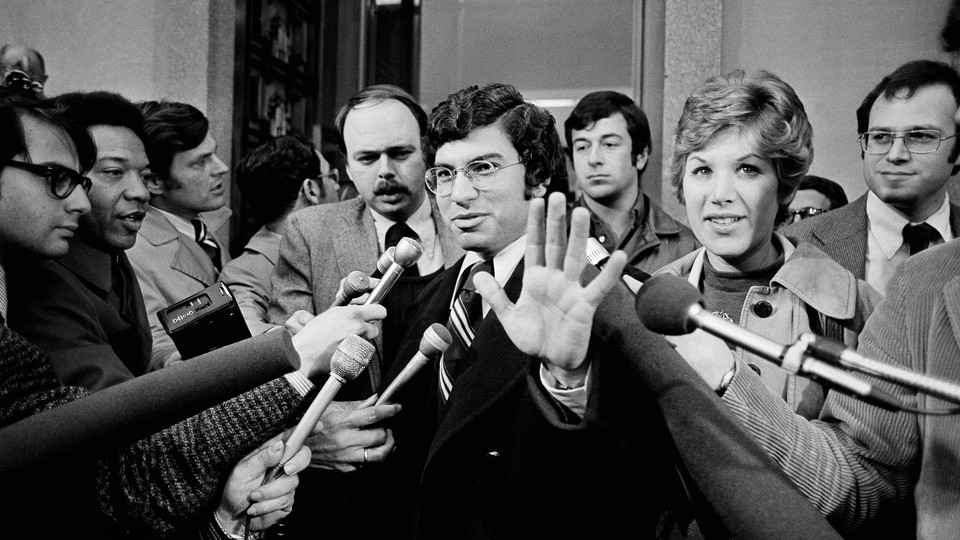 Watching the national controversy over the White House and Russia unfold, I'm reminded of Karl Marx's oft-quoted observation: "History repeats itself: first as tragedy, second as farce." I was a close witness to the national tragedy that was Richard Nixon's self-inflicted downfall as president, and I've recently contemplated whether a repeat of his "Saturday Night Massacre" may already be in the offing. Given how that incident doomed one president, Trump would do well to resist repeating his predecessor's mistakes—and avoid his presidency's descent into a quasi-Watergate parody.
The massacre began when Nixon gave the order to fire Watergate Special Prosecutor Archibald Cox, a desperate effort to prevent him from hearing tape-recorded evidence that proved the White House's involvement in a conspiracy to obstruct the investigation of a break-in at Democratic National Committee headquarters. Nixon's misuse of executive power backfired, immediately costing him two highly respected members of his administration: Attorney General Elliot Richardson and his deputy William Ruckelshaus, who both resigned rather than follow Nixon's directive. Third in command at the Justice Department was Solicitor General Robert Bork, who agreed to do the dirty deed and fired Cox.
At the time, I had been working on Cox's team for only four months and had just been promoted to chief of the task force investigating obstruction-of-justice allegations against Nixon. It was one of five such task forces that Cox organized to carry out his broad mandate. Although Nixon ordered the special prosecutor's office abolished and commanded the FBI to seize our office and files, we remained employed by the Justice Department. Homeless, leaderless, and dazed by our proximity to the explosion the president had detonated in our midst, we brushed ourselves off and vowed to continue our work in whatever capacity we could.
It was only a matter of days, though, until the firestorm of public and congressional outrage over Cox's firing forced Nixon to reverse course and promise to obey court orders that compelled his release of eight tape recordings. We returned to our office and were reunited with our files, and a new special prosecutor, Leon Jaworski, was soon appointed to lead the Watergate inquiry. Amid all the furor—which didn't end there—the public correctly asked the question "What was Nixon hiding?" The answer was not long in coming: a lot. The tapes proved Nixon was not only a liar, but also an early leader of a plot to obstruct the investigation of those who organized and financed the DNC break-in. Nixon's choice was either to face the music—likely impeachment, conviction, and removal from office—or resign.
In Watergate's aftermath, I thought the unique circumstances that led to Nixon's resignation in disgrace could never be replicated. But after just six months in office, the comparisons between Presidents Trump and Nixon are mounting:
Watergate involved political espionage and electronic wiretapping by the Republican candidate's campaign committee against the DNC. "Russiagate" involves political espionage by the Russians against the Democrats, with possible collusion by members of the GOP candidate's campaign or advisers.
Watergate saw the president's firing of a special prosecutor. In Russiagate, FBI Director James Comey was fired after, in the president's own words, the bureau's investigation had put "great pressure" on him.
Nixon called the Senate Watergate hearings a "witch hunt," and Trump repeatedly uses the same term to criticize the ongoing special-counsel investigation.
Nixon ordered CIA Deputy Director Vernon Walters to tell Acting FBI Director Pat Gray to back off the investigation tracing cash found on the arrested burglars at the scene of the crime. According to Comey's sworn testimony before the Senate, Trump told him to go easy on former National Security Adviser Michael Flynn, who is being investigated in part for lying about his contacts with Russian officials.
Nixon aide Alexander Butterfield revealed the existence of a secret White House taping system in Senate testimony. Trump once suggested that he may have covertly taped his conversations with Comey, though on Thursday he denied doing so.
Nixon claimed the special prosecutor's office was made up of political partisans out to get him, and Trump calls Special Counsel Robert Mueller and his staff "very bad and conflicted people." Both presidents have also sharply criticized the press, calling it the "enemy."
As if all these parallels are not enough, Trump's surrogates have raised the possibility that he will fire Mueller, too. Presidential confidant and Newsmax CEO Chris Ruddy told reporters earlier this month he believed Trump was considering the dismissal. Incredibly, longtime Trump supporter Roger Stone, who himself worked on Nixon's reelection campaign, has loudly encouraged Trump to reprise the Saturday Night Massacre by firing Mueller. This despite the fact that Mueller—tapped to lead the FBI by George W. Bush in 2001 and selected by Trump's own deputy attorney general to lead the Russia inquiry, has been on the job for only a month and is still hiring staff.
If Trump's actions seem like a ham-fisted imitation of Nixon's, they are no laughing matter. Senator Dianne Feinstein, the top Democrat on the Senate Judiciary Committee, said she is "increasingly concerned" that Trump will fire Mueller, and send a message that he "believes the law doesn't apply to him, and that anyone who believes otherwise will be fired"—a perhaps unintentional allusion to Nixon himself, who once said that when a president does something, "that means that it is not illegal." The usual limits on presidential power must apply to Trump, Feinstein argued: "The Senate should not let that happen. We're a nation of laws that apply equally to everyone, a lesson the president would be wise to learn."
The question is not whether Trump can fire Mueller—it is whether it would be a misuse of executive power for him to do so. Should Trump let Mueller go, it would spark a constitutional crisis the likes of which the country has not seen in four decades. The business of Congress would grind to a halt and the stock market would suffer a shock. With Comey's dismissal as the backdrop, there could be an immediate resolution introduced in the House for Trump's impeachment for attempting to obstruct a lawful, ongoing criminal investigation.
Rod Rosenstein, in his role as acting attorney general, followed the law in appointing Mueller to be special counsel to "ensure a full and thorough investigation of the Russian government's efforts to interfere in the 2016 presidential election" and related matters. It should be remembered that Nixon was named by the Watergate grand jury as an unindicted co-conspirator in a conspiracy to obstruct justice, and that the House Judiciary Committee cited his interference with Cox's investigation among the grounds for voting in favor of impeachment. And only former President Gerald Ford's pardon precluded an indictment of citizen Nixon for obstruction.
In Watergate, there were several Republicans in both houses who are remembered for putting country above party loyalty. The die-hards who stood with Nixon until the end—not so much. If Trump were to fire Mueller to cut off a full investigation, it would fall to congressional Republicans, who control both houses of Congress, to determine whether the United States continues to be a nation of laws. Americans would see whether a new Howard Baker, Lowell Weicker, Tom Railsback, Bill Cohen, Caldwell Butler, or Hamilton Fish would step forward and join with Democrats, who would no doubt sponsor an impeachment resolution. Or would GOP lawmakers simply go along with a foolhardy reenactment of the Watergate scandal's Saturday Night Massacre?