Will The Rock Be Their Fortress, Their Deliverer?
Democrats and Republicans alike are turning to celebrities in their search for success on the campaign trail.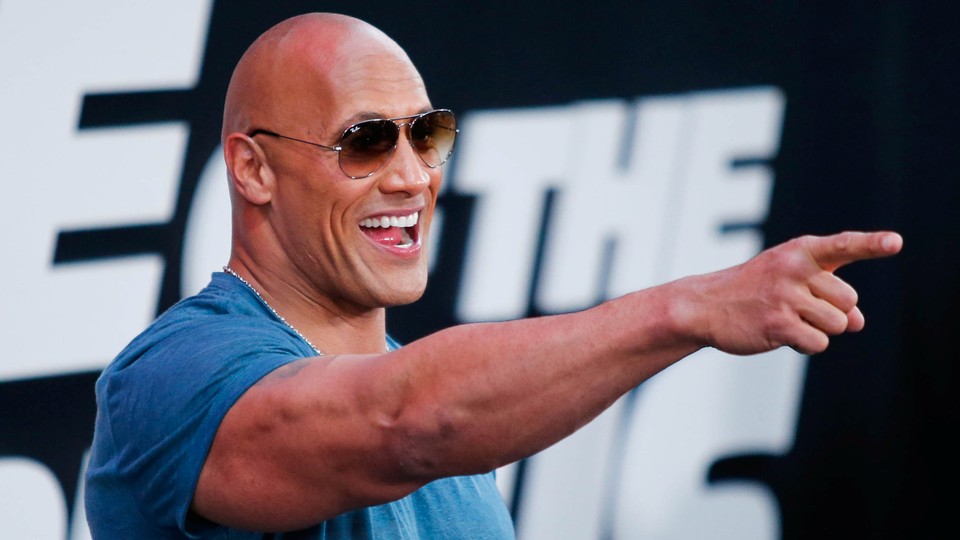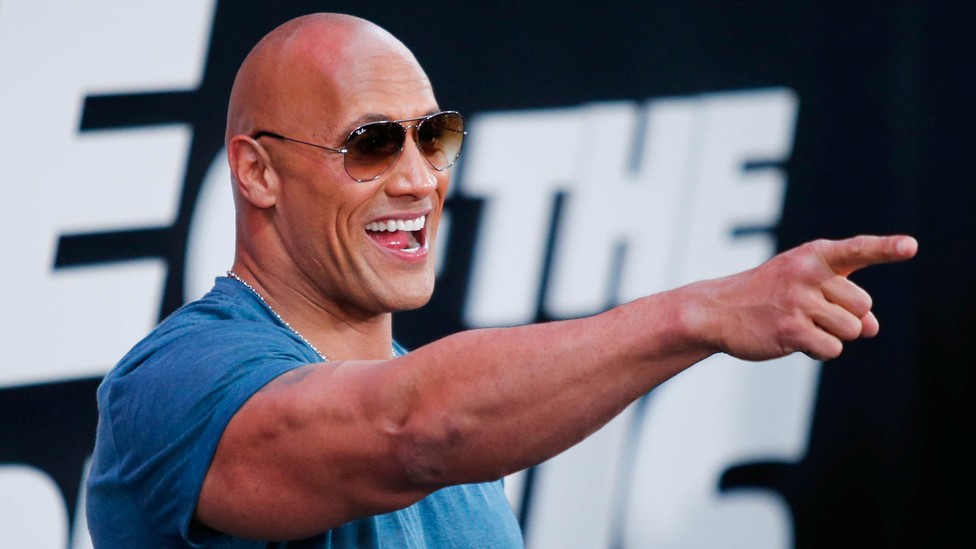 For normal people, the Trump administration is still in its settling-in, getting-to-know-you phase. For paid political obsessives, however, it's high time to start freaking out about the next batch of presidential prospects. Which is why, as a veteran Washington journalist, I spent my birthday last weekend investigating one of the 2020 field's early buzz generators: My kids and I hit the local cineplex to see the new Baywatch, starring pro-wrestler-turned-actor-turned-possible-White-House-dark-horse Dwayne "The Rock" Johnson.
Do not laugh. Not about Baywatch—what's more magical than cameos by David Hasselhoff and Pamela Anderson?—and certainly not about The Rock. Since last summer, the preternaturally charismatic Johnson has been musing aloud about maybe, someday running for high office. When he revived the idea in a cheeky GQ piece last month ("Dwayne Johnson for President!"), approving chatter broke out across the ideological spectrum, from lefty Michael Moore to the righties at National Review.
And that's without anyone even knowing where Johnson stands on the political spectrum. (He is a registered Republican who has been gently critical of Trump and has attended both parties' nominating conventions, yet steers clear of hard-edged politicking.) "He's a culturally unifying figure with a message of gratitude and hard work that also happens to be culturally edifying," declared National Review's cover story/mash-note. "The Rock is the right celebrity for our polarized time. The politics can wait."
Just a few months ago, most Washington establishment types would have sneered at the notion of a political naif running for president on little more than box-office juice, huge pecs, and a dazzling smile. But that was before a real-estate heir turned reality-TV star won the Oval Office with zero political experience, even less interest in policy, and no ideological moorings.
"Trump's election has lowered the bar for everybody," said Darrell West, vice president and director of Governance Studies at the Brookings Institution and co-author of the book Celebrity Politics. "The field is wide open for candidates from non-traditional backgrounds."
Indeed, since Trump's win, the political c.w. on star-power has shifted. Democrats in particular are being urged to mine the ranks of the rich and famous for promising candidates. "Democrats would be better off if they ran Oprah or Tom Hanks," asserted Michael Moore to CNN post-election. "Why don't we run beloved people?"
The logic isn't hard to grasp: If Trump—previously seen as the ultimate political joke—can pull it off, why not Angelina Jolie or Will Smith? Mark Zuckerberg or Sheryl Sandberg? Or the one celeb to rule them all, Oprah?
And why stop with the presidency? Ohio Democrats are reportedly pushing for trash-talk-show host Jerry Springer to run for governor. Unlike Trump, Springer has political experience: Once upon a time he was mayor of Cincinnati, and he has kept a toe in the Democratic pool over the years. Admittedly, Springer is hardly an Oprah-esque "culturally unifying figure." Then again, he's no more inflammatory than the current president. If anything, when Springer was flirting with a Senate run several years back, he struck me as too serious and earnest to properly exploit his notoriety. And few would argue that the man who once defined lowbrow culture is too fancy-pants in his image or sensibilities.
When I reached out to Springer, he didn't sound especially keen on the idea. "The issue of me running for political office frequently comes up because I am constantly touring around, giving speeches and raising money for the party," he responded via email. "Truthfully, I've been doing that for at least the last 30 years as a private citizen because I believe joining the conversation is part of being a good citizen. If I do ever decide to throw my hat in the ring ... I will let people know. At this point ... I don't even have a hat."
In politicalspeak, this is a solid "maybe."
Trumpsanity notwithstanding, Democrats should take extra care before jumping on the celebrity train. The reality is that, for the past few decades, Dems have had less success than Republicans at getting celebrities elected at the federal level. Forget Trump. Think about the GOP celebs sent to Capitol Hill since the Reagan era. (Senators Fred Thompson and Jim Bunning, Representatives Sean Duffy, Fred Grandy, J.C. Watts, Jon Runyan, Steve Largent, Tom Osborne, Sonny Bono… ) And on the Democratic side? (Senators Al Franken and Bill Bradley, Representatives Ben Jones, Tom McMillan, and Heath Shuler … )*
One factor working in Republicans' favor: pro athletes. Actors, singers, and reality-TV personalities have their charms, but, politically speaking, sports stars outperform them all.  "They don't have a lot of baggage, and their brand cuts across the political divide," said West.
Traditionally, notes West, Republicans have done well recruiting athletes because of the tax issue. "The thing about pro athletes is, they come into big money at a very early age, and they are always shocked at how much of their paycheck goes to incomes taxes," said West. "For a lot of these people, that is the motivating issue. It really aggravates them, and it pushes them toward the Republican Party."
More broadly, GOP celebrities benefit from the party's anti-establishment bent. Celebrity candidates often paint themselves as the refreshing, uncorrupted alternative to self-serving political elites. (Again: Trump.) This screw-the-establishment message has been a GOP mainstay for years, giving Republican candidates without political experience a boost not shared by their Democratic counterparts. It's worth noting that the anti-establishment revolutionary to take the Democratic Party by storm last cycle was Bernie Sanders, a sitting senator who has been in electoral politics since God was a boy.
Dems also have to contend with Republicans' attacking them more generally as the party of out-of-touch Hollywood and coastal elites. (Recall the 2008 McCain campaign's sneering characterization of Barack Obama himself as a "celebrity.") This makes it easy for the GOP to mock or stereotype whatever celebrities run on the Democratic line. When Republicans have a famous name of their own on the ballot, however, they don't waste time fretting about hypocrisy. Nor should they, suggested West: "People always belittle celebrities and say they don't know very much. Yet, if you look at the track record, many celebrities have been very successful candidates."
Obviously, not all stars are created equal. Some have more mainstream appeal than others. (Cam Newton: scads. Charlie Sheen: not so much.) Until recently, Trump was regarded as Exhibit A in the ludicrous category. But he clearly grasped some of the vitals, including how to work the media and how to connect with regular folks. "It's how you talk, not where you sit," stressed West. "You need to be able to relate to the average person. That's one of the most important ingredients in the current situation. You can't come across as snotty or unapproachable."
This, of course, is always a core challenge for Democrats. They fancy themselves the party of expertise and experience and good governance, none of which leaves much room for unconventional, or even relatable, candidates.
But you know what they say about desperate times—and the bulk of Democrats are growing increasingly desperate in the Trump Era. Political norms have been upended, and the rules of engagement are being rewritten.
At the very least, it may be time for Democrats to start exploring what it would take for The Rock to switch parties.
---
* This article originally identified Heath Shuler as a member of the GOP. We regret the error.