Why Did Jeff Sessions Really Meet With Sergey Kislyak?
The attorney general says he was acting as a senator, but a review of his activities that summer shows ambassadors seeking him out as a Trump surrogate.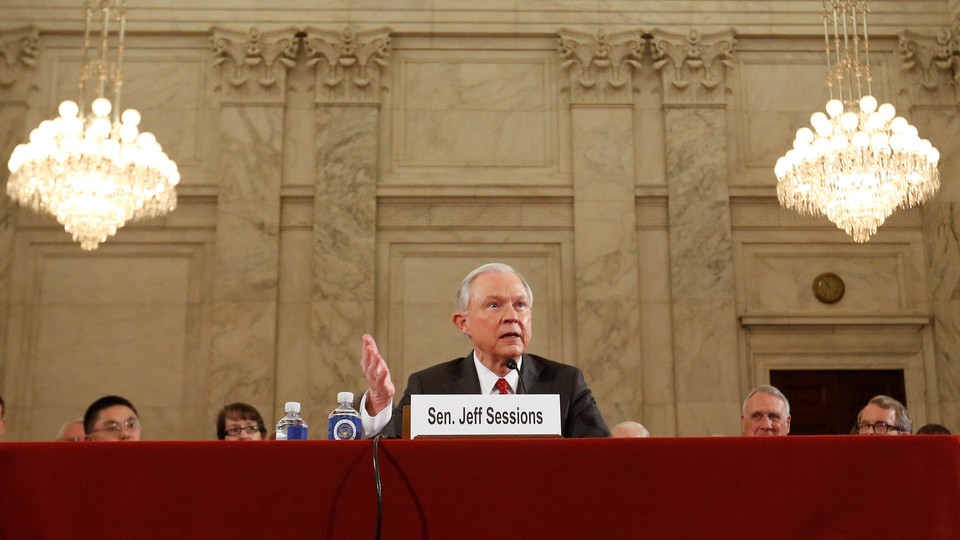 It can be hard to get a straight answer out of Attorney General Jeff Sessions.
When Senator Al Franken asked then-Senator  Sessions at his Senate confirmation hearing on January 10 whether he "communicated with the Russian government," he said, "I'm not aware of any of those activities." Unprompted, Sessions then went further, saying,  "I have been called a surrogate at a time or two in that campaign and I didn't have—did not have communications with the Russians, and I'm unable to comment on it." Then less than two months later, on March 1, The Washington Post reported that Sessions had, in fact, met with Russian Ambassador Sergey Kislyak—not once, but twice.
It was a serious omission, especially for the nation's top law-enforcement officer, and one who is a vocal advocate for law and order. Scrambling to contain the damage, Sessions issued a statement that attempted to draw a very subtle distinction. Calling the report "false," he said that he had "never met with any Russian officials to discuss issues of the campaign." His spokeswoman, Sarah Isgur Flores, spelled it out even more clearly: "He was asked during the hearing about communications between Russia and the Trump campaign—not about meetings he took as a senator and a member of the Armed Services Committee," she said. (In fact, Franken had made no such qualification.) And a White House official insisted that Sessions had "met with the ambassador in an official capacity as a member of the Senate Armed Services Committee," not a campaign surrogate.
The next day, as pressure mounted, Sessions called a press conference and publicly recused himself from the Russia investigation. "I did meet with this one Russian official a couple of times," he said, referring to his encounters with Kislyak. But he insisted on the fine distinction he and Flores had drawn the previous day, saying he had "never had meetings with Russian operatives or government intermediaries about the Trump campaign." That is, he claimed that when he met with Kislyak, he did so as a senator on the Armed Services Committee, not a Trump surrogate.
But an examination of Sessions's activities in 2016 calls this defense of his testimony into question. It shows a significant spike in the frequency of his contacts with foreign officials after he joined the Trump campaign as a foreign-policy adviser in March. That was when the longtime member of the Armed Services Committee embarked on an intensive program of meetings and dinners with ambassadors and members of Washington's foreign-policy establishment. His meeting with Kislyak took place during those months. And some of those who met with Sessions said they sought him out not because he was a senator, but precisely because of his role as a Trump campaign surrogate, tasked with advising the campaign on matters of national security.
That may seem semantic, but for Sessions, the distinction is crucial. He has insisted that he did not disclose the meeting with Kislyak in his testimony because it was a routine part of his Senate duties. He has offered the same explanation for his failure to divulge that meeting, or his other encounters with foreign ambassadors, on his security-clearance form. Franken and Senator Patrick Leahy, citing "testimony that could be construed as perjury," have repeatedly asked the FBI to reexamine Sessions's contacts with Russian officials. "If it is determined that the attorney general still has not been truthful with Congress and the American people about his contacts with Russian officials during the campaign," the senators said, "he needs to resign."
When Franken asked Sessions during his confirmation hearing if he "communicated with the Russian government," there was a simple answer: Yes, of course, he had communicated with the Russian government—in the form of Kislyak. And it wasn't just Kislyak. Sessions was also communicating with ambassadors from Britain, South Korea, Japan, Singapore, Taiwan, India, China, Canada, Australia, and Germany.
Last summer, a source close to Sessions told me that Sessions met "with Central European and Baltic ambassadors on a regular basis." According to a list provided to The Atlantic by the attorney general's spokeswoman, that included meetings with ambassadors from Montenegro, Poland, the Czech Republic, Bulgaria, Hungary, Lithuania, Latvia, Poland, and Ukraine.
The Trump administration has insisted, as Flores told an Alabama newspaper in March, that Sessions was having these meetings "as a senior member of the [Senate] Armed Services Committee." At a March press gaggle, White House spokeswoman Sarah Huckabee Sanders castigated reporters for mixing up Sessions's roles as senator and top Trump campaign surrogate. "As a senator he obviously in his official capacity met with the ambassador," she said. "Again, that was as a senator not as a campaign official, so again, to try to muddy the waters in that way is I think pretty unfair to the attorney general."
But the line between his two jobs was often quite porous, and it was not always clear whether it was his role as a Trump campaign surrogate, and not his service as a senator, that drew people to want to meet with him. "He was double-headed all the time, so it was very hard to distinguish," says a European diplomat who met with Sessions several times in 2016. And that raises questions about Sessions's explanation of those meetings.
Sessions was one of Trump's earliest supporters, hosting a massive rally for him in Mobile, Alabama, in August 2015, just two months after Trump announced his unlikely bid for the presidency. But Sessions's official involvement with the campaign didn't begin until March 3, 2016, when Trump named him chairman of the campaign's national-security advisory board. The first meeting with a foreign ambassador on the list his office provided—with Elena Poptodorova, the Bulgarian ambassador to Washington—took place about a month later, on April 14, 2016. There were no ambassadorial meetings documented in 2016 before Sessions's March appointment to the campaign.
Members of Congress meet with foreign ambassadors all the time, as Representative Eliot Engel, the ranking Democrat on the House Foreign Affairs Committee, pointed out in a hearing this spring. But when I asked one senior Republican Senate staffer whether Sessions was known as a foreign-policy specialist who met regularly with ambassadors during his 20 years in the Senate, the response was incredulity. "Is that a serious question?" the staffer said. "He's clueless."
"I honestly can't remember anything he ever did or said on foreign policy," a long-serving Republican Senate national-security staffer said. "He was definitely interested in some of the issues, which is more than can be said for many senators, but he was not a major or influential figure."
In that sense, Sessions was a strange choice to chair the Trump campaign's foreign-policy team. In the Senate, Sessions had delved deeply into mostly domestic issues: immigration, sentencing reform, judicial confirmations, and budget policy.
Yet here he was, the unlikely foreign-policy adviser for an unlikely candidate who, nonetheless, by the spring of 2016 was zooming to the top of the Republican primary race. But Trump—who was apparently unaware that Russia had invaded Ukraine until George Stephanopoulos corrected him, and was so opposed to GOP foreign-policy dogma that its leading lights felt the need to publicly chastise him in an open letter—clearly needed foreign-policy counsel, and Sessions seemed to take his role seriously. He quickly became, according to one former Trump campaign staffer, "the go-to person for all the foreign-policy people trying to give their advice to the campaign."
As Trump's foreign-policy adviser, Sessions began to speak frequently with Dimitri Simes, the Russia specialist who is well-connected in Moscow and runs the Center for the National Interest, a hub of Nixonian realism. He also met with Richard Burt, a former American ambassador to Germany turned lobbyist for McLarty and Associates. Burt also represents blue-chip Russian clients like Alfa Bank, which was mentioned in the unverified intelligence dossier published by BuzzFeed in January. (Alfa Bank is now suing BuzzFeed for defamation.) One source with direct knowledge told me that Burt helped write Trump's April 2016 foreign-policy speech, which Trump delivered at the Mayflower Hotel at an event hosted by the Center for the National Interest, although Burt himself denied it when we spoke last summer.
Kislyak and the ambassadors of Italy, Singapore, and the Philippines watched the speech.* (The British, French, and German ambassadors were also invited, but did not attend.) It was here that Trump had what was, according to a source who saw it, a brief encounter with Kislyak. Kislyak met Trump as the future president of the United States greeted guests in the receiving line. Sessions and Kislyak both attended the VIP reception along with other guests.
Last week, CNN reported that former FBI Director James Comey told senators at a classified hearing that investigators were looking at whether Sessions had a third undisclosed meeting at the event with Kislyak, who bragged about it in intercepted conversations with other Russians. "It's possible, but we have no record of that," says a source familiar with the event. "But since we could not anticipate the controversy, nobody was particularly paying attention. A substantive conversation would probably be noticed."
Simes declined to comment, and Burt did not respond to multiple requests for comment, but the Center for the National Interest issued a statement in March, saying, "The line moved quickly and any conversations with Mr. Trump in that setting were inherently brief and could not be private. Our recollection is that the interaction between Mr. Trump and Ambassador Kislyak was limited to the polite exchange of pleasantries appropriate on such occasions. We are not aware of any conversation between Ambassador Kislyak and Senator Jeff Sessions at the reception. However, in a small group setting like this one, we consider it unlikely that anyone could have engaged in a meaningful private conversation without drawing attention from others present." The CNN report suggested U.S. investigators thought Kislyak "exaggerated" the extent of this meeting.
Trump's son-in-law Jared Kushner had organized the speech with the Center for the National Interest—though the campaign at one point tried to move the venue from the Mayflower to a Trump golf club in Virginia. According to a source familiar with the participants, Kushner also encouraged the foreign-policy graybeards associated with the center to be in touch with Sessions and to "help him with [foreign-policy] ideas."
At around the same time, at Kushner's direction, the Trump campaign set up a policy shop in Alexandria, Virginia. It too was nominally headed by Sessions, though its day-to-day operations were run by his Senate chief of staff, Rick Dearborn, who is now a senior White House official. The other conduit between the campaign and the unpaid staffers at the policy shop—who were told they would be paid after the Republican National Convention in July, but never were—was J.D. Gordon, a former Pentagon spokesman who was in charge of foreign policy for the campaign. (It was Gordon who, along with Sessions and the Trump campaign Russia advisor Carter Page, met with Kislyak on the sidelines of the Republican National Convention as part of an event organized by the State Department. Gordon declined to comment on the record.)
In addition to serving as a policy generator, the policy shop run by Sessions's chief of staff was supposed to serve as an access point for embassies. According to a former campaign staffer, a campaign staffer named Tara Dahl "was meeting various embassy people. She was asking for guidance on sensitive things like the Muslim ban." Such meetings are a regular feature of presidential campaigns. Said the staffer, "I knew and everyone knew that embassy thing was going on. If anything, my sense was that we were behind the curve of where a campaign should be" in terms of such meetings. According to a former campaign advisor, "it was primarily a one-way operation … Of the very few meetings we conducted with embassy officials and advisors in the Policy Office, to my knowledge, none were conducted with the Russians."
Sessions wasn't very hands-on with the policy shop. Instead, he spent time meeting with ambassadors in his Senate office. After that first meeting with the Bulgarian ambassador on April 14, 2016, the pace picked up steadily. In the second half of April alone, Sessions met with eight ambassadors. According to the list provided by Sessions's office, four ambassadors came through his office in May 2016, six in June, two in July, and, after the August recess, seven—including Kislyak—stopped by in September. All told, Sessions encountered Kislyak at least three times in five months.
Asked if Sessions had met with ambassadors at a similar clip in years prior to 2016, Flores said "he met with several ambassadors every year," but said she did not have the records documenting such meetings.
But one European diplomatic source present at one of the 2016 meetings with Sessions told me that his country's ambassador was meeting with Sessions because "he just wanted to know the policies of the Trump team at that time, and Sessions wanted to have feedback." Asked if Sessions was of interest to the European embassy because of his role on the Senate Armed Services Committee, the diplomatic source said, "We meet with people from the Hill as often as possible and of course it was well known that Sessions was close to the Trump campaign, he even had a formal role." The source added that his embassy had "similar interactions with the Clinton campaign."
In balancing his campaign and Senate duties, Sessions was forced to thread a very fine needle, especially after a Dear Colleague letter was issued by the Senate Ethics Office in April, reminding members that it was illegal to use Senate office resources—office space, phones, emails, staffers' time—to aid a presidential campaign.
"The guidance in this letter is longstanding guidance from the Committee on keeping campaign activity separate from official activity," says Robert L. Walker, the former chief counsel for the Senate's Select Committee on Ethics. "It was not novel guidance, but a reminder of long-standing guidance. The letter sets out the contours on what may and may not be done with Senate resources by Senate staff. There's no doubt that the principles enunciated are authoritative, longstanding standards."
Walker declined to say whether Sessions would have been in violation of the guidelines—which are rooted in federal law—in meeting ambassadors in his Senate office as part of his campaign work. The guidelines are enforced by the Senate Ethics Committee; at this point, because Sessions is no longer in the Senate, any past violation could not be sanctioned.
Sessions did go to some lengths to comply with those guidelines, however. He set up a separate office near Union Station where he and Gordon would take meetings related to the campaign. But the ambassadors continued to come to his more impressive Senate office, even after Sessions had been involved with the Trump campaign for months. Sessions met with Kislyak in his Senate office.
In January 2016, Sessions's speechwriter Stephen Miller crossed over to camp Trump, offered up to the campaign by the senator himself. Weeks before leaving the Senate office, though, Miller used his Senate email to harangue a Politico editor for unfair coverage of Trump. The Dear Colleague letter is unambiguous that using official email—whether by a senator or staff—for campaign purposes constitutes "prohibited campaign activity."
Dearborn, who stayed on at Sessions's Senate office, continued to wear two hats, simultaneously running the Senate office and the Trump campaign's policy office in Alexandria. "Rick Dearborn, who was the head of the [policy] office, was concurrently Sessions's chief of staff," said the former campaign staffer. "Sometimes he was at the campaign office physically, sometimes he was on the Senate side. It was understood that he was aware that there were these rules and that he was managing them." Using staffers' time to aid a campaign is also prohibited.
Last summer, Dearborn told me he was doing campaign work on his own time. "I do a lot of interesting things when I'm on vacation," he said at the time. "When I'm vacation, I do help when I can." (The White House declined to make Dearborn available for comment, referring questions to the now-defunct 2016 campaign.)
By the summer of 2016, Sessions became known in Washington as Trump's point man for foreign policy, and some in the city's foreign-policy establishment began seeking him out, hoping to pass their policies through Sessions up to Trump.  On September 15, 2016, the Heritage Foundation held an invitation-only roundtable discussion with Sessions. More than 30 ambassadors and deputies chief of mission were invited. (The Russians were not.) The attendees were mostly from allied countries, and there was much anxiety from NATO members about the Trump campaign's messaging that NATO was "obsolete." Sessions "was interpreting what Trump was thinking at the time," one of the diplomats in attendance said. "We wanted to understand in detail what was the foreign-policy program."
Another diplomat at the meeting told me he was there to meet Sessions "99 percent" because of his role in the Trump campaign. "Some [of those attending] had seen him before as senator, but his new role at a time of lack of clarity and general drought of information was adding a lot of appeal" to the discussion, the diplomat said. "Nobody had any real meaningful contacts with the real players on the campaign or the inner circle. You should have seen Europeans, Germans, French scramble for any of those."
The focus of the event was not what Senator Sessions thought, but what Trump thought. "At this meeting, [Sessions] was interpreting Trump's views because he was politically close to him," the diplomat in attendance said. "He apparently didn't have the authority to formalize the policies. He didn't have [the ability to] authorize policy. He was rather interpreting. He was kind of trying to grasp what it was."
Other foreign-policy types tried to influence the policy of the Trump campaign through Sessions. Richard Burt began hosting a series of dinners for Sessions with foreign-policy thinkers at Washington's Metropolitan Club. The first was held on June 28, 2016, and included the former U.S. ambassador to Afghanistan Zalmay Khalilzad, Bush-era Director of National Intelligence John Negroponte, and various former military officials, like former Assistant Secretary of Defense Wallace "Chip" Gregson, also a former Marine lieutenant general. Sessions was asked if he wanted to invite anyone. The only guest he chose was Fox TV personality K.T. McFarland, who went on to be named Trump's deputy national-security adviser.
"The assumption on the part of the participants was that this would be to share their ideas and perspectives with the campaign," one of the attendees told me.
"At least speaking for myself, I knew [Sessions] was working with the Trump campaign," Gregson says. "I was under the impression that Senator Sessions was looking for an update on things."
Another attendee said, "The participants felt like Sessions was doing what you would want the representative of a campaign to do, reaching out to experts, officials, and retired generals. The group was non-partisan, was assembled on an ad hoc basis, to provide insight to a campaign that was in its early stages."
Khalilzad did not return requests for comment, but Negroponte, who had endorsed Hillary Clinton, told me he "chose to drop out" after the first dinner, and did not attend the second dinner, held in early August, because he was afraid that it would be used by the Trump campaign.
It turned out that he didn't have to worry. It quickly became clear that the dinners were not having the intended effect of providing the Trump campaign with nuanced policy advice. The foreign-policy graybeards were meeting with Sessions because he was a Trump campaign advisor, but it was unclear whether the advice they were giving him was getting to Trump, or if Trump was even interested in hearing it.
"Gradually, the participants got the impression that the campaign was interested in generals. They were interested in endorsements, and not in any meaningful advisory process," said one source familiar with the dinners. Burt and the others decided to stop hosting the dinners after "it became clear that the participants were talking to Jeff Sessions but it had no impact on the candidate or the campaign. It was very clear that there was no transmission belt so it stopped."
Another attendee told me that the exercise "was very clearly for Sessions to provide him with insight. If the discussion is about how many of those insights went to the candidates, the participants were not so sure. People wanted to talk to Trump and it became clear that it was not in the cards, so the discussion was of little relevance."
With Trump's election, Sessions's packed schedule of meetings with foreign-policy experts and advisers ended as suddenly as it had begun. The last meeting with an ambassador on the list provided by Flores took place on November 11, 2016 with the German ambassador.
With Trump in the Oval Office, Sessions left behind his Senate seat on February 8, 2017 to take up his current post as attorney general. But he has not been able to shake the questions raised by his encounters with ambassadors, including Kislyak, in the summer of 2016. If anything, his answers have only raised more questions.
---
* This article originally stated that Burt had attended Trump's foreign-policy address at the Mayflower Hotel. We regret the error.
Related Videos