Why Breitbart Fired an Editor for a Tweet
Katie McHugh's views were no secret. Her exit from Breitbart News reflects changes at the top.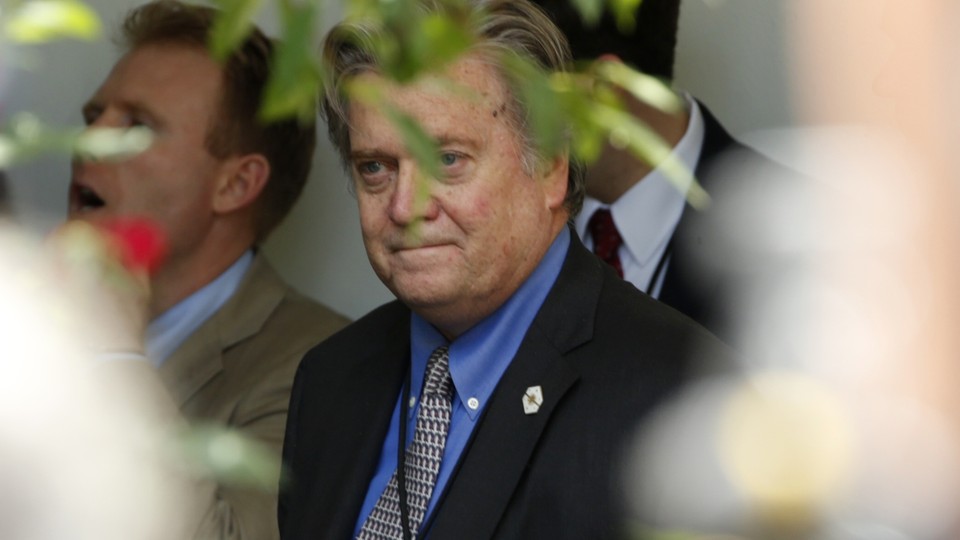 The final straw was something that, at any news organization, would have gotten someone fired.
"There would be no deadly terror attacks in the U.K. if Muslims didn't live there," tweeted Breitbart News's Katie McHugh, in the wake of the London Bridge attack that killed eight and injured 48 people. McHugh then responded to a critical tweet from an Iranian American actor by telling him he was Indian.
And Breitbart did fire McHugh. But this wasn't an anomaly. During her time at Breitbart, McHugh consistently made racially charged statements on her Twitter feed and used the argot of the alt-right twittersphere. Apart from Milo Yiannopolous, the site's provocative former tech editor who resigned in disgrace earlier this year, McHugh was possibly the member of the staff most closely aligned with the alt-right. McHugh's public statements had attracted scrutiny in the past. So what made this one different?
Five months into the Trump administration, Breitbart—the right-wing news outlet that, under former chairman (and now White House chief strategist) Steve Bannon, became the most vocal pro-Trump organ in the media—has gone from edgy outsider to, at least in Trump's D.C.,  something close to establishment media. It's even hired reporters from mainstream outlets like The Wall Street Journal.
Someone like McHugh may have fit well within Bannon's Breitbart, with its philosophy of never backing down and never bowing to mainstream media pressure. But as Breitbart settles into its new role in the Trump era, it faces a different set of challenges. Long beset by internal drama and external controversy, it now faces more pressure than ever before. The number of advertisers on the site has dropped dramatically, and the site has been the target of advertiser boycotts. It has been unable to obtain congressional press credentials because of questions about its ties to Bannon and to the Mercer family. Breitbart's high profile, and its connections to the Trump White House, have made it an object of unprecedented scrutiny.
The site has not commented publicly on McHugh's firing. But the fact that McHugh finally became too much for Breitbart speaks volumes about the changes in the site since Bannon's exit.
McHugh's hire was announced in April 2014. She came from The Daily Caller, and was poached by Bannon, according to someone who worked with her at the Caller. At the Caller, this source said, McHugh displayed an inclination toward the kind of economic populism that Trump would later channel, and a resentment toward the privileged culture of Washington journalism. The Daily Caller has long been notorious in conservative media circles as a low-paying springboard for young writers, and under Bannon, Breitbart poached several of them.
McHugh's first job at Breitbart was as the weekend editor. She also, according to former staffer Lee Stranahan, worked on its Sirius XM show when it launched, back when Bannon regularly hosted it.
As the head of Breitbart, according to a 2015 Bloomberg profile, Bannon referred to his young female staffers as his "Valkyries," after the Norse battle goddesses. Of the young women on staff at the time, the closest to Bannon was Julia Hahn, who went on to join him in the White House.
But McHugh was seen as a fellow traveler to Bannon as well. "The concept was that there were people who were playing the game and marching to the tune of that particular drummer,  and she was one of them," said a former Breitbart staffer.
This didn't insulate her from being the subject of controversy; according to another former Breitbart staffer, some of McHugh's messages on Slack talked about Muslims and African Americans in ways that raised eyebrows internally. And her public persona on Twitter was attracting attention outside as well. One of the former Breitbart employees says that editor-in-chief Alex Marlow was sent screenshots of inflammatory McHugh tweets from people outside the company, but did nothing. Marlow didn't respond to a request for comment.
But McHugh's termination primarily reflects the site's change in leadership. The fact that under Marlow, the site has to some extent bowed to public pressure, further underscores Bannon's absence at the helm.
In the summer of  2015, the Republican consultant Rick Wilson, who opposed Trump throughout the campaign, tweeted an article that made mention of there being some racist content at Breitbart. In retaliation, Bannon and Washington editor Matt Boyle prepared a list of questions for a colleague who was writing about a Wilson client, including one accusing Wilson of having called conservatives racist. (Washingtonian first reported the email.) This particular staffer declined to ask the candidate, Carlos Lopez-Cantera, the questions.
But according to Wilson, a press aide to the campaign told him that someone from Breitbart had indeed called: McHugh. One of the former Breitbart staffers confirmed the existence of the email and confirmed they heard that they had heard McHugh was trying to contact Wilson's clients.
McHugh didn't respond to requests for comment. Bannon didn't respond to a request for comment.
McHugh's Twitter feed over the last few years contains multiple examples of tweets that are just as explosive as the one that got her fired.
"British settlers built the USA. "Slaves" built the country much as cows "built" McDonald's. Amateur…" she tweeted in September 2015. Also that month, McHugh called for an end to Muslim immigration: "The only way to strike a balance between vigilance, discrimination, (& terror) is to end Muslim immigration." She has often used the word "cuck," a slur popular on the white nationalist alt-right internet, and has tweeted disparagingly about Mexicans, Native Americans, and others.
Far-right pro-Trump activists have sprung to McHugh's defense in the wake of her firing, and turned on Breitbart.
"Breitbart has wanted to pivot to a site more like The Hill, multiple current and former writers there told me. It's a mistake, as they'll see. The media world doesn't need another Hill or Politico," "new right" blogger and tweeter Mike Cernovich said in an email. "It's [sic] needs more right wing sites. What Katie said is no worse than what many people at mainstream sites and TV networks have said. The double standards are tiresome to readers, who will continue fleeing Breitbart. Firing Katie was a business decision."
"Clearly there has been a PC escalation at Breitbart," said the alt-right leader Richard Spencer, who has met McHugh. "Katie said more inflammatory things on her personal Twitter account in previous years and was not fired or publicly rebuked."
"Now that Bannon and Milo are gone, it's clear that Breitbart News is being run by cucks," wrote blogger Vox Day in a post titled "Breitbart is truly dead."
McHugh has reacted defiantly in the wake of being sacked, tweeting that the company fired her for "telling the truth about Islam and Muslim immigration" and launching a fundraiser on Wesearchr, a website run by infamous troll Charles C. Johnson.
"I said nothing wrong," McHugh said in a statement on the fundraising page. "As President Donald Trump says, if we don't get smart, it will only get worse. It's also interesting Breitbart News chose to fire me rather than colleagues leaking to CNN."
Breitbart has not put out a statement on McHugh's departure and a spokesman for the company did not respond to a request for comment.