Who Is Steve Scalise?
The Republican congressman from Louisiana, who serves as House majority whip, was shot Wednesday morning in Virginia. He underwent surgery shortly after.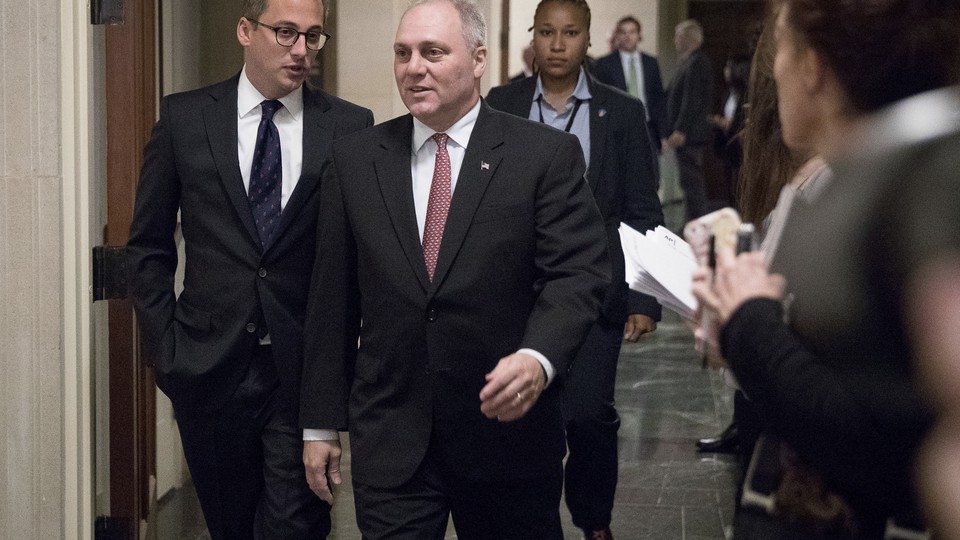 Updated at 4:46 p.m. ET
Steve Scalise, a Republican congressman from Louisiana, was shot Wednesday morning at a GOP team practice for the annual congressional baseball game. In a statement released roughly two hours after the shooting, his congressional office wrote that he'd been hit in the hip. He'd been taken to MedStar Washington Hospital Center in the city's northeast, where he underwent surgery. The hospital announced in the afternoon that he remained in critical condition.
"Prior to entering surgery, the whip was in good spirits and spoke to his wife by phone," the statement reads. "He is grateful for the brave actions of U.S. Capitol Police, first responders, and colleagues." Earlier in the morning, President Trump tweeted that Scalise, "a true friend and patriot, was badly injured but will fully recover."
Scalise, 51, was first elected to Congress in 2008, after serving as a member of the Louisiana state legislature for over a decade. He is perhaps best known nationally for his role in House leadership. He's served as majority whip for roughly three years, a position that grants him authority over vote-counting in the Republican conference. In that position, he oversees a team of deputies who wrangle votes for pieces of legislation.
The congressman is also a leader on the Republican Study Committee, a caucus of conservative lawmakers that gained prominence during the debate over a health-care reform bill in the lower chamber. As whip, he also played a prominent role in getting that bill, the American Health Care Act, through the House and into the Senate.
Scalise is popular among his constituents. In November, he was reelected with 75 percent of the vote. His seat has long been occupied by Republicans: It's one of the reddest districts in the country, and it spans much of boot-shaped Louisiana's "toe," which includes parts of the New Orleans suburbs. According to The Times-Picayune, Trump's controversial first few months in office, as well as the drama over the Obamacare repeal bill, don't "appear to be dampening support" for the congressman, who raised a record $1.6 million in early 2017.
Scalise's colleague, Alabama Representative Mo Brooks, told CNN and other reporters that Scalise was one of five people shot at the early-morning practice, where lawmakers were preparing to compete in the annual baseball game Thursday. The competition between Democratic and Republican lawmakers, which raises money for D.C.-area charities, is typically held at Nationals Park in Washington's southeast. Republican lawmakers were fine-tuning their fielding miles away Wednesday morning at Alexandria, Virginia's Eugene Simpson Stadium Park, where local Little League teams play.
Scalise has been on the team for years. In 2015, The New York Times reported that "at shortstop, [he] is easily the G.O.P.'s best offensive player."
Scalise was on the field, playing second base, when the gunman opened fire. "I hear another bam and I realize there is an active shooter," Brooks said. "At the same time, I hear Steve Scalise, over near second base, scream. He was shot."
Colleagues credited his attendance at the practice for saving more people from harm because, as a member of House leadership, he has a security detail. CBS News's Nancy Cordes reported that those officers ran toward Scalise while the gunman was firing and managed to "bring that shooter down with their pistols." Two were hit themselves, and the shooter was also taken to the hospital. He later died.
"If they had not been here it probably would have been far worse," Ohio Representative Brad Wenstrup told CBS News.