The White House Press Briefing Is Slowly Dying
The daily appearance by the press secretary has become rarer, and moved off camera. Asked for an explanation, Steve Bannon said, "Sean got fatter."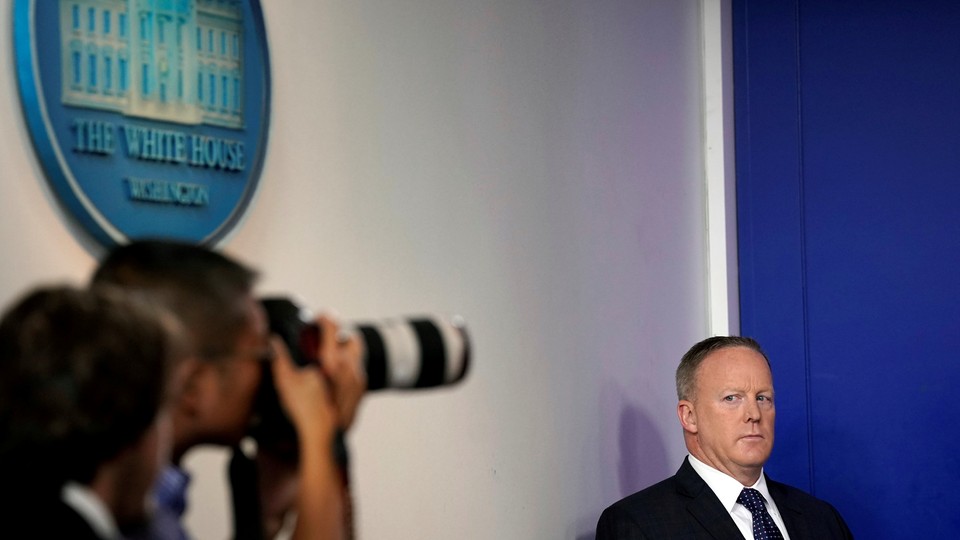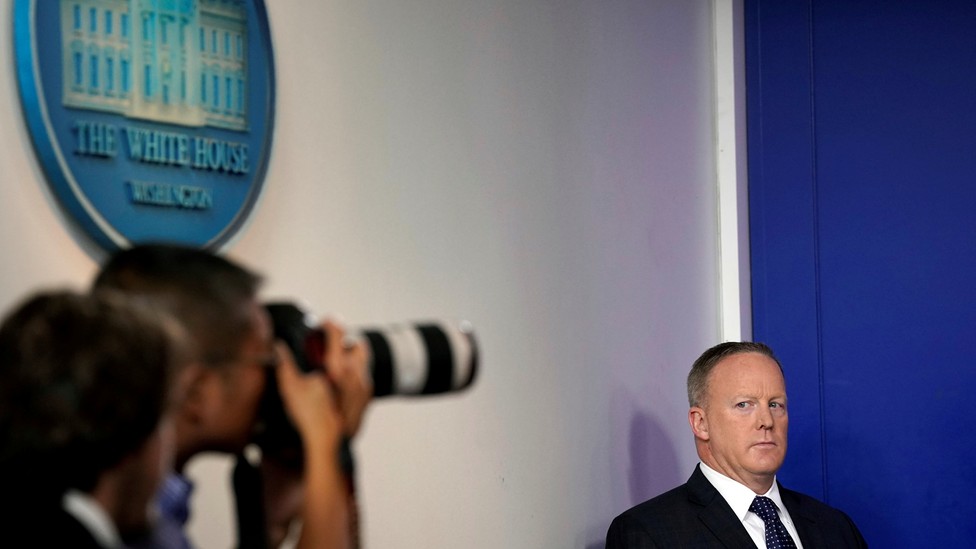 Over the course of the Trump administration, the White House's daily press briefings have been pared progressively further back; they are now shorter, less frequent, and routinely held off-camera.
The daily briefing is a venerable Washington tradition, though one that has often been a target of criticism. Media critic Jay Rosen has called for media outlets to "send the interns," arguing that the briefing is a largely useless exercise in grandstanding. President Trump himself has publicly mused about canceling them, tweeting "Maybe the best thing to do would be to cancel all future "press briefings" and hand out written responses for the sake of accuracy???"
But instead of canceling them entirely, the White House has appeared to embrace a different strategy: simply downgrading them bit by bit, from "briefings" to "gaggles," and from on-camera to off-camera. Guidance for the briefings have begun to include a note that audio from them cannot be used. Additionally, though Trump has held short press conferences when foreign leaders visit, he has not held a full press conference since February.
The changes haven't gone unnoticed, although reporters are still attending the gaggles. A clearly exasperated Jim Acosta, CNN's chief White House correspondent, said on Monday that White House Press Secretary Sean Spicer had become "kind of useless."
"It feels like we're slowly but surely being dragged into what is a new normal in this country, where the president of the United States is allowed to insulate himself from answering hard questions," Acosta said on CNN. "I don't know why we covered that gaggle today, quite honestly Brooke, if they can't give us the answers to the questions on camera or where we can record the audio. They're basically pointless at this point."
Asked for further comment, Acosta said in an email, "Unless we all take collective action, the stonewalling will continue."
"If the WH is going to place unreasonable demands on our newsgathering, we should walk out," he said.
What's not clear is how much the White House would care if this happened. Reporters' demands for access have not been a top priority for this administration, and though Trump is an avid media consumer and did a large number of interviews as a candidate and earlier in his term, he has begun to hold the press at arm's length, skipping the White House Correspondents' Dinner and doing fewer interviews lately.
Monday also marked the latest round of stories about the likelihood that Spicer will move into a different role, a rumor that has made the rounds in the media in different iterations several times now. The departure of Communications Director Michael Dubke earlier this month has created a hole at the top of the communications structure, and stories in Bloomberg and Politico on Monday said that Spicer is looking for a replacement to handle the briefings, such as they are, while he moves up to a higher position.
Neither Spicer nor deputy press secretary Sarah Sanders responded to queries about the changes to the briefings. Asked why the briefings are now routinely held off-camera, White House chief strategist Steve Bannon said in a text message "Sean got fatter," and did not respond to a follow-up.
The White House Correspondents Association has been critical of this administration's stance towards press access. WHCA president Jeff Mason said the body would "object" to any move to cancel briefings back when Trump tweeted that he was considering it. In an email, Mason said this is something the WHCA "had been working on" but that he is out of the country and didn't have an on the record statement right now.
But the current scenario, with the briefings being increasingly diminished without being entirely eliminated, makes it murkier for journalists to figure out the correct response. If there's one thing the national political press corps doesn't excel at, it's the kind of solidarity for which Acosta is calling. News organizations didn't organize a collective boycott of Trump events when the campaign was maintaining a blacklist of banned outlets during the campaign, and seem unlikely to be able to pull one off now.
Spicer was asked during Monday's gaggle, which lasted 33 minutes according to NPR's White House correspondent, why the gaggle was not being made available or broadcast and audio.
"I've said it since the beginning--the president spoke today, he was on camera," Spicer said. "He'll make another comment today at the technology summit.  And there are days that I'll decide that the president's voice should be the one that speaks, and iterate his priorities."
Another small but significant change in the White House's press access is that the daily email that goes out at night previewing the White House schedule the next day is now routinely flagged as "For Planning Purposes Only / Not Reportable."
As BuzzFeed's Chris Geidner recently illustrated, the Trump White House initially tagged these emails "for immediate release." Then, they were marked "for planning purposes only." During Trump's first foreign trip, though, the words "not reportable" were added. Just like that, the White House had shifted from providing the information to reporters so that they could share it with their audiences, to insisting that it not be publicly disclosed.
On Monday night, the schedule for Tuesday went out to the press — with no briefing on the agenda at all.