What's in the Senate Republican Health-Care Bill
Like the House version, Mitch McConnell's proposal would slash taxes, cut Medicaid, and eliminate Obamacare's insurance mandates for individuals and employers.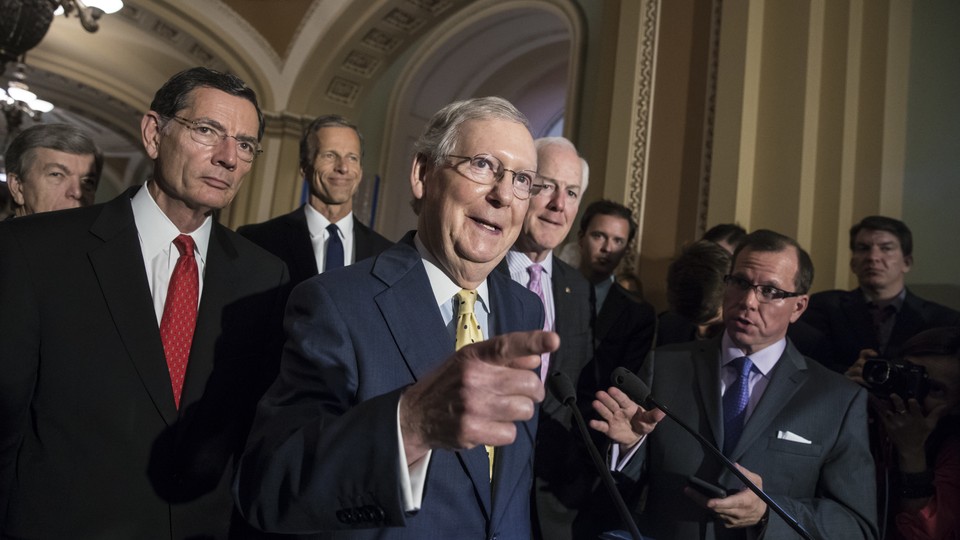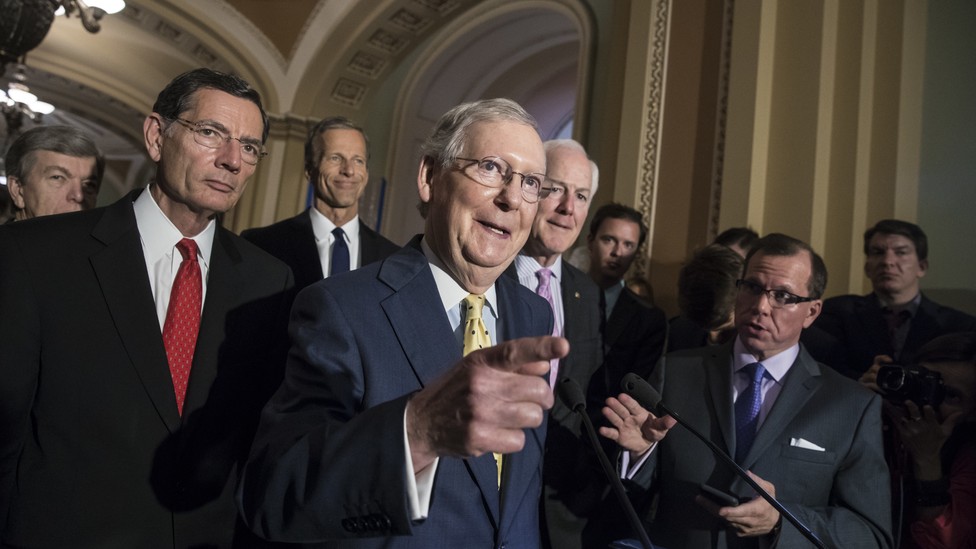 Updated on June 22 at  2:15 p.m. ET
The Senate Republican health-care bill is finally out in the open.
After weeks of secretive deliberations, party leaders on Thursday released a 142-page proposal that would slash taxes on the wealthy and businesses; reduce federal funding for Medicaid and phase out its expansion under the Affordable Care Act; and limit the tax credits available to help people purchase insurance on the individual market. The legislation, titled the Better Care Reconciliation Act of 2017, is officially labeled a "discussion draft," but Senate Majority Leader Mitch McConnell wants Republicans to debate and vote on the bill by the end of next week.
Like the American Health Care Act that passed the House in May, the Senate bill is a substantial revision to Obamacare but not a wholesale repeal. And while Senate Republicans had vowed to start over rather than work off the unpopular House proposal, their version is structured the same way. The Senate measure mirrors the House bill in eliminating the ACA's employer and individual insurance mandates and most of the tax increases it imposed to pay for new programs. Both proposals call for an overhaul of Medicaid funding that would allow states to institute work requirements and end the program's status as an open-ended entitlement. The Senate bill would go further than the House's $800 billion in cuts by reducing its growth rate beginning in 2025, but unlike the House version, it would begin a three-year phase-out of the program's expansion in 2020. The AHCA would cut off the expansion entirely that year.
As expected, Democrats assailed the proposal as a draconian measure that would strip health insurance from millions all for the goal of providing tax cuts for the rich. They seized on comments that President Trump reportedly made to Republican senators in which he called the House proposal "mean."  
"Simply put: This bill will result in higher costs, less care, and millions of Americans will lose their health insurance, particularly through Medicaid," Senate Minority Leader Charles Schumer said. "It's every bit as bad as the House bill; in some ways, it's even worse."
But the McConnell was never intended to appeal to Democrats. Instead, the majority leader and the Senate policy staffers who wrote the bill were trying to strike a delicate balance between conservatives bent on ripping up Obamacare and moderate Republican senators who, though they campaigned on repeal, now want to preserve its central benefits. Whether McConnell achieved that middle ground is unclear, as few Republican senators leapt to embrace his proposal in the immediate aftermath of its release. The first official holdouts to emerge were a group of four conservatives: Senators Rand Paul of Kentucky, Ted Cruz of Texas, Mike Lee of Utah, and Ron Johnson of Wisconsin.
"Currently, for a variety of reasons, we are not ready to vote for this bill, but we are open to negotiation and obtaining more information before it is brought to the floor," they said in a joint statement. "There are provisions in this draft that represent an improvement to our current health care system, but it does not appear this draft as written will accomplish the most important promise that we made to Americans: to repeal Obamacare and lower their health care costs."
Their statement was significant because together, their opposition alone could sink the bill given the GOP's narrow, 52-48 majority in the Senate. But its careful wording left a lot of room for any or all of the conservatives to come around by the time the bill hits the floor next week. Paul, who has been a critic of the GOP approach for months, was more harsh in a pair of tweets he sent on his own. "The current bill does not repeal Obamacare. It does not keep our promises to the American people," he wrote. Paul had long been considered a likely no vote, as it is unlikely McConnell could move the bill far enough to the right to get his support without losing moderates.
The draft will also face the test of whether its provisions pass muster under the Senate's complex rules for budget reconciliation, which would allow Republican to circumvent a Democratic filibuster. Aides on Thursday acknowledged that "there will be ongoing discussions with the Parliamentarian" in the Senate about certain parts of the bill.
The Senate proposal targets abortion coverage by prohibiting the use of tax credits to buy insurance plans that cover the procedure, and it would ban funds from going to Planned Parenthood. Those provisions could jeopardize the support of two moderate Republicans, Senators Susan Collins of Maine and Lisa Murkowski of Alaska, who have said they oppose restricting federal funding to Planned Parenthood. A spokeswoman for Collins, Annie Clark, said Thursday she would be reviewing the bill into the weekend. "She has a number of concerns and will be particularly interested in examining the forthcoming CBO analysis on the impact on insurance coverage, the effect on insurance premiums, and the changes in the Medicaid program," Clark said.
The Senate bill also allows states to opt out of some of Obamacare's insurance regulations, but it does not allow waivers that would let insurance companies charge higher rates to people with preexisting conditions. "We're not touching preexisting conditions," one top GOP staffer told reporters on a Thursday conference call. While the House bill created a new waiver system aimed at allowing states to get around Obamacare requirements, the Senate expands an existing waiver in the current law to make it easier for states to apply. The provision, aides said, would allow insurance companies in states that obtain waivers to sell plans that do not provide essential health benefits, including maternity care, hospitalization, and mental-health treatment.
Unlike the House bill, the Senate proposal contains funding for cost-sharing payments for insurers to help stabilize the faltering individual insurance market under Obamacare. They would continue through 2019 before being repealed entirely. The payments are the subject of a lawsuit that House Republicans filed against the Obama administration three years ago, and while the Trump administration has continued the subsidies, its refusal to guarantee them over the long term has prompted more insurers to exit the ACA exchanges.
McConnell has drawn criticism from senators in both parties for writing the bill behind closed doors without public hearings, though it's unclear if the mounting frustration among some Republican senators about the process will threaten the legislation's passage. In a floor speech on Thursday morning, the majority leader said senators would have "ample time" to review and amend the bill before a final vote. The Congressional Budget Office said it would release its analysis of the Senate bill's cost and impact on insurance early next week. It found that the House bill would leave 23 million more people uninsured over the next decade while reducing average premiums depending on whether states opted out of Obamacare's insurance regulations.
"We debated many policy proposals. We considered many different viewpoints," McConnell said. "In the end, we found that we share many ideas about what needs to be achieved and how we can achieve it. These shared policy objectives and the solutions to help achieve them are what make up the health care discussion draft that we talked through this morning."
Senate budget rules call for what's known as a "vote-a-rama" where members of either party offer amendments in a single session. And in many ways, it appears McConnell's draft is designed to be amended. The bill, for example, does not include funding for the opioid crisis that Senators Rob Portman of Ohio, Shelley Moore Capito of West Virginia, and others were demanding. Nor does it adopt their proposal for a longer, seven-year phase-out of the Medicaid expansion. But by omitting those provisions at the front end, McConnell could be inviting Portman, Capito, and other wavering senators to add them by amendment so they can claim credit for improving the bill when it comes to the floor. Similarly, the statement Paul, Cruz, Lee, and Johnson appeared to be a play for changes that could win their ultimate support.
Republicans have a razor-thin majority of 52 seats, and McConnell can lose no more than two votes to pass the bill with a tie-breaker from Vice President Mike Pence. The majority leader will also face difficulty securing support from conservatives who feel the proposal doesn't go far enough in dismantling Obamacare.