What the Republican Health-Care Holdouts Want
A look at the varied and even contradictory changes that GOP senators are seeking in exchange for their votes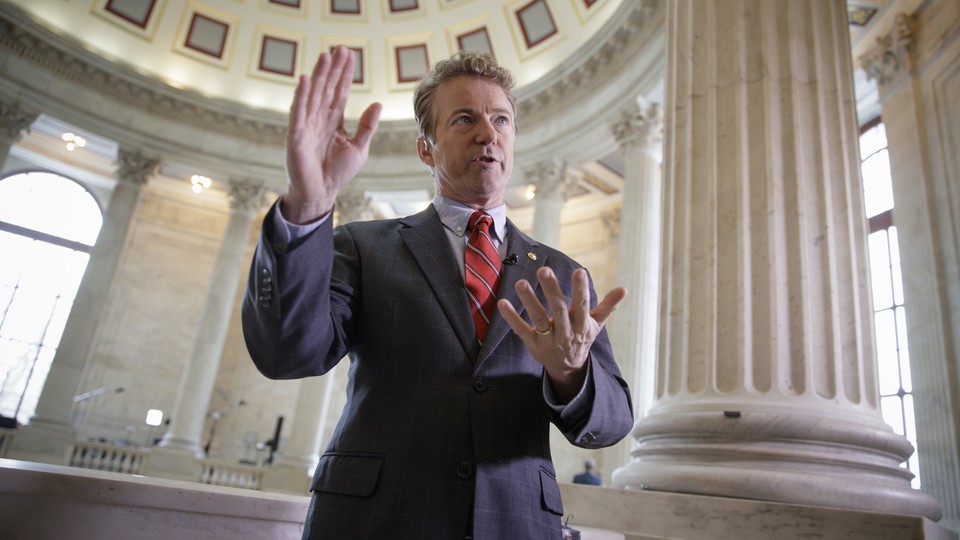 After abandoning a quick vote on his original proposal, Senate Majority Leader Mitch McConnell wants to come up with a revised health-care bill by Friday so it can be ready for debate and a vote when lawmakers return to Washington the week of July 10.
His challenge is stark: At least 10 Republican senators have declared their opposition to the plan McConnell originally unveiled, and he can afford only two defections and still get the 50 votes he needs to pass the bill. If he does, Vice President Pence would cast the tie-breaking vote.
McConnell's central hurdle is that the 10 critics are split nearly down the middle between conservatives like Senators Rand Paul and Mike Lee who want the bill to spend less money and repeal more of the Affordable Care Act, and more moderate senators like Senators Susan Collins and Lisa Murkowski pushing to restore cuts to Medicaid and provide more funding to states. At the majority leader's disposal is a pot of nearly $200 billion resulting from the fact that the original draft reduced the deficit by more than the Senate was required to do. Short of simple persuasion, McConnell's narrow path to passage likely involves a combination of more money sought by moderates and a loosening of existing regulations that conservatives want—if the various factions will agree to a trade.
Here's a rundown of the holdouts' demands.
Rand Paul
The Kentucky Republican has long been the hardest-to-please conservative on health care, having pushed repeatedly for GOP leaders to stick to their promise of fully repealing Obamacare. He's been the most critical of the Senate plan, calling it "a terrible bill" at one point this week.
Paul outlined his demands in a letter to McConnell on Tuesday, and they provide further confirmation that he'll be difficult if not impossible for the leadership to win over. He wants the Senate to eliminate the $136 billion in cost-sharing reduction payments included for insurance companies—a key part of Obamacare that policy analysts say are needed to stabilize the individual market. The payments are the subject of a long-running lawsuit originally filed by the House GOP against the Obama administration, and while the Trump administration has continued to make them on a month-to-month basis, insurers have complained that their uncertain future is a reason why premiums have gone up and some companies have pulled out of the exchanges. Paul said they amounted to "a bailout" of the industry.
Paul also reiterated his call for Republicans to limit if not repeal the refundable tax credits for consumers buying health insurance that are at the heart of the Affordable Care Act and which the Senate plan would continue. This is a nonstarter for most Republicans, and moderates have even called for expanding them beyond the current proposal.
Paul also wants to scrap a provision Republicans added to the bill early this week that would lock people out of insurance coverage for six months if they tried to buy a plan after going without insurance for more than 63 days. The rule would replace Obamacare's tax penalty for people who choose not to buy insurance, but Paul would allow insurance companies to impose their own lockout provision without a government mandate.
Though Paul is seen as nearly a lost cause for McConnell, the wild card is Trump and Paul's desire to be seen as negotiating with him. If the Senate bill ultimately passes, it might come as a result of a deal between Paul and Trump—though it's highly unlikely to involve most of the senator's demands.
Susan Collins
If Paul is the biggest conservative critic of the Senate bill, Collins is its most dug-in moderate opponent. The Maine senator, who is mulling a run for governor next year, announced her firm opposition to the bill after the Congressional Budget Office projected it would result in 22 million fewer people having insurance. Collins has said she doubts GOP leaders can win her vote just by "tinkering" with the bill, and she's called for bipartisan talks to fix Obamacare instead. She wants major changes to the GOP bill's $770 billion in cuts to Medicaid and the removal of a provision restricting federal funding of Planned Parenthood. While the addition of new money targeted to low-income people, opioid addiction, and rural hospital could help bring Collins back to the table, she's unlikely to support the bill unless a revised CBO score finds that millions more people would still have insurance if it becomes law.
Dean Heller
That the first-term Nevada senator came out against the Senate bill was not a surprise. He is the most vulnerable Republican up for reelection next year, and he hails from a state that expanded Medicaid and cast its electoral votes for Hillary Clinton last fall. What did catch Republicans off-guard, however, was just how critical Heller was when he appeared with Governor Brian Sandoval and ripped the bill to shreds. Echoing Democratic talking points, Heller said the bill would result in millions losing coverage, denounced its ending of Obamacare's Medicaid expansion, and said it would not lower premiums and Republicans promised. He left the door open to supporting the bill with changes, but he warned: "It's going to be very difficult to get me to a 'yes.'" The decision of a pro-Trump super PAC to briefly run ads attacking Heller probably didn't help.
He hasn't laid out specific demands, but it's safe to say that at minimum, GOP leaders would have to soften the bill's cuts to Medicaid, slow down the phase-out of its expansion, and add language or funding tailored to Nevada's needs. Heller has aligned himself with Sandoval and suggested he won't support a bill that the governor doesn't like, so a state-specific carveout might be in the offing.
Mike Lee
Like Paul, Lee is a conservative who is rueful that GOP leaders are not repealing more of Obamacare than they are. But the Utah senator has narrowed his demands significantly, and in a Medium post late last week, he said he would be willing to vote for the Senate bill if it allowed states to opt out of the Obamacare system "free and clear." Lee pitched the idea as something both Democrats and conservatives could like: Liberal states could choose to experiment with a single-payer system, he said, while red states could pursue a looser, market-oriented approach. However, there's nothing preventing states from pursuing more liberal  or conservative approaches now as long as they adhere to the federal standards under Obamacare. What Lee wants is for states to be free of those standards.
As a broad concept, it's similar to legislation introduced by Senators Collins and Bill Cassidy of Louisiana. But it also means states could be exempt from any of the core insurance regulations of Obamacare—the requirement that insurance plans cover a range of "essential health benefits" and charge equal rates to people with preexisting conditions. A number of Republican senators have vowed to maintain the protections for preexisting conditions, making Lee's proposal a tough sell.
Ted Cruz
Cruz is a former rival of Trump's and a longtime thorn in McConnell's side, but he has not emerged as the most conservative stickler in the healthcare debate. The Texan has a longer wish list than Lee, but it's not clear how many of his demands must be met to secure his vote. Cruz wants a bigger expansion of health savings accounts, medical malpractice reform, and the ability for people to purchase insurance across state lines. These are consensus Republican policies, but McConnell could not include them in the Senate bill because they would not pass muster under the chamber's strict budget reconciliation rules limiting provisions to matters of taxes and spending.
Like other conservatives, Cruz is prioritizing more freedom for states to opt out of Obamacare's insurance regulations and says the bill needs to do more to lower premiums. Along those lines, he's proposed an amendment that would allow insurance companies to offer bare-bones plans that do not cover all of Obamacare's required essential health benefits as long as they also offer more robust plans that do. That's a more limited change that conservative groups have endorsed and which might have a shot at being added to the Senate bill.
Lisa Murkowski
The Alaska senator shares many of the same concerns as Susan Collins but may not be quite as tough a get for the GOP leadership. Like her Maine colleague, she opposes a ban on federal funds going to Planned Parenthood and wants more support for Medicaid. But unlike Collins, Murkowski voted for repeal legislation in 2015 even though it targeted both Planned Parenthood and Medicaid. As a rural state with limited insurance options, Alaska would be hit hard by the current Senate draft, and Murkowski is expected to need money and changes directed to her state for McConnell to have any chance at her vote.
Ron Johnson
McConnell has already met Johnson's biggest demand: more time. The Wisconsin Republican, just reelected to his second term, was adamant that the Senate not rush a vote on the GOP legislation this week. As for substance, Johnson has been a bit all over the map. On one hand, he has bemoaned the leadership's exclusion of Democrats from negotiations and suggested a short-term bill to stabilize Obamacare's insurance exchanges. But in a New York Times op/ed over the weekend, he criticized the GOP bill from the right and said it should loosen the current law's protections for people preexisting conditions as a way to lower premiums for everyone else.
Appearing Wednesday morning on "Morning Joe," however, Johnson sounded more positive about the Senate legislation. He disputed the CBO score and said it would not result in nearly as much insurance losses as the budget office predicted. He said the $200 billion or so in extra money McConnell can now dispense "is going to give us a lot of leeway to make sure we can get the support and pass this bill." So it sounds like with the extra two weeks of deliberation, Johnson is more likely to be a yes on the final bill if it comes to the floor.
Shelley Moore Capito
Capito didn't formally announce her opposition to the Senate bill until after McConnell called off the vote. But when she did,the West Virginian offered a litany of concerns. "As drafted, this bill will not ensure access to affordable health care in West Virginia, does not do enough to combat the opioid epidemic that is devastating my state, cuts traditional Medicaid too deeply, and harms rural health care providers," she said.
Along with Senator Rob Portman of Ohio, Capito has pushed for the bill to include $45 billion to fight opioid addiction and a seven-year phase-out of Obamacare's Medicaid expansion. The bill only includes $2 billion for the opioid epidemic and ends the expansion over just four years. McConnell certainly has the money to meet Capito and Portman's opioid demand, but how far is he—and conservatives—willing to go on Medicaid.
Rob Portman
The Ohio senator announced his opposition to the current draft alongside Capito, but his statement was not quite as critical. Portman is facing intense pressure to oppose the bill from Ohio Governor John Kasich, but he was just reelected by a wide margin and is generally seen as a team player in the Republican conference. The $200 billion or so that McConnell can use to win converts is tailor-made for someone like Portman. And if that isn't enough to ensure his support, the bill has no chance of passing.
Jerry Moran
Moran was the most surprising opponent to emerge after McConnell announced his decision to put off a vote. The Kansas senator is a mainstream Republican who headed the party's Senate campaign arm last year. He hadn't criticized the bill publicly, but on Tuesday he released a statement saying it "missed the mark for Kansans" and that he didn't support it. Moran didn't specify his issues with the proposal, however, so it's not clear what it would take to win his vote. But as with Portman, McConnell won't be able to pass any health-care bill without someone like Moran onboard.