A Fight for the Soul of the Democratic Party in Virginia
Tom Perriello and Ralph Northam are attempting to bridge divides in a primary for governor that will test what liberal voters want in the Trump era.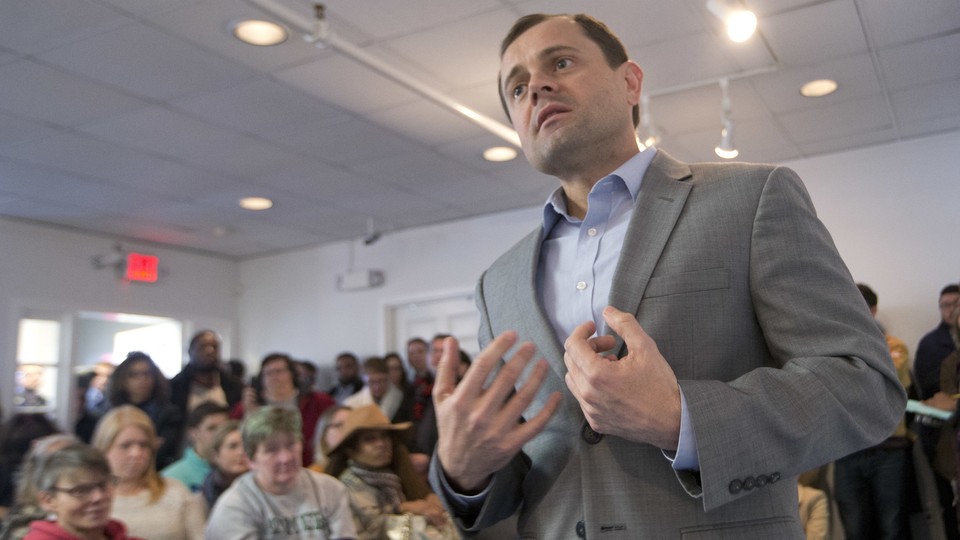 ARLINGTON, VIRGINIA— Enthusiastic supporters of Ralph Northam, a candidate vying for the Democratic nomination in the Virginia governor's race, gathered for a get-out-the-vote rally over the weekend at a campaign field office where handmade posters on the wall read: "Dear Ralph, you had me at Trump is a 'narcissistic maniac.'"
The Virginia primary race, which will be decided on Tuesday, offers a glimpse at how Democrats are attempting to calibrate their message and agenda in the Trump era. Attacks on the president have featured prominently in the Democratic primary as liberal voters angry and unhappy with the administration in Washington look for politicians to channel that energy.
Tom Perriello, a former Democratic congressman facing off against Northam, promised that Virginia "will remain the firewall" against Trump when he jumped into the race in January. In May, Northam, the state's lieutenant governor who has been described as "mild-mannered" and "genteel" over the course of his political career, offered a controversial diagnosis of the president in a campaign ad. "I'm listening carefully to Donald Trump, and I think he's a narcissistic maniac," he says, looking at the camera. "Whatever you call him, we're not letting him bring his hate into Virginia."
Vitriol aimed at the White House is just one part of this contest with national implications for the Democrats. The race features an intra-party fight over what qualifies a Democrat as a true progressive, as the leading candidates make appeals to the party's liberal wing, which has become emboldened by Trump's election and increasingly unwilling to tolerate moderation in Democratic politics. Northam was expected to win easily before Perriello entered the contest, but the candidates are now locked in a tight race.
As a result, Tuesday's primary has become a highly-anticipated experiment in what Democratic voters are looking for in a battleground state under the Trump administration. Whoever wins is likely to face former Republican National Committee Chairman Ed Gillespie, the GOP front-runner fending off a challenge from the right from Corey Stewart, who has staked his candidacy on defending the state's Confederate monuments.
The Democratic race has been portrayed in national outlets as a Hillary Clinton-Bernie Sanders redux, with Northam playing the part of Clinton and Perriello as Sanders, but attempting to superimpose a 2016 primary frame on the Virginia race is an awkward and imperfect fit.
As the party struggles to find a winning blueprint in contested parts of the country, the Democratic contenders in Virginia have tried to offer a potential path toward uniting progressive, moderate, and rural voters. At the same time, both candidates have had to answer for past deviations from liberal orthodoxy even as they present themselves as progressive champions.
There are some similarities to the presidential primary. Northam has the backing of the Democratic political establishment within the state. (The candidate's weekend rally featured testimonials from a who's who of Virginia Democratic politics: Democratic governor Terry McAuliffe and Democratic Senators Tim Kaine and Mark Warner.) And the U.S. Senate's leading progressive politicians, Bernie Sanders and Elizabeth Warren, have heaped praise on Perriello. In April, Sanders called him  "a committed progressive" in an endorsement, while Warren told HuffPost that he would be "terrific" as governor.
But Perriello describes himself as a "pragmatic populist," a label that nods to the fact that his political brand and platform channels the economic populism Sanders has championed, but isn't identical to it. While Sanders has called for eliminating tuition at four-year public colleges and universities, Perriello promises on his campaign website to make "community college available debt-free for a minimum of two years." Sanders has called for single-payer health care, but Perriello delivered a measured response when I asked him about its prospects in Virginia. "There's not a strong coalition for that here in Virginia to pass," he told me during an interview at a Northern Virginia gelato shop last week, one of the stops on a 24-hour campaign tour, though he noted that he supported the public option during the Affordable Care Act debate in Congress.
Perriello seems to believe that his version of populism will prove unifying. "We have seen zero economic growth in a lot of rural America, and we've seen a pro-monopolization policy that's crushing their economies," he said during the interview. "A lot of that has come from Republican policies, but you haven't seen either party addressing it. That's whey I think we've cracked this code a little bit of being able to both get our coalition excited and get rural communities excited."
His campaign has taken pains to emphasize its support from key allies of Clinton and former President Obama even in touting its endorsement from Sanders. It's an approach to tackling the intra-party battle lines that prompted The Daily Beast to ask recently: "Can He Bridge the Bernie-Hillary Divide?"
When I asked Perriello if he sees himself as a figure who can fuse the Clinton and Sanders wings of the party, he was careful to praise virtually every prominent party leader. "Warren and Sanders have really tapped into an understanding of how corrupt and unequal the system has become," said Perriello.  "Hillary Clinton, I think, was just an unbelievable executive manager at the State Department, where I worked, and never got enough credit for that as well as the creativity of her policy ideas, and then Obama has this ability to keep us focused on the aspirational and our common humanity that I struggle with sometimes when we're so divided. There's a lot to draw on from the leaders that have been there."
The Northam campaign is trying to strike a careful, but somewhat different, balance. Fliers for Northam at his campaign rally billed him as a "progressive champion," a message that appears tailored to liberal voters while his campaign website talks up a track record of breaking "gridlock" and working to achieve "bipartisan support," in an apparent bid to reach out to moderate voters. As Northam put it to reporters at the rally: "I've fought for progressive Democratic values, and I have the experience to know how to get things done, and the relationships to get them done."
His platform blends progressive policy with outreach to the rural voters but lacks the critique of corporate America delivered by his competitor. In February, Northam put forward a policy that would allow students to attend community college for free in exchange for a year of public service. On his campaign website, he vows to work for "teacher pay raises and fair funding for rural public schools" and promises that "rural Virginia will be first on his mind and in his heart" as he works to expand access to jobs.
Complicating the pitch that both Perriello and Northam have made is the fact that they have had to explain a track record that to some degree runs counter to the liberal image they have tried to put forward.
When he announced his campaign in January, Perriello expressed regret for a vote he took in Congress for an amendment that would have blocked federal funding for abortions as part of the passage of the Affordable Care Act, saying that he has "always been pro-choice and a supporter of Roe v. Wade," and realizes now that his vote "caused real pain to constituents and other women."  While running for Congress in 2010, Perriello earned an A rating from the NRA, though during the governor's primary he has called the gun-rights group "a nut-job extremist organization."
This time around, the NRA gave both Perriello and Northam an F rating. And during the primary, Perriello has proposed enshrining the right to an abortion in the Virginia Constitution and vowed to increase funding for women's health centers to ensure access to family planning services.
For his part, Northam admitted to voting for George W. Bush, not once but twice for president. And in a 2013 article titled "Northam runs low-key campaign as conservative-tinted Democrat," Northam is quoted in The Roanoke Times saying: "I don't consider myself as a liberal. I consider myself as a moderate person. I think the less government, the better."
When asked about his support for Bush, Northam told me "it was the wrong vote," adding that his values "don't align with President Bush's." He went on to say: "I would ask people to look at my unwavering support of progressive Democratic values for the ten years that I've been in service."
The Northam campaign has tried to emphasize a contrast between the candidates—and make the case that the lieutenant governor is the true progressive champion—by arguing that Northam has a well-established track record as a defender of women's reproductive rights who isn't afraid to take on the NRA. Allies have worked to amplify that message. In NARAL Pro-Choice Virginia's endorsement of Northam, the group praised him  for having "consistently opposed attacks on abortion and birth control throughout his political career."
In one indication of the tensions that remain in the party, however, a group called Virginians for a Better Future put out negative messaging against Perriello in the closing days of the race, in one instance sending out mailers saying  "women can't trust Tom Perriello" and declaring the candidate "not a progressive." The group's attacks drew a denunciation from Northam. In a message to supporters on Monday, however, Perriello's campaign warned that "allies of Tom's opponent have continued to spread false, negative attacks."
The primary race will offer a test of what Democratic voters want as well as what liberal transgressions they're willing to overlook or forgive. If Perriello wins, it could set the stage for future candidates to adopt a similar style of economic populism and anti-Trump attacks. If Northam prevails, it may be a sign that candidates who win the backing of establishment Democrats in their state remain in the best position to win intra-party contests.
It may not be clear until November, however, whether the candidate who wins the primary has found a liberal vision that can appeal to Trump voters in a battleground state.