The Trump Administration Issues a Defense of Stonewalling Congress
The White House says that under the law, it only has to respond to records requests that come from committee chairmen—who all happen to be Republicans. Democrats say it amounts to a 'gag order.'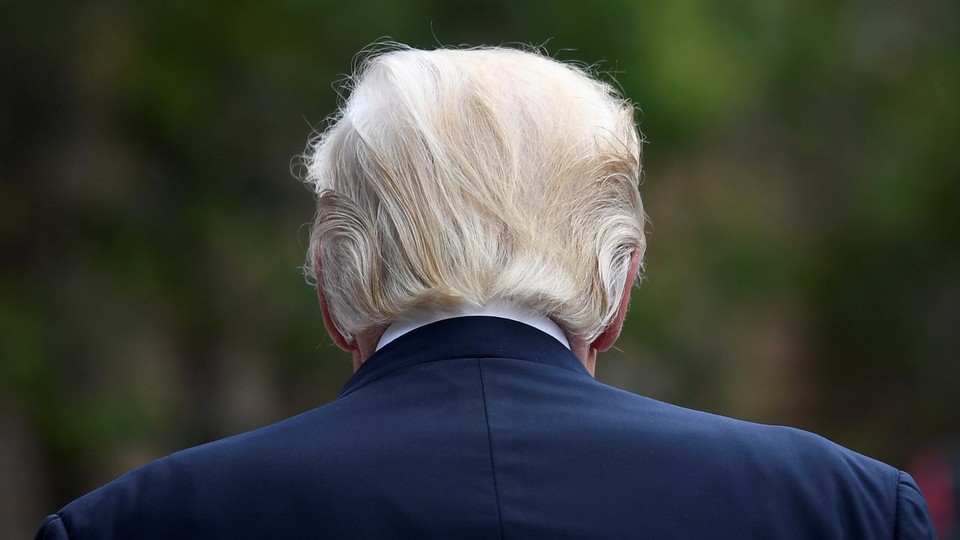 In early 2011, a Republican senator wrote to the Obama administration asking for a response to claims by a whistleblower that firearms lost in a sting operation gone awry had been used in the murder of a federal border patrol agent named Brian Terry.
The GOP was in the minority then, and the senator, Charles Grassley of Iowa, controlled no committee nor had any power to compel the Obama administration to respond. But the Department of Justice replied to him anyway, writing a letter that denied the whistleblower's claim. The letter turned out to be false, later to be formally retracted by the Justice Department, and the "gun-walking" operation known as Fast and Furious spiraled into a scandal for the Obama administration that led Republicans and more than a dozen Democrats in the House to cite former Attorney General Eric Holder for contempt of Congress.
Under a policy adopted by the Trump administration, the letter that catapulted Fast and Furious from mere headache to political nightmare likely would never have been sent. The White House has told federal departments and agencies that it will adhere to a stricter definition of congressional oversight than did the Obama administration. Government officials are now under no obligation to respond to requests for information and documents that do not come from committee chairmen, who, because of the GOP's majorities in both chambers of Congress, are all Republicans. That means departments and agencies can essentially ignore requests from Democrats, which they have already done in more than 200 instances over President Trump's first four months in office, according to a tally kept by party leaders.
House Minority Leader Nancy Pelosi on Friday called the policy "an attempted gag order" that undermined one of Congress's core functions. "With this order, President Trump is making his disregard for transparency and his lack of respect for Congress's oversight role crystal clear," Pelosi said.
The White House on Friday denied a Politico report that it had explicitly instructed agencies to ignore records requests from Democrats. "The policy of the administration is to respond to all non-oversight inquiries, including the Senate's inquiries for purposes of providing advice and consent on nominees, without regard to the political party of the requester,"  a White House official wrote in an email on the condition of anonymity. "With regard to congressional oversight inquiries, the policy of the administration is to accommodate the requests of chairmen, regardless of their political party." In practice, that means Democrats would have to win back control of either the House or Senate next year before the Trump administration feels compelled to respond to them. The policy encompasses rank-and-file Republicans as well, although junior members of the majority party frequently funnel their requests through chairmen to ensure a response.
Although denying that it was deliberately ignoring Democrats, the White House did acknowledge that it was taking a different approach to congressional oversight that did the Obama administration. "Unlike the prior administration that acted above the law, this administration will follow the Constitution and implement congressional statutes consistent with their plain meaning,"the official said.
The White House is basing its policy on a legal finding produced by the Justice Department's Office of Legal Counsel last month, which stated that committee chairmen are the only members of Congress that have a formal oversight role and therefore are the only lawmakers to which the executive branch has an obligation to respond.
"Individual members who have not been authorized to conduct oversight
are entitled to no more than 'the voluntary cooperation of agency officials
or private persons,'" the OLC opinion stated. Under the opinion, rank-and-file members of Congress are entitled to no more of a response from the federal government than private citizens who seek information through the Freedom of Information Act:
Whether it is appropriate to respond to requests from individual members will depend on the circumstances. In general, agencies have provided information only when doing so would not be overly burdensome and would not interfere with their ability to respond in a timely manner to duly authorized oversight requests. In many
instances, such discretionary responses furnish the agency with an opportunity to correct misperceptions or inaccurate factual statements that are the basis for a request.
Democratic congressional aides said they had received sporadic replies in response to requests from departments including the Pentagon and the Department of Homeland Security. But in most cases, the administration didn't even acknowledge receiving their inquiries. "It's 100 percent no response at all if we send it to the White House. The White House does not respond in any way," said one senior aide who was not authorized to speak on the record.
"That is a stark departure from previous administrations," the aide said. "People answered phone calls. They answered questions on a regular basis, and they responded to letters with information on a regular basis."
Democrats pointed to congressional testimony last week from the acting administrator of the General Services Administration, Timothy Horne, who confirmed that the Trump administration had "instituted a new policy that matters of oversight need to be requested by the committee chair." A White House official said the policy applied only to formal oversight requests and not general requests for information, but in practice, it was not clear where the line would be drawn. The official said the OLC's opinion was similar to a finding by the same office in the first year of President George W. Bush's administration.
Republicans complained bitterly about the Obama administration's lack of responsiveness at times, and the battles over transparency escalated as the GOP gained power in Congress. Though it was a Department of Justice letter to Grassley that helped deepen the Fast and Furious scandal, the administration's subsequent refusal to turn over certain documents related to the operation led to the House's contempt vote against Holder. (Providing false information to lawmakers, of course, is even worse than stonewalling them entirely.)
Members of Congress inundate administrations of both parties with requests for information under the purview of legislative oversight. Some are clearly legitimate, either on behalf of constituents or simply in the interests of good government. Many, however, are blatantly political. "There are some letters that are nothing more than press releases," said former Representative Tom Davis of Virginia, a Republican who served as chairman of the House Oversight Committee during the Bush administration.
"I've never seen an administration that likes to get congressional requests," Davis said. "Administrations hate it. That's kind of uniform. Some are more delicate about it than others."
But, he added in reference to the Trump administration's policy, "I don't know of any administration that put it so succinctly and overtly."
Davis said that while the White House might be correct that it is under no legal obligation to respond to lawmakers who aren't committee chairman, a blanket policy of ignoring them isn't exactly good politics. After all, legislators do retain powers of their own, and Trump is already struggling to get his agenda enacted. "You pay a price," Davis warned. "Congress is not without its ability to retaliate in any way, shape, or form for the slights."