Trump Is a Russian-Interference Truther Once More
On Twitter, the president claims vindication against claims of collusion and reverses his acknowledgement of Kremlin tampering with the election.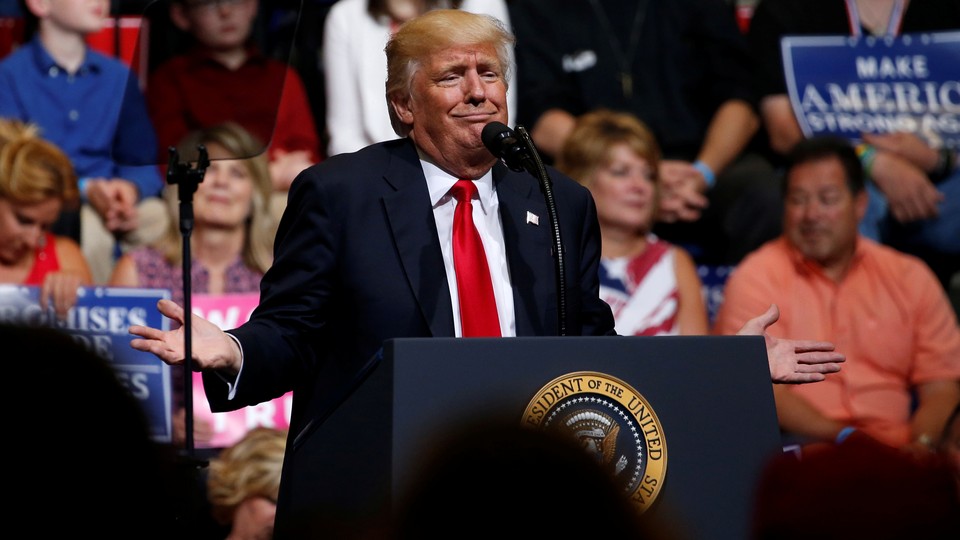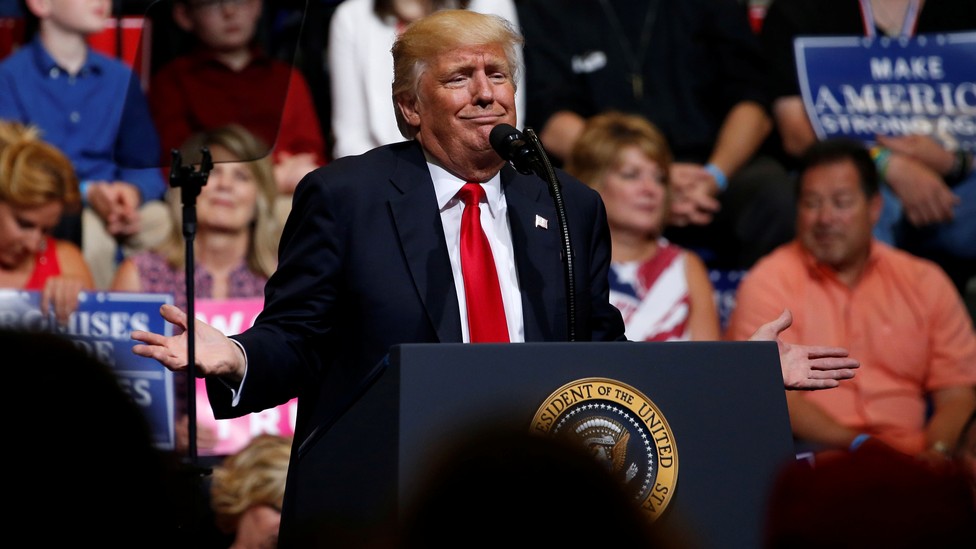 On Tuesday, a reporter asked White House Press Secretary Sean Spicer what should have been an easy question: Does the president believe that Russia interfered in the 2016 election?
Spicer demurred: "I have not sat down and talked to him about that specific thing." That answer was incredible, in both the literal and figurative senses. It was hard to believe that Spicer hadn't discussed that topic with President Trump, and hard to believe that Trump would still be denying the now-universal view of intelligence agencies and lawmakers in both parties. In fact, Trump had acknowledged as much on January 11, at his first and only post-election press conference.
But in a series of tweets Thursday morning, Trump validated Spicer's reluctance, indicating that he has changed his mind, no longer believes there was Russian interference, and sees the whole thing as a "a big Dem HOAX!"
Since Trump has not explained, and since his communications staff cannot or will not speak to his position, it's unclear when and why he changed his mind since the January 11. But his flip-flop once again puts the president at odds with his intelligence agencies as well as most Republicans in Congress, who have concluded that Russia did interfere with the election, although there is disagreement about the impact that interference had on the result of the election. Trump seems to see any concession of Russian interference as necessarily undermining the legitimacy of his election—coincidentally, the same view that many Democrats hold, even as the GOP argues both that Trump is legitimate and that interference is worrisome.
But Trump's latest Twitter outburst is also full of inaccuracies. The answer to his question about why Obama didn't do more was actually in former Secretary of Homeland Security Jeh Johnson's testimony on Thursday. As Johnson told Congress, the Obama administration was concerned that if it tried to blow the whistle publicly it would play into Trump's hands and give the impression of trying to influence the election.
Johnson is not the only former top official to indicate that the White House was worried that any intervention would be viewed as tampering—and since the administration expected Hillary Clinton to win, officials figured they could safely wait until after the election to reveal the scope of Russian interference. In retrospect, it's clear that the DNC erred in not moving faster or more aggressively to counter hacking attempts. Veterans of the Obama administration have also expressed regrets about not going public sooner—as then-FBI Director James Comey reportedly wished to do.
The White House and Democrats fell into a catch-22: Russian interference was designed to aid Trump, but if they themselves mentioned that interference, it would look like just the "rigging" that Trump was warning about.
Trump continues to claim vindication about collusion with Russia from testimony by officials who say nothing of the sort. So far, no evidence has emerged solidly demonstrating that the Trump campaign was colluding with the Russian government to interfere with the election, though the FBI was investigating that possibility, and Special Counsel Robert Mueller has now taken over the inquiry. On several occasions, intelligence officials have said that they had no evidence of collusion, and Trump has taken that as proof that there is no evidence.
Compare what Trump said about Johnson—"Jeh Johnson is latest top intelligence official to state there was no grand scheme between Trump & Russia"—with what Johnson actually said. Adam Schiff, the ranking Democrat on the House Intelligence Committee asked Johnson whether he knew what information Comey was acting on when he opened a counterintelligence investigation.
"No, not as I sit here. If I did, I'm not sure I could talk about it in open session," Johnson said. He added, however, that he believed Comey would have had some evidence before opening an investigation. Johnson's testimony was good news for Trump: Had Johnson said he knew of hard evidence of collusion, that would have been very bad for the president, and he didn't say that. But his comment was not the full vindication Trump claims.
During a May hearing before a Senate panel, former Director of National Intelligence James Clapper said that he was not privy to any evidence of collusion, but also said he would not necessarily be aware of any such evidence. Trump tweeted that this proved that no evidence existed:
The president did not choose to spotlight former Acting Attorney General Sally Yates rather murkier reply: "You asked me whether I was aware of any evidence of collusion, and I declined to answer because answering would reveal classified information."
Later in May, when former CIA Director John Brennan told the House Intelligence Committee, "I don't know whether such collusion existed," the White House again claimed vindication.
Something similar happened when James Comey appeared before a Senate panel, after which Trump seized on the fired FBI director's acknowledgment that he had told the president he was not personally under investigation (glossing over Comey's point that the Trump campaign was), while simply dismissing the parts of Comey's testimony he didn't like as untrue. Nice spin if you can pull it off.
On the one hand, Trump is right that there is no publicly known evidence of collusion between his campaign and Russia. Yet his protestations that these very limited public statements represent full vindication are exaggerated unto dishonesty. It is as if Trump cannot fathom that there might be any evidence not yet known that his adversaries would not have already released.
Given his own impulse for revenge, and the leakiness of his administration, it's not hard to imagine why he'd say that, but it is also possible that the nation's intelligence and law-enforcement agencies are not as politicized as he imagines—or as he would like them to be. But while Trump reportedly pressured Director of National Intelligence Dan Coats and NSA Director Mike Rogers to publicly say there was no evidence of collusion, neither man was willing to do so.
The White House, desperate to keep Trump on topic—or rather, to keep him off the topic of Russia, and strange outbursts like this one—keeps designing new messaging vehicles: Infrastructure week, tech week, sending the president to Iowa to speak about farming. The result was a typically weird, meandering speech Wednesday night.
"Farming—which is something that is very beautiful to me. I'm not a farmer, but I'd be very happy to be one. It's a very beautiful world to me," Trump said, unconvincingly.
But even in this setting, he couldn't resist the opportunity to brag about the election.
"American farmers pour their hearts into their crops and their love into their great communities," he said. "That's why they call this the Heartland. And those maps, those electoral maps, they were all red. Beautiful red. Beautiful. If you look at those maps, it's almost like—wow. A lot places that people weren't thinking about turned red. A couple of little blue dots on the sides, but they are red—farmers."
As I wrote in February, there's copious evidence that Trump hates being president. He is perpetually angry, and he feels besieged by partisan critics, which isn't wrong; the only disagreement is whether he is under siege for good or bad reasons. He talks a lot about the election because it's the last time he had a moment of real triumph. But the continued focus on the election (and on baseless conspiracy theories that illegal votes handed Hillary Clinton a popular-vote win) also serves as a way for Trump to assert the legitimacy of his election. But the more loudly he protests, the more attention he draws to the real questions that surround it.