Trump Says He'd Testify Under Oath About Comey
"One hundred percent," the president replied when a reporter asked if he'd be willing to contradict his fired FBI director under penalty of perjury.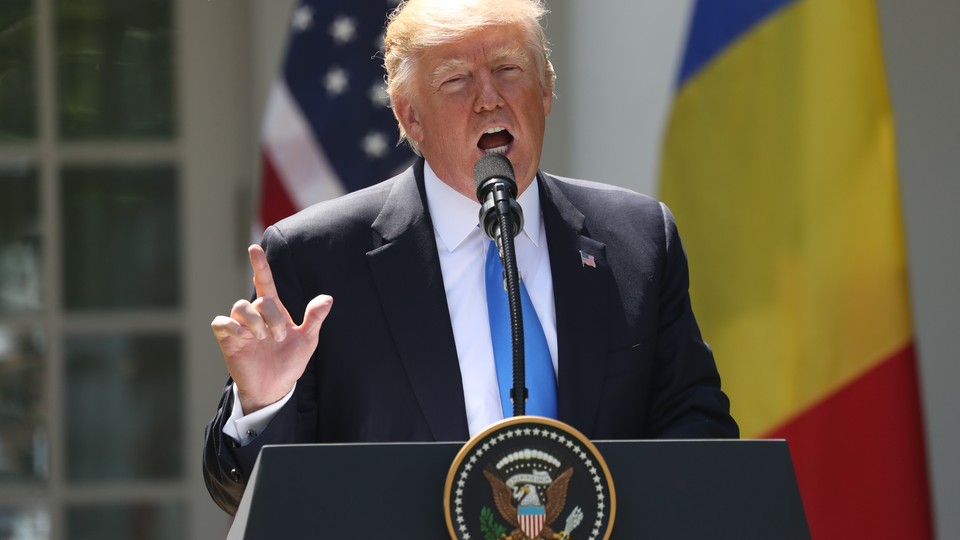 Updated on June 9 at 4:38 p.m. ET
A defiant President Trump on Friday said he'd be willing to testify under oath about his conversations with the FBI director he fired, James Comey.
"One hundred percent," the president quickly replied at a Rose Garden press conference when Jonathan Karl of ABC News asked him whether he'd be willing to contradict Comey under oath. Trump specifically disputed Comey's assertions before the Senate Intelligence Committee that the president demanded his loyalty and asked him to drop the FBI's investigation into Michael Flynn, his former national-security adviser.
"Think about it, I hardly know the man," Trump said. "It doesn't make sense. I didn't say that."
Like so many of this president's press conferences, Trump's first in-person response to Comey's dramatic testimony had a bizarre quality. The president again lashed out at the media and blamed Democrats for a hearing that was called by a Republican-led committee. He continued to dangle the possibility that he has "tapes" of his conversations at the White House by refusing repeated attempts by reporters to confirm or deny their existence. "Well, I'll tell you about that sometime in the near future," Trump said.
If he doesn't want to tell the press about the possible tapes, he will soon have to tell Congress. Within an hour of the president's remarks, the leaders of the House Intelligence Committee announced they had written to the White House counsel, Don McGahn, asking "that he inform the committee whether any White House recordings or memoranda of Comey's conversations with President Trump now exist or have in the past." The lawmakers want copies of the tapes or memos, if they exist, by June 23. They also wrote to Comey asking for copies of the memos he wrote documenting his conversations with Trump, and in a separate request, the Senate Judiciary Committee wrote a letter to Columbia Professor Daniel Richman asking for copies of the memos Comey gave to him with instructions to leak to the press. Comey told senators on Thursday that he no longer had the memos but had provided them to Mueller.
Even as he disputed Comey's most damaging allegations, Trump on Friday claimed vindication through others. "No collusion. No obstruction. He's a leaker, but we want to get back to running our great country," the president said. He added: "We were very, very happy. And frankly James Comey confirmed a lot of what I said and some of the things that he said just weren't true."
The president and his allies have seized on Comey's confirmation that he told Trump on multiple occasions that he was not personally under investigation by the FBI as part of its probe into Russian meddling in the 2016 election and possible involvement by members of Trump's campaign. But it's not clear whether that assertion is still true, and Comey suggested that the special counsel, Robert Mueller, may be investigating whether Trump committed obstruction of justice when, according to Comey, he said he hoped that the then-FBI director could "see a way clear" to letting the Flynn investigation go. Comey testified that he took the request as a direction, one he refused to obey.
Yet the most significant comment Trump made on Friday was his expressed willingness to testify under the penalty of perjury, either before Congress or in a deposition by Mueller. Because Comey was himself under oath at Thursday's hearing, the president was effectively accusing him of committing a federal crime by lying to Congress.
As The Washington Post has reported, Trump has struggled to tell the truth even during times when he was under oath. During a 2007 courtroom interrogation, a lawyer presented him with 30 examples of times he had made false statements. "I try and be truthful," Trump said when the lawyer asked if he had ever lied in public statements about his real-estate properties. "I'm no different from a politician running for office. You always want to put the best foot forward."
The only president to appear as a witness before Congress in modern times was Gerald Ford, who was called to testify about his decision to pardon Richard Nixon. Now it will be up to Mueller, and to Republicans on Capitol Hill, to decide whether they want to take Trump up on his offer.