The Mystery of Trump, Morning Joe, and the National Enquirer
Mika Brzezinski and Joe Scarborough alleged on Friday that White House staff said the tabloid would "publish a negative article about us unless we begged the president to have the story spiked."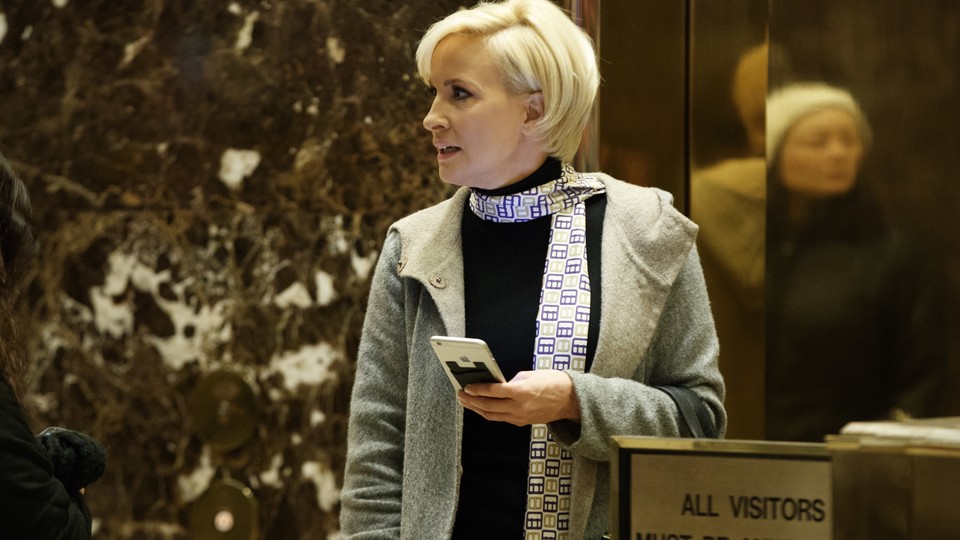 Updated at 12:55 p.m. ET
A feud between President Trump and the hosts of MSNBC's Morning Joe, Mika Brzezinski and Joe Scarborough, escalated on Friday when the cable-news personalities accused the White House of attempting to threaten and intimidate them with the publication of a negative story in the tabloid the National Enquirer.
Brzezinski and Scarborough made the explosive allegations in a Washington Post op-ed, which was titled "Donald Trump is not well" and published Friday morning. "This year, top White House staff members warned that the National Enquirer was planning to publish a negative article about us unless we begged the president to have the story spiked," the pair wrote. "We ignored their desperate pleas."
The president hit back on Twitter: "Watched low rated @Morning_Joe for first time in long time. FAKE NEWS. He called me to stop a National Enquirer article. I said no! Bad show."
Press Secretary Sean Spicer said he was "not aware" of White House staff ever urging the television hosts to apologize to pre-empt a National Enquirer story, according to New York magazine's Gabriel Sherman.
On Friday afternoon, citing three anonymous sources, Sherman reported that Jared Kushner, the husband of Trump's daughter Ivanka and a senior adviser to the president, told Scarborough in mid-April that "he would need to personally apologize to Trump" in order to block the story—which was about Scarborough and Brzezinski's then-private romantic relationship. News that the pair were engaged broke in May. A spokesman for Kushner did not comment on the New York report, Sherman wrote.
The allegations raise questions over White House conduct, and intensify the ongoing conflict between the president and the morning-show hosts. On Thursday, Trump lashed out at Scarborough and Brzezinski on Twitter, calling Brzezinski "low I.Q." and "Crazy" and Scarborough "Psycho." He claimed the two had "insisted on joining" him at his Mar-a-Lago estate in Florida "3 nights in a row around New Year's Eve." In his tweets, Trump made a graphic allegation that, at the time, Brzezinski "was bleeding badly from a face-lift."
Trump's decision to single out and criticize Brzezinski's physical appearance fits his pattern of making disparaging remarks in reference to a woman's physical appearance. In August 2015, Trump said that then-Fox News host Megyn Kelly "had blood coming out of her eyes, blood coming out of her wherever" after she challenged him during a presidential debate. In an interview with Rolling Stone during the presidential election, Trump said "Look at that face!" when he saw an image of then-Republican presidential contender Carly Fiorina. Fiorina responded by saying that "women all over this country heard very clearly what Mr. Trump said."
Trump's feud with the hosts of Morning Joe is also the latest in a series of attacks and accusations the president has made against the media, often with the effect of sidelining news coverage of other administration priorities in the process.
The hosts elaborated on their own accusations against the White House on MSNBC on Friday:
Scarborough: "We got a call that 'Hey, the National Enquirer is going to run a negative story against you guys,' and it was, Donald is friends with, the president is friends with, the guy that runs the National Enquirer. And they said, 'If you call the president up, and you apologize for your coverage, then he will pick up the phone and basically spike the story.' I had, I will just say, three people at the very top of the administration calling me. The response was like, I was like, 'Are you kidding me?' I don't know what they have. Run a story? I'm not going to do it. The calls kept coming, and kept coming, and they were like 'Call. You need to call, please call. Come on, Joe, just pick up the phone and call him.'"

Brzezinski: "And let me explain what they were threatening: They were calling my children, they were calling close friends."

Scarborough: "You're talking about the National Enquirer."

Brzezinski: "And they were pinning the story on my ex-husband, who would absolutely never do that. So I knew immediately it was a lie, and that they had nothing. These calls persisted for quite some time. And then Joe had the conversations that he had with the White House where they said, 'Oh, this could go away.'"
It was not immediately clear what National Enquirer article the president and the television hosts were referring to, though in his report on Friday, Sherman cites a June story in the tabloid headlined: "Joe & Mika: TV Couple's Sleazy Cheating Scandal."
The National Enquirer put out a statement on Friday responding to the claims. It said: "At the beginning of June, we accurately reported a story that recounted the relationship between Joe Scarborough and Mika Brzezinski, the truth of which is not in dispute. At no time did we threaten either Joe or Mika or their children in connection with our reporting on the story. We have no knowledge of any discussions between the White House and Joe and Mika about our story and absolutely no involvement in those discussions." The statement was attributed to Dylan Howard, the chief content officer and vice president of American Media, Inc.
On Twitter, Scarborough responded to the president's Friday tweet, claiming that Trump lied and suggesting he had evidence to prove it. He did not make clear whether he planned to provide any evidence, however, that could counter the president's claims.
Yet another lie. I have texts from your top aides and phone records. Also, those records show I haven't spoken with you in many months. https://t.co/TZWiElo6Gs

— Joe Scarborough (@JoeNBC) June 30, 2017
On Friday afternoon, Politico's Hadas Gold reported on Twitter that MSNBC doesn't currently plan "to release the convos btwn Joe and WH officials as proof."
Republican and Democratic lawmakers alike criticized the president for his tweets railing against Scarborough and Brzezinski on Thursday, with many calling the attack beneath the dignity of the office of the president.