Trump's Efforts to Curtail the FBI's Investigation Spill Into View
The president's anger towards a probe into his campaign is poisoning his relationships with top intelligence and law-enforcement officials.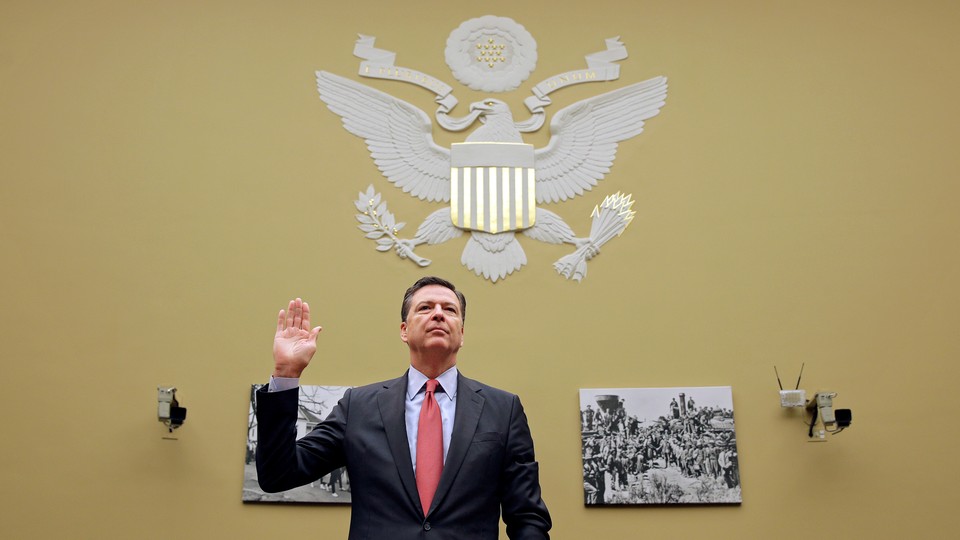 Like movie trailers before a summer blockbuster, new reports are shedding more light on the increasingly toxic relationship between President Trump and top law-enforcement and intelligence officials ahead of former FBI Director James Comey's heavily anticipated testimony before the Senate Intelligence Committee on Thursday.
In a rapid-fire series of stories on Tuesday evening, The New York Times reported that Comey told Attorney General Jeff Sessions he did not want to be alone with Trump one day after the president asked him to halt the federal investigation into Michael Flynn, Trump's former national-security adviser; ABC News reported that Trump's anger at Sessions for recusing himself from the organization had prompted Sessions to offer to resign; and The Washington Post reported that Director of National Intelligence Dan Coats had told associates that Trump had asked him NSA Director Mike Rogers, to intervene with Comey to end the investigation.
According to the Times, Sessions could not guarantee Comey he wouldn't be alone with the president again. It's not clear whether Sessions subsequently informed the president of Comey's request.
The Times's report adds new context to the circumstances preceding Comey's dismissal on May 9. It is also the first indication Sessions was aware of Comey's discomfort with the president and toward possible attempts to influence him. While Sessions had formally recused himself from matter relating to the Trump presidential campaign, which would include the Russia investigation, he played a key role in Comey's ouster by giving the president his recommendation to fire Comey.
It also raises new questions for Comey. The Times also reported Comey did not tell Sessions or anyone else in the Justice Department about the Flynn conversation, instead only informing his closest advisers. It's unclear why Comey declined to do so—one possible explanation is that he did not want to make the attorney general a witness in a possible criminal matter. Comey also documented the incident in one of numerous memos he kept detailing his interactions with Trump. Those memos are now in the possession of Robert Mueller, the special counsel appointed last month to oversee the Russia investigation and any related matters.
Tuesday's report by the Times also adds to the emerging picture of the president's simmering rage at a growing federal investigation into his election that is increasingly beyond his ability to control and influence. Trump has railed against the inquiries as a "witch hunt" and a plot by Democrats and the media to reverse the outcome of a presidential election now tainted by allegations of Moscow's interference.
His outrage has reportedly extended beyond mere complaints. Multiple news outlets have described the president's efforts to personally woo the FBI director, which reportedly included requests for pledges of loyalty and for Comey to say Trump wasn't personally under investigation. CNN reported Tuesday that Comey will tell the Senate Intelligence Committee he gave the president no such assurances—a direct contraction of claims Trump made in the May 9 letter informing Comey he had been fired.
Trump's efforts to assert his authority over Comey eventually drew in other top federal officials. On Tuesday, The Washington Post reported the president complained to Director of National Intelligence Dan Coats and NSA Director Mike Rogers about Comey's inquiries and asked them to intervene to halt them. The conversation reportedly took place when Trump asked both men to stay behind by themselves after an intelligence briefing on March 22, two days after Comey publicly informed Congress about the federal investigation into Russian interference and possible collusion by Trump campaign officials.
Comey is far from the only target of Trump's ire. ABC News reported Tuesday that Sessions, a former Alabama senator and the current U.S. attorney general, offered to resign at one point in response to Trump's simmering frustration with his recusal from the Russia investigation in March. That report followed a Times article on Monday detailing tensions between the two men that have shaped how the president views a Justice Department he now publicly criticizes even as it defends his most controversial actions in court.
Sessions's reported resignation threat marks the lowest point yet in the odd relationship between the New York real-estate businessman and the Alabama lawyer. The staunchly conservative senator aligned himself with Donald Trump's campaign when almost every other Republican elected official treated the future president as if he were radioactive. Sessions gave Trump his implicit stamp of approval in August 2015 when he appeared at a rally in Mobile, Alabama, and donned one of Trump's signature red "Make America Great Again" hats.
Their alliance grew from common ideological ground. In the Senate, Sessions was an autochthonous Trumpian who carved out aggressive stances against policing reform, multilateral trade deals, and undocumented immigration. Top Sessions aides like Stephen Miller, a communications staffer who later helped craft the controversial travel ban targeting six Muslim-majority countries, came to Trump's support even before Sessions formally endorsed him in February 2016.
After Trump's upset victory last November, the president-elect rewarded him with the plum post of attorney general. It was a signal moment in Trump's transition to the White House, one that indicated he would govern as he campaigned. Senatorial courtesy allowed Sessions to move through an arduous confirmation battle as Democrats revived the charges of racism that had torpedoed his nomination for a federal judgeship in 1986.
But within that confirmation battle lay the seeds of his tensions with the president. In a questionnaire to the Senate Judiciary Committee submitted in January, Sessions said "no" when asked if he'd had any contact with Russian government official during the 2016 presidential campaign. And when asked by Minnesota Senator Al Franken during his confirmation hearing about his views on the growing accusations of Russian election meddling, Sessions said under oath he "did not have communications with the Russians."
Those assertions were false. On March 1, the Post reported Sessions had met twice with Sergey Kislyak, the Russian ambassador to the United States, during the presidential campaign. One day later, Sessions announced he would recuse himself from the Russia investigation, setting off a chain of events that would eventually lead to Mueller's appointment as special counsel and moving control of the inquiry even further away from a president who apparently fears it could fatally wound his nascent presidency.