Is Trump's Climate-Change Agenda Politically Sustainable?
It's difficult to overstate how directly the president's plans clash with the marketplace and policy at all other levels of government.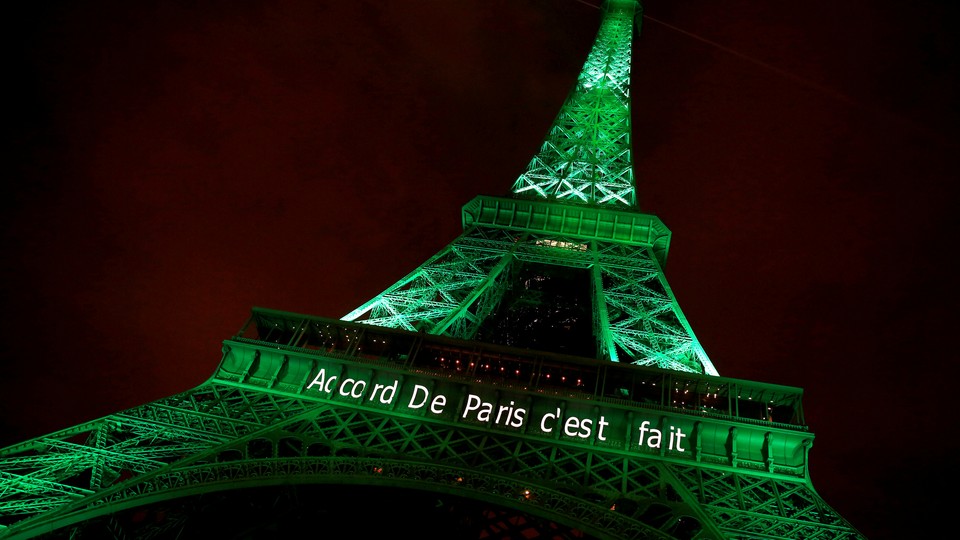 Updated at 3:58 p.m. ET
Predictability is a necessity for the key industries that fit into America's energy puzzle, especially electric utilities, oil and gas producers, and automobile manufacturers. All of these businesses make huge capital investments with very long lifespans. Utilities build power plants that provide electricity for decades. Oil companies drill wells that take years to complete. Auto companies plan car models five or more years in advance. None of these industries turn on a dime.
That's why President Trump's efforts to systematically reverse Barack Obama's energy and environmental policies represent such a gamble for them. Before Trump took office, technological advances, consumer preferences, cost trends, and government policies at the state, federal, and international level were all jointly pushing toward a lower-carbon future that stressed greater efficiency and cleaner power sources.
Now Trump, working through Environmental Protection Agency Administrator Scott Pruitt and Energy Secretary Rick Perry, has steered federal policy in direct opposition to those other forces—a redirection capped by his decision Thursday to withdraw from the global Paris Agreement, in which virtually every nation agreed to reduce carbon emissions. While the other key private- and public-sector dynamics are still driving toward a cleaner energy future, Trump is seeking to resist that transition and restore the primacy of fossil fuels.
Elements of the oil and auto industries (and a much smaller share of utilities) are welcoming some of the president's moves. But his whiplash-inducing reversal is exposing all of these industries to what their executives and investors fear most: uncertainty. In setting their long-term plans, all must now decide whether Trump's direction represents a lasting shift away from concerns about climate or a final bump in the road toward a lower-carbon future.
Melissa Lavinson, chief sustainability officer at PG&E Corp, the huge Northern California utility, frames the industries' choice—as well as the most responsible answer—when she says: "If you have to go to a board of directors and say, 'I have to make a multibillion-dollar investment that is multi-year,' are you going to base it on two or four years in the political cycle or … on long-term economic, technological, and consumer trends?"
The unifying thread through Trump's environmental agenda is an attempt to resurrect an earlier energy order centered on maximizing fossil-fuel production and marginalizing considerations about the carbon emissions linked to climate change. His EPA has already started to reverse Obama-era regulations that required continued improvements in fuel efficiency from auto manufacturers after 2022 and reduced carbon emissions from power plants. The Interior Department is working to open more onshore and offshore public lands for oil, gas, and mineral extraction. And Perry has suggested the administration may try to preempt state mandates that require utilities to use more renewable power on the grounds that such rules undermine the dependability of the electrical grid. (He's ordered an internal Energy Department study, due in mid-June, that's expected to try to justify that argument.) Trump's decision to quit the Paris accord culminated this crusade of restoration with a stunningly self-destructive act of diplomatic and environmental isolation.
It's difficult to overstate how directly this revanchist agenda collides with both the marketplace and policy at all other levels. All of Trump's key moves affecting electricity generation, for instance, are intended to bolster coal. But coal's share of power generation has declined for years, first under pressure from lower-cost natural gas, and now from increasingly affordable solar and wind. Since 2002, federal data show, utilities have retired more than twice as much coal-generating capacity as they have added. In 2016 alone, the amount of new capacity utilities added in wind and solar—including small-scale decentralized resources like rooftop solar arrays—equaled the total amount of coal power brought online over the past 15 years. Privately, the utility industry has even urged Trump to uphold the Paris Agreement. "Trump is fighting the battle from 10 years ago when coal had a chance," independent energy consultant Paul Bledsoe told me.
Some in the auto industry are also fighting the last war by pushing Trump to loosen Obama's long-term mileage-economy standards so they can sell more (highly profitable) light trucks and SUVs. But, as veteran environmentalist Dan Becker notes, even if Trump loosens the federal requirements, the industry will still face tougher mileage restrictions in most European and Asian markets. They'll also face higher standards in the U.S. states that follow the rules California imposed with the unique authority it exercises under the federal Clean Air Act; those states represent about one-third of American vehicle sales. For Detroit, shifting investment toward gas-guzzling behemoths—what Becker calls "Trump-mobiles"—risks ceding those domestic and international markets to more green competitors.
Likewise, policy and marketplace risks will still confront oil companies even if Trump can overcome legal and political challenges to open more offshore waters to exploration. One is that they wouldn't be able to finish any new wells before a possible new administration in 2021 could change the environmental rules governing any drilling. The bigger problem is that offshore drilling remains uneconomical with oil prices so low. "There is a question of how much new drilling we'd see in deepwater offshore in a world with $50 oil," said Joseph Aldy, formerly Obama's top environmental economist.
While Trump pursues restoration, states like Virginia, California, and Nevada are debating proposals for further carbon reduction. All of the G-7 industrial nations, except for the United States, last week reaffirmed support for the Paris climate accord. Big industrial consumers like Wal-Mart and Google are demanding cleaner power from utilities. Breakthroughs in the development of self-driving vehicles could rapidly accelerate demand for electric cars.
Fossil fuels will remain critical to powering America for years. But the balance in the nation's energy mix has been steadily tilting toward cleaner fuels and greater efficiency. Now, with investments that extend for decades, these big industries must decide whether Trump's attempt to reverse the shift toward more sustainable energy is itself politically sustainable. It's more likely Aldy is correct when he calls Trump's crusade a temporary "aberration" in the world's long march toward confronting potentially catastrophic changes in the climate.