'This Is the Most D.C. Thing You Can Do'
Washingtonians gathered at a bar to watch former FBI Director James Comey testify before the Senate Intelligence Committee.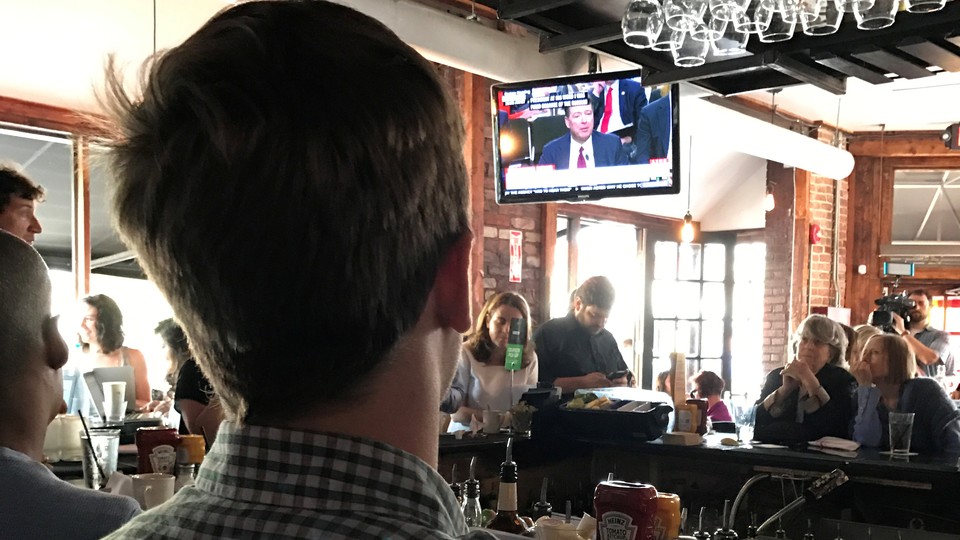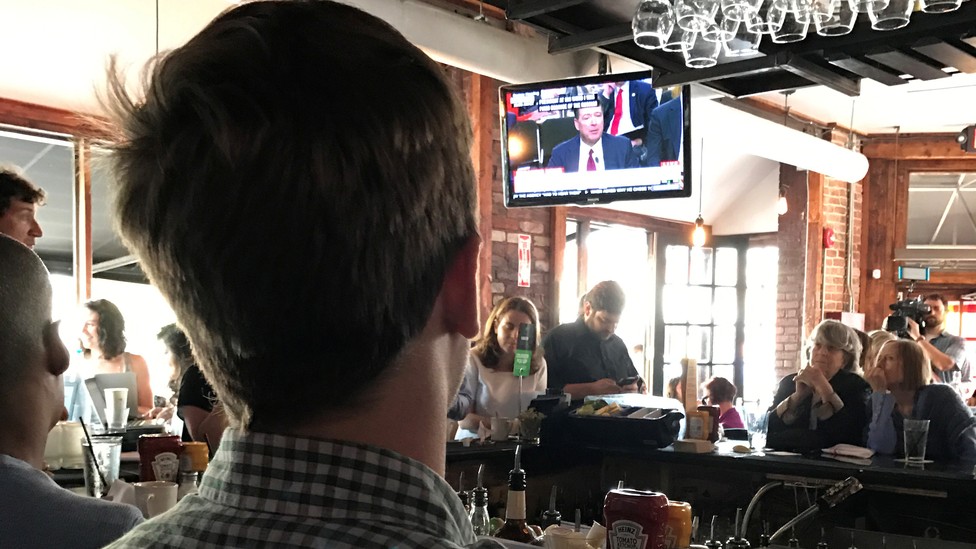 Forget holidays, elections, or even national tragedies. Nothing brings out Washingtonians' civic spirit quite like a high-profile political probe.
In honor of Comey Day—the June 8 appearance before the Senate Intelligence Committee of fired FBI Director James Comey—a smattering of downtown D.C. bars decided to do the patriotic thing by opening early and offering investigation-themed drink specials. Union Pub, within stumbling distance of the Capitol, took it one step further: For every tweet President Trump let fly during his deposed director's testimony, the pub promised a free round for the entire bar.
Comey was scheduled to take the stand at 10:00 a.m. Union Pub opened its doors at 9:30. By the time I arrived at 9:40, it was standing room only. (And it's a big bar.) TV camera crews were milling about outside, chatting up entering patrons. Inside the smaller side-bar where I tried—and failed—to snag a seat, a bearded, frazzled-looking bartender was doling out beer, wine, bloody marys, and lots of coffee. All three TVs were tuned to Fox News. "This is the most DC thing you can do!" enthused a tall, cheery brunette who asked only to be identified as Kara. (Kara, like many in the bar, had taken a day off from work but was not eager to advertise her morning's activities to her office.)
It quickly became clear that a hilarious chunk of the gathered crowd consisted of journalists. (Fox, WTOP radio, HuffPost, The Washington Monthly….) One entire wall of seats was taken up by reporters officiously tapping away on their laptops. Other scribes roamed the floor with notebooks, trying to find at least a couple of non-journalists to interview. I parked myself next to the high-tech jukebox up near the bar and ordered a bloody mary. (Purely for research purposes.)
It was overwhelmingly a young crowd. (Who else can afford to play hooky from work to hang out in a bar watching cable news?) Despite the gravity of the occasion, most folks were in a festive mood. Some were attired for the office, in suits or sensible dresses. But most were in play clothes: shorts, jeans, t-shirts, sandals. (Again: spending a Thursday morning drinking.) People were chatting up strangers, passing around beers, gamely answering the same tedious questions being asked by the reporters circling "like seagulls at the beach" (thanks for the metaphor, Jim!), and even sharing their tater tots and chicken wings as the morning wore on and the bar food started flowing. "It's like Christmas!" I heard a guy enthuse to the young woman who had come in with him.
Of course, Washington being Washington, when the proceedings got rolling, the room hushed. People kept right on ordering drinks, of course. But quietly. Because be they restaurant servers, data geeks, or political consultants, this crowd was deeply interested in what sort of show Comey would put on.
Don't misunderstand. No one expected a bombshell. Many had, in fact, already read Comey's official statement that had been made public the previous day. But the assembled masses had come together to collectively judge the former FBI chief. They wanted to assess his demeanor, parse his answers, witness how he handled whatever pressure was applied by his Senate inquisitors. For the first half hour or so, all eyes in the room flicked back-and-forth between the TVs and their smartphones. (Twitter, Snapchat, and Instagram were getting major workouts with this group.)
The room was heavily pro-Comey. When the former director landed a punch—like flat-out accusing the president of lying—the crowd cheered. When he brushed back an overly saucy senator, they applauded.  When he recalled that, in order to attend the now infamous one-on-one dinner with Trump at the White House, he'd had to cancel a date with his wife, the room erupted in a chorus of "Awwwwwws!"
"I love that man!" Maya Brown, a young woman (and Bernie Sanders fan) seated next to me, declared at one point.
Certainly not everyone was a Comey fan. Tsolmondorj Natsagdorj (he showed me his old student ID so I could get the spelling correct), a bespectacled young man sporting shorts and a bright-orange t-shirt, started musing to me about how creepy Comey was. He laughed about how the ex-director, in admitting that he could have been firmer in standing up to Trump, had basically outed himself as a "cuck." It wasn't personal. Natsagdorj is a die-hard libertarian who finds everything about the FBI slightly creepy. He also doesn't care much for the media. He groaned upon hearing which outlet I wrote for—but then graciously ruled that it was better than if I worked for The Washington Post.
As senators kept asking Comey the same questions over and over—or questions that they knew he could not possibly answer in an open session—the room grew a bit restless. Kara and her friends began knocking back white Russians. The noise level would rise to the point where you could just barely hear the TV, only to be fiercely shushed back down again. At one point, the audio feed went out for several seconds, and the crowd immediately broke out with cries of, "What the hell, Fox!" and, "Cover up!"
By the time Senator Susan Collins got her turn at Comey—around 11:20ish—most people had stopped listening and started talking and drinking in earnest. Every now and again, an outraged woman somewhere near the middle of the room would yell, "Quiet!" or "We're here for a reason!" But she would mostly get laughed down or ignored. "Thanks, Mom!" a guy near me fired back at one point.
The room started clearing out around noon. (More than two hours in, I snagged a seat!) Some people had afternoon meetings to get to. Others had come to the disappointing conclusion that, for whatever reason, Trump wasn't going to be tweeting, and thus there would be no free drinks.
But enough folks stuck around to keep the bar hopping as people eased into lunchtime. Two beefy guys in jeans and casual shirts—the super tall one was named Colin, his friend with the blue baseball hat was Mike—chowed down on a basketful of wings as they dissected the Comey-bashing tweets that Donald Trump Jr. had been firing off all morning. Their ruling: Jr. was trying to be funny, but didn't quite have the smarts to pull it off.
Both Mike and Colin had cleared their schedules and were "telecommuting" for the day. If anything at either of their offices blew up, their coworkers knew how to reach them. But otherwise, they planned to just hang out. "This is my favorite D.C. holiday!" joked Colin. "Investigations!"
Mike agreed. "All my friends who don't live here don't get it—even my sister who works in politics."
"All my friends around the country wish they were here," said Colin.
As it turned out, Colin and Mike and the rest of the lingerers wound up pretty happy to be there. Not long after the hearing was gaveled closed around 12:40, the bartenders started circulating with trays of vodka shots and bottles of Budweiser "America" beer—all on the house. Trump may not have delivered the expected tweetstorm, but that was no reason to send people away thirsty. And so the party rolled on.
I packed up and headed out not long after 1:00. On my way out the door, an exceedingly jovial Natsagdorj stopped me. "Your tweets have been killer!" he gushed. (He'd had me input my twitter handle into his phone earlier.) "You and Donald Trump Jr.—yours are the tweets I've been retweeting the most!" And with that, he swept me up in a giant bear hug.
For one shining (if possibly boozy) moment, tribal allegiance was forgotten, and everyone could get along.
Maybe we ought to do this more often.