The Senate GOP Health-Care Bill Inches Closer to Obamacare
Republicans scrambling for votes are now considering keeping a key tax on the wealthy to pay for expanded insurance coverage, as the legislation moves further away from repeal.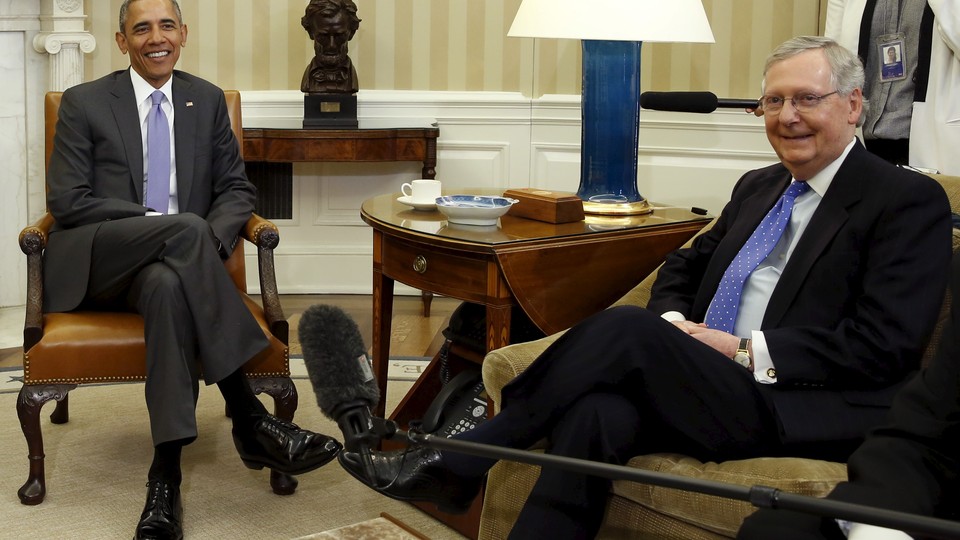 The more Senate Republicans tweak their faltering health-care proposal in a frantic scramble for votes, the more it is beginning to look like the law they were trying to replace.
Republicans are considering keeping a key Obamacare tax increase on investment income so they can use the money to soften cuts to Medicaid and increase subsidies for low-income people in their bill. The shift is an attempt to woo more moderate holdouts who have balked at projections that the Senate bill would make health insurance prohibitively expensive for millions of people.
"It's not an acceptable proposition to have a bill that increases the burden on lower-income citizens and lessons the burden on wealthy citizens," Senator Bob Corker of Tennessee told reporters on Thursday, according to Bloomberg. As written, the Senate bill repeals most of the tax increases Democrats enacted under the Affordable Care Act to pay for its many new programs and benefits. While Republicans have assailed those levies as job-killers, some senators, including Susan Collins of Maine and Bill Cassidy of Louisiana, have been arguing that the party can't repeal all of them and still provide enough support for people in need of government assistance.
Adding to the GOP's challenge, the Congressional Budget Office on Thursday released a new analysis finding the Senate bill would cut Medicaid even deeper in the second decade after its enactment. While federal Medicaid spending would drop by 26 percent through 2026 under the bill, it would fall by 35 percent in the 10 years after that. The CBO's initial report issued on Monday found that the Senate bill would cut the program by $770 billion compared to current law.
The Senate bill cuts taxes by about $700 billion over 10 years, according to the budget office, with most of the relief going to the wealthy and businesses. But repealing the 3.8 percent tax on net investment income was the largest cut in the bill, reducing federal revenues by $172 billion.
The fact that Republicans are reconsidering what had been a core element of their bill underscores how far the party has moved off the promise of full repeal. Any compromise that passes the Senate—which still remains a big question mark—is now likely to retain the structure of the current law, albeit with significant modifications. And while Majority Leader Mitch McConnell initially wrote the bill to appeal to conservatives in his conference, the changes that have come so far have mostly driven the proposal to the left and in the direction of the status quo. The bill repeals Obamacare's individual insurance mandate, for example, but on Monday the GOP leadership added a provision design to replicate its effect by penalizing people who go without insurance for more than two consecutive months. The idea is to induce as many people as possible to sign up for insurance before they get sick.
Conservatives have prioritized repealing the tax increases in Obamacare both out of principle and because it is seen as critical to the GOP's next project: comprehensive tax reform. But there are signs that some on the right could relent on the capital gains tax cut, which disproportionately benefits the wealthy, and unlike some of the other taxes in the Affordable Care Act, does not directly affect the cost of health care.
Senator Mike Lee of Utah, a conservative critic of the Senate bill, seemed to open the door to scaling back the tax cuts when he cited them skeptically in a statement after McConnell delayed a vote on the legislation earlier this week. "The first draft of the bill included hundreds of billions of dollars in tax cuts for the affluent, bailouts for insurance companies, and subsidies for lower-income Americans," Lee said. "But it ignored the middle-class families who have borne the brunt of Obamacare, and who have been left behind by both parties in Washington for too long." Asked if Lee would support keeping Obamacare's tax on investment income, spokesman Conn Carroll told me: "We would be open to it. It is not something we are asking for, but if our priorities were included in the bill it  is something we would tolerate."
Indeed, the likeliest path to a compromise is if conservatives consent to additional spending moderates are demanding for Medicaid and tax credits in exchange for changes that allow insurers leeway around Obamacare's insurance regulations. Lee is working with Senator Ted Cruz of Texas on a proposal that would allow companies to sell policies that don't meet current federal standards—like covering essential health benefits or accepting people with preexisting conditions—as long as they also offer plans that do adhere to Obamacare's minimum requirements.
But it's unclear if that would work, either as a matter of policy that 50 Republican senators could agree to, or under the strict procedural rules of Senate budget reconciliation—the tool the GOP is using to skirt a Democratic filibuster. Many Republican senators are loathe to back anything that would undermine protections for people with preexisting conditions, which has become a flashpoint in the health-care debate. "I don't know if that's going to fly or not," one senior Senate GOP aide said about the proposal Cruz and Lee are pushing.
McConnell must satisfy the demands of at least 10 public GOP opponents of the Senate bill and can lose no more than two of them. The CBO's projection that his draft would reduce the deficit by $321 billion over a decade gave him a pot of nearly $200 billion to help win converts. The leadership's first move was to grant the request of Senators Rob Portman of Ohio and Shelley Moore Capito of West Virginia to direct $45 billion to combat opioid addiction. The original bill contained just $2 billion. Another change aimed at conservatives would further expand health savings accounts. But neither concession was expected to be enough to secure the 50 votes McConnell needs, and keeping in place the capital-gains tax increase would bring the leftover funds to well over $300 billion. "I think a lot of members would see that as a positive step," the GOP aide said.
Some conservatives, however, believe McConnell has enough extra money to dispense without touching the tax cuts. The possibility of leaving in place some Obamacare taxes drew a rapid warning shot from Grover Norquist, the conservative activist who has enthusiastically backed the House and Senate health-care bills largely on the grounds of their deep tax cuts. "It would be a bad idea to leave job-destroying taxes in the code for a second longer than necessary," Norquist told me in a phone interview Thursday. He acknowledged that Republicans could try again to repeal the capital-gains tax increase in tax reform later in the fall, but he said the party needed to be worried about boosting job growth now to save their congressional majorities in 2018. "The faster we get the capital gains tax down, the faster we'll get further growth and investment. And we need jobs, jobs, jobs if the Republicans would like to see themselves hold the House and the Senate in 2018."
Still, Norquist wouldn't say the investment tax was a deal-breaker for the support of his group, Americans for Tax Reform. "You'd have to see what the whole thing looks like," he said. "But it'd be hard to see how you could have a bill that was pro-growth and job-creating if you took this section out of it."
The whole question of compromise has been fraught for conservatives inside and out of Congress as the GOP's struggles to repeal Obamacare have mounted. Each of the major conservative advocacy groups has now given up on the prospect of full repeal, but they are split on what constitutes an acceptable measure of progress on health care. Heritage Action, the political arm of the Heritage Foundation, has softened its confrontational approach toward congressional Republicans since the ouster of the foundation's president, former Senator Jim DeMint. Heritage Action's CEO, Michael Needham, gave the Senate draft a reluctant endorsement in a Real Clear Politics piece on Thursday even as he pushed for the adoption of conservative amendments from Cruz and Lee. The group's spokesman, Dan Holler, wouldn't say whether keeping one of Obamacare's biggest taxes would cause Heritage to oppose the bill.
Jason Pye, director of public policy and legislative affairs for FreedomWorks, was less conciliatory. "No. No. Absolutely not," he said after reading Corker's proposal for keeping the investment income tax. "They need to get this bill done. Stop making it less conservative and start making it more conservative. End of story." The Club for Growth has also vowed to oppose the Senate bill if it does not repeal all of Obamacare's taxes and make other conservative changes.
Conservatives may yet declare a modest victory if the Senate agrees to Cruz and Lee's idea to allow insurers a way out of Obamacare's requirements. They know they'll get another bite at cutting taxes in a few months. But for the moment, the health-care debate in Congress is tilting away from them, and back in the direction of the law they hate.