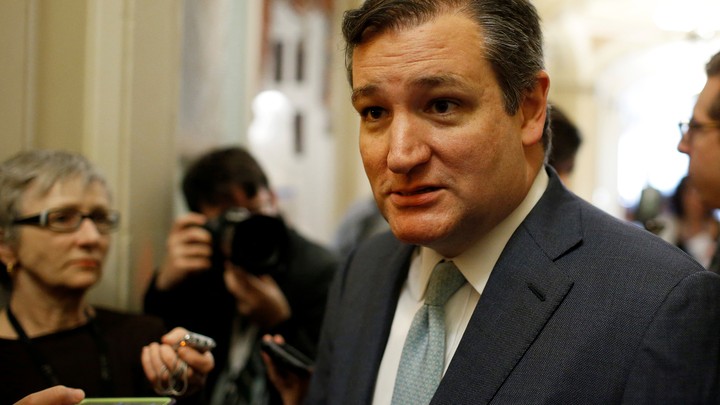 In the hours after Senate Republicans released their long-awaited plan to roll back the Affordable Care Act, it was nearly impossible to find an enthusiastic supporter of the proposal—even among the lawmakers it was most aimed to please.
There was no grand unveiling of a bill that Senate Majority Leader Mitch McConnell and his lieutenants supposedly spent weeks perfecting behind closed doors. No triumphant declarations of a promise kept, nor even confident predictions of passage. Shortly before 11 a.m. ET, while Republicans were still being briefed on a bill they had yet to see, the Senate Budget Committee sent out a link to the plain, 142-page text of the "Better Care Reconciliation Act of 2017." McConnell went to the Senate floor to talk up the plan as best he could, but even he could only muster modest praise.
"We debated many policy proposals. We considered many different viewpoints," he said. "In the end, we found that we share many ideas about what needs to be achieved and how we can achieve it."
Barely two hours later, his bill was already teetering.
Four conservative senators—Rand Paul of Kentucky, Ted Cruz of Texas, Mike Lee of Utah, and Ron Johnson of Wisconsin—quickly declared their opposition to the plan as written on the grounds that it did not go far enough in fulfilling the GOP's promise to repeal Obamacare. "Currently, for a variety of reasons, we are not ready to vote for this bill," they said in a joint statement while reiterating their desire for more negotiation.
Along the center of the Republican caucus, the watchword was "concern." A spokeswoman for Susan Collins of Maine, the closest the GOP has to a centrist in the Senate, said she had "a number of concerns" and would await the analysis of the Congressional Budget Office due early next week. Senator Dean Heller of Nevada, facing a tough reelection fight in 2018, said he had "serious concerns about the bill's impact on Nevadans who depend on Medicaid. Ditto Senator Rob Portman of Ohio, who cited his own "real concerns" about the GOP proposal to make deep cuts to Medicaid and phase out the program's expansion under Obamacare over four years beginning in 2020, rather than the seven he had proposed.
Any three of those Republicans would be enough to defeat the bill. With Democrats united in opposition, McConnell can lose no more than two of his 52 Republican members and have the bill pass with a tie-breaking vote from Vice President Mike Pence. The reaction from outside the Capitol was no better. Governor John Kasich of Ohio decried the GOP's "one-party approach" and said he had "deep concerns" with the details of the bill. On the right, the conservative group FreedomWorks gave its backing to the four Senate holdouts and needled McConnell for reneging on his promise to fully repeal Obamacare. The law's namesake, former President Barack Obama, issued a rare and lengthy statement denouncing the proposal for its "fundamental meanness." Even President Trump withheld anything resembling an enthusiastic endorsement.
Yet just as an initial onslaught of conservative criticism didn't ultimately doom the House's American Health Care Act, the chilly reception won't necessarily sink the Senate's broadly similar plan, either. For the moment, the two most important words in the bill are the ones that adorn each page: Discussion draft. Senate budget rules require that the legislation be open to nearly unlimited amendments before a final vote, and it appears that McConnell designed the bill with future changes in mind. Republicans complaining about particular provisions or omissions will have the opportunity to make changes and then, if they vote for a revised version, claim credit for "improving" the bill.
Portman, Heller, and Senator Shelley Moore Capito of West Virginia could try to substitute their proposal for a longer transition away from Obamacare's Medicaid expansion, as well as adding significantly to the $2 billion the current draft allocates to fight the opioid epidemic. For his part, Cruz made clear that he wanted to "get to yes" on the bill and offered a series of proposed changes.
"Don't be fooled," warned Senator Patty Murray of Washington state, a member of the Democratic leadership. "Senate Republican leaders are going to spend this weekend doing everything they can to cut backroom deals and get the 50 votes they need to jam Trumpcare through the Senate—and that's why it's so important that Democrats and patients and families across the country keep fighting back and making clear any senator who votes for this mean, heartless bill will own the consequences."
Still, the hurdles McConnell faces are considerable, and skepticism about whether he can get 50 Republican senators to agree on a final bill is justified. He must try to mollify the concerns of one faction without sacrificing the support of another. Given the Senate plan's similarity in scope and structure to the House bill, it is likely the CBO will report that millions of Americans would be in danger of losing their insurance if the proposal takes effect. (The House bill would result in 23 million fewer insured people over a decade, the CBO found.) Such a finding could scare off moderate Republicans, while conservatives might well be disappointed if the CBO does not project that average premiums would drop significantly under the Senate bill. McConnell could be faced with a choice next week of calling a vote on a bill that would fail or delaying the debate and keeping the proposal in limbo while senators head home for a July 4 recess.
Democrats cannot defeat or stall the bill on their own, but they are expected to challenge many of its provisions under the Senate's reconciliation rules requiring that they be related to budget matters. A senior GOP aide acknowledged that "discussions are ongoing" with the Senate's parliamentarian about some parts of the bill, including provisions that restrict the use of tax credits for insurance plans that cover abortion. The changes that Cruz is seeking might also not be allowed.
By Thursday's end, the public finally knew a whole lot more about what's in the secretive Senate bill, but its fate had become no easier to predict.
We want to hear what you think about this article. Submit a letter to the editor or write to letters@theatlantic.com.
Russell Berman
is a staff writer at
The Atlantic
, where he covers politics.