The Democrats Stage a Senate Slowdown Over Health Care
They'll disrupt ordinary business and hold the floor all night for speeches to protest the GOP's secretive attempt to gut the Affordable Care Act.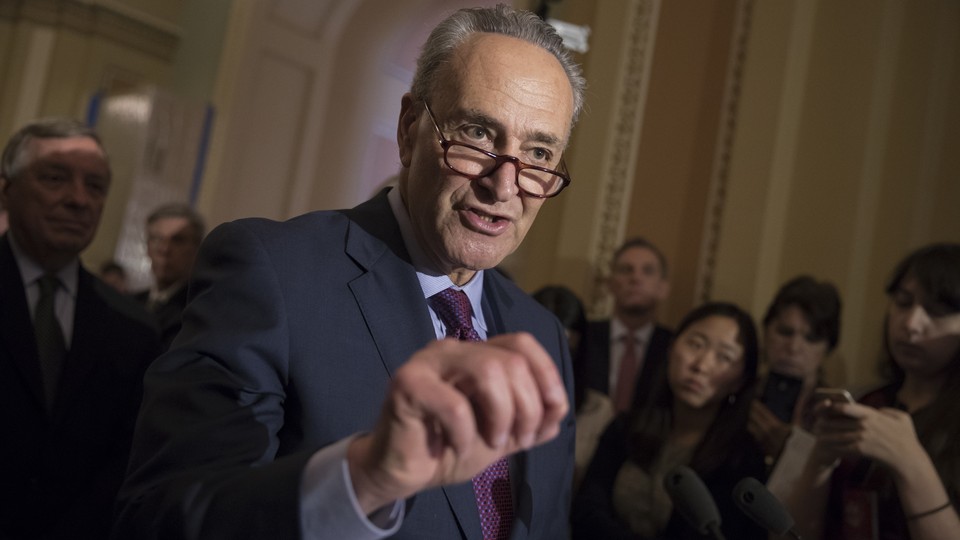 Senate Democrats can't stop Republicans from passing a health-care bill that guts the Affordable Care Act. They can't force Mitch McConnell to release the legislation, or hold hearings on it, or unilaterally block President Trump's nominees in retaliation.
But Democrats can grind the Senate to a virtual halt, and that's what they plan to do beginning Monday afternoon as they protest the GOP secretive push to revamp the nation's health-care system.
Under the direction of Minority Leader Charles Schumer, Democrats will begin using parliamentary tactics to disrupt the ordinary business of the Senate, including blocking requests for unanimous consent to consider nominees and legislation and preventing committees from holding hearings that last longer than two hours. In the evening, Democratic senators will hold the floor to deliver speeches assailing Republicans for writing and debating their health-care bill behind closed doors.
"These are merely the first steps we're prepared to take in order to shine a light on this shameful Trumpcare bill and reveal to the public the GOP's true intentions: to give the uber-wealthy a tax break while making middle class Americans pay more for less health care coverage," Schumer said in a statement. "If Republicans won't relent and debate their health care bill in the open for the American people to see, then they shouldn't expect business as usual in the Senate."
The escalation comes in response to pressure from progressive activists, who have grown increasingly worried that Senate Majority Leader Mitch McConnell would succeed in passing a quick-strike bill while the nation's attention is focused on the Russia investigation dogging the Trump White House. McConnell has kept drafts of the GOP's health-care bill under wraps in the hopes of avoiding the public backlash that plagued, and nearly scuttled, an Obamacare repeal measure in the House. Senate Republicans want to vote on their bill in the next two weeks before Congress breaks for a July 4 recess. But because no legislation has yet been released or scored by the Congressional Budget Office, activists and Democratic senators fear the GOP will vote on the bill before they have time to wage a public campaign against it.
Indivisible, the group formed by former congressional aides to resist the Trump administration, late last week began calling on Democrats to essentially shut down the Senate in an attempt to stop the GOP bill from passing. Republicans have a 52-48 seat majority, and they are using a budget reconciliation process that allows them to pass health-care legislation with a simple majority instead of a filibuster-proof 60 votes. That means they need the support of just 50 Republican senators plus Vice President Mike Pence, who would break a tie.
Democratic senators had been hesitant to max out their obstruction over health care because they were working with Republicans on other issues, including legislation to ensure that Trump can't easily relax sanctions on Russia. Most routine business in the Senate is conducted by unanimous consent, so while Democrats don't have the ability to shut down the chamber entirely, they can force Republicans to debate non-controversial measures for hours or gather the Senate for procedural votes all week. To ensure the tactic doesn't backfire politically, an aide said Democrats might not object to all Senate business. So if Republicans try to bring up a resolution honoring the victims of last week's shooting at a congressional baseball practice, Democrats are unlikely to object.
Whether the Democratic protest is even necessary is unclear, however. Republican senators have so far been unable to achieve a consensus on replacing the Affordable Care Act, and there are considerable doubts within the party about whether a bill can pass. Divisions remain about how and whether to end Obamacare's expansion of Medicaid, its regulations on insurance plans, and the tax increases it levied on wealthy Americans and businesses. GOP leaders have said McConnell wants to hold a vote soon even if the bill fails because the party needs to move on to tax reform, the next big priority on its agenda.
Yet Democrats are skeptical of those claims. McConnell, they acknowledge, is a master tactician who has succeeded in keeping his conference unified before. And they've been frustrated that the Kentucky conservative has been able to keep the GOP's deliberations as quiet as he has. Some liberals have even complained that the media's focus on the investigations into Russia and possible obstruction of justice by President Trump has helped McConnell avoid scrutiny on an issue that would affect tens of millions of Americans. Not all Democrats agree, but their decision to wage an all-out procedural war is the Senate is designed to turn the public spotlight back to health care.