The Atlantic Politics & Policy Daily: Morning Woe
Morning Joe hosts Mika Brzezinski and Joe Scarborough accused the White House of threatening them with a negative tabloid story.
Today in 5 Lines
Morning Joe hosts Mika Brzezinski and Joe Scarborough accused the White House of threatening them with a negative tabloid story, the day after President Trump attacked the couple on Twitter. Today on Twitter, President Trump called on Senate Republicans to immediately repeal the Affordable Care Act and replace it later, if they aren't able to pass their health-care bill. During a joint statement with South Korean President Moon Jae-in from the White House, Trump declared that U.S. patience with North Korea "is over." Trump and his family are headed to Trump National Golf Club in Bedminster, New Jersey, where they are expected to spend the holiday weekend. At least three doctors were shot by a gunman at the Bronx-Lebanon Hospital Center in the Bronx borough of New York City.
---
Today on The Atlantic
'Mend It Don't End It': David Frum explains how Republicans can reform the Affordable Care Act incrementally—and in a conservative direction.

Trump's Hostile Sexism: The president's expression of sexism toward female journalists follows a pattern, writes Peter Beinart. "When women challenge him politically, he often insults them physically."

Is Lacking Insurance Really Deadly?: A new study published in Annals of Internal Medicine projects that if the Senate health-care bill becomes law, an additional 28,600 Americans will die each year. (James Hamblin)
Follow stories throughout the day with our Politics & Policy portal.
---
Snapshot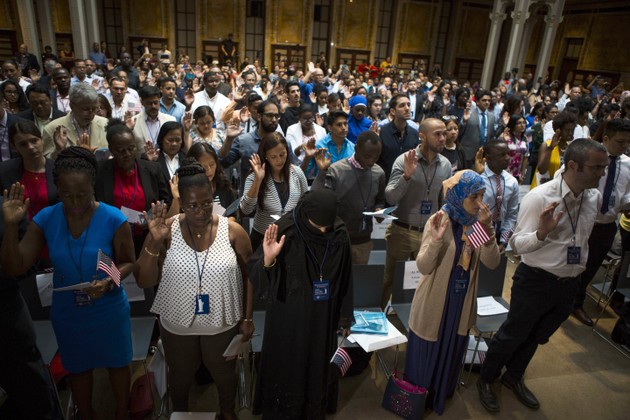 ---
What We're Reading
'Trump Is Not Well': In an op-ed for The Washington Post, Morning Joe hosts Mika Brzezinski and Joe Scarborough respond to President Trump's recent Twitter remarks about Brzezinski: "We, too, have noticed a change in his behavior over the past few years."
The Demolition of American Diplomacy: A veteran of the U.S. State Department thinks Secretary Rex Tillerson is overseeing the destruction of the agency: "This is how diplomacy dies," Max Bergmann writes. "Not with a bang, but with a whimper. With empty offices on a midweek afternoon." (Politico)
Make America New Again: Matt Bai argues that the Democratic Party should ditch House Minority Leader Nancy Pelosi and other leaders who are "determined to replay the '60s on an endless loop, for as long as they can." (Yahoo News)
Problem-Solving: NPR asked eight health-care experts to point out the biggest problems with the Affordable Care Act—and analyze whether the new GOP health-care proposal will fix them. (Danielle Kurtzleben)
The Planned Parenthood Myth: The organization is not actually a major provider of general-health services, Alexandra Desanctis argues, so lawmakers should stop using that argument to defend its funding. (National Review)
---
Visualized
Heating Up in the Southeast: A new study published in Science projects that the counties that will be hit hardest by climate change are in Arizona, Texas, and Florida. Take a look at this map to see predictions for your state. (Eileen Drage O'Reilly and Alison Snyder, Axios)
---
Question of the Week
This week, we asked how you would celebrate Independence Day if you were president. Visit our Notes section for a complete list of responses, but for now, here are two readers' thoughts:
As president, Mary Anne Roll would kick off the holiday with a boat ride to Ellis Island, followed by a matinee performance of Hamilton, and conclude the evening with a trip to Boston for fireworks and a Pops performance.
And reader Dave Williford simply quoted the poet Erma Bombeck:
You have to love a nation that celebrates its independence every July 4, not with a parade of guns, tanks, and soldiers who file by the White House in a show of strength and muscle, but with family picnics where kids throw Frisbees, the potato salad gets iffy, and the flies die from happiness. You may think you have overeaten, but it is patriotism.
"I really don't think this style of celebration can be improved upon," Dave said.
Thanks to everyone who submitted responses, and stay tuned for next week's Question of the Week.
-Written by Elaine Godfrey (@elainejgodfrey)