The Atlantic Politics & Policy Daily: The Art of the Repeal
Senate Majority Leader Mitch McConnell announced that the Senate will not vote on the new GOP health-care bill until after the July 4 recess.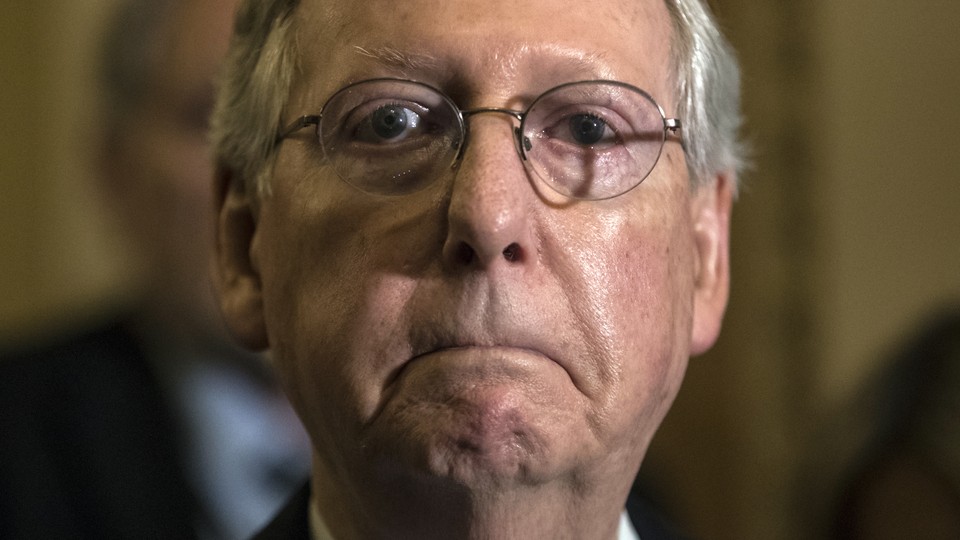 Today in 5 Lines
Senate Majority Leader Mitch McConnell announced that the Senate will not vote on the new GOP health-care bill until after the July 4 recess. During a meeting with Republican senators, President Trump said he hopes the bill can pass, adding that, "if we don't get it done, it's just going to be something that we're not going to like. And that's okay, and I understand that very well." The Pentagon said it has seen chemical-weapons activity at an airfield in Syria—a day after the White House released a statement issuing a warning to Syria. Three current or former Chicago police officers were indicted for allegedly trying to obscure the details of the death of Laquan McDonald, a black teenager shot by an officer in 2014. The Department of Homeland Security said it is "coordinating with our international and domestic cyber partners" after at least six countries were hit by a cyberattack.
---
Today on The Atlantic
Turning Back the Clock: The creation of Medicaid, and later, the passage of the Affordable Care Act, were major victories for racial equality in America. If the new GOP health-care plan passes, it would be a major blow to civil rights. (Vann R. Newkirk II)

Unnecessary Judgment: On Monday, the Supreme Court delivered a major ruling on an important church-state case. But, argues Garrett Epps, both the majority opinion and the dissent got the issue wrong.

The Future of Planned Parenthood: Despite Republican threats to cut the organization off from funding, Planned Parenthood President Cecile Richards said they won't stop providing abortion services: "The minute we begin to edge back from that is the minute that they've won." (Emma Green)
Follow stories throughout the day with our Politics & Policy portal.
---
Snapshot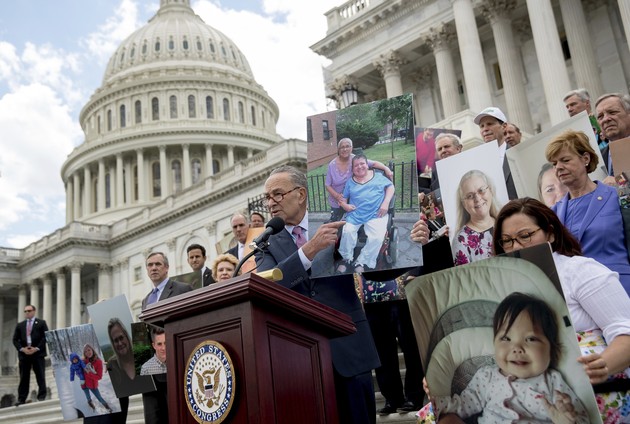 ---
What We're Reading
A Health-Care Who's-Who: Senate Majority Leader Mitch McConnell is delaying a vote on the Republicans' new health-care bill to garner additional support for it. These senators will make or break the new plan. (Erica Werner, AP)
Better Care Is Better: Some conservative critics of the new GOP health-care proposal have called it Obamacare lite, while Democrats have cast it as evil. But both are wrong, argues Erica Grieder: There's a lot to like about the Better Care Reconciliation Act. (The Week)
Actually Fake News: Donald Trump hung framed copies of an issue of Time magazine with his face on the cover in at least four of his golf resorts. The strange thing is, that Time cover is fake.(David A. Fahrenthold, The Washington Post)
Who's Keeping Tabs?: Attorney General Jeff Sessions has ordered a total review of the Justice Department's investigations into local law-enforcement agencies, but local officials say they're committed to reform no matter what. (Caitlin Dickson, Yahoo News)
A 'Social Anthropology' of Washington: With the arrival of President Trump, his team, and their anti-Washington rhetoric, the U.S. capital's social scene has changed dramatically. (Daniel Lippman and John F. Harris, Politico)
---
Visualized
What Matters?: Here are four main takeaways from the Congressional Budget Office's analysis of the new GOP health-care plan. (Haeyoun Park and Wilson Andrews, The New York Times)
---
Question of the Week
On July 4, 2008, former President George W. Bush presided over a naturalization ceremony at Thomas Jefferson's Monticello plantation in Virginia. Eight years later, former President Barack Obama gave a speech honoring military families after a performance by artists Kendrick Lamar and Janelle Monáe.
If you were president, how would you celebrate Independence Day?
Send your answers to hello@theatlantic.com and our favorites will be featured in Friday's Politics & Policy Daily.
-Written by Elaine Godfrey (@elainejgodfrey)