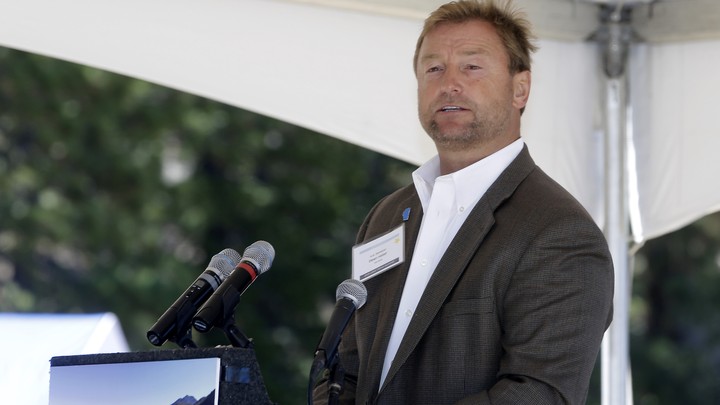 Today in 5 Lines
Dean Heller became the fifth Republican senator to oppose Senate Majority Leader Mitch McConnell's health-care bill. President Trump signed a bill that will make it easier for the Department of Veterans Affairs to fire employees, as part of an effort to overhaul the agency. A Cincinnati judge declared a mistrial in the retrial of former Officer Raymond M. Tensing, who fatally shot Samuel DuBose, an unarmed black motorist, in 2015. The leaders of the Senate Armed Services Committee asked Defense Secretary Jim Mattis to review allegations of abuse at prisons in Yemen, "including U.S. support to the Emirati and Yemeni partner forces that were purportedly involved." Representative Steve Scalise, who was shot earlier this month in an attack at a congressional baseball practice, has been transferred out of the intensive care unit and is in fair condition.*
---
Today on The Atlantic
What Now?: Trump aides say President Trump is focused on the job, even as evidence mounts to show that Russia interfered in the presidential election to help elect him. David Frum argues that business cannot—and should not—happen as usual.

'The National Brand Is Toxic': Despite efforts to rebuild, the Democratic Party has so far been defeated in four special elections this year. Why? (Clare Foran)

A Warning for Trump: A Watergate prosecutor weighs in on the parallels between the scandal surrounding Richard Nixon and the controversy over the White House's alleged ties to Russia. (Richard Ben-Veniste)
Follow stories throughout the day with our Politics & Policy portal.
---
Snapshot
---
What We're Reading
'The Crime of the Century': In August 2016, the CIA showed then-President Barack Obama intelligence detailing the Russian government's plan to interfere in the U.S. presidential election. The Washington Post describes what happened next. (Greg Miller, Ellen Nakashima, and Adam Entous)
Couldn't They Just Cut Taxes?: The new Republican health-care proposal doesn't actually address conservatives' biggest concerns about the Affordable Care Act, argues Ezra Klein. Instead, "it takes what everyone else hates about Obamacare and makes it much, much worse." (Vox)
Fresh Blood: Even though Democratic candidate Jon Ossoff lost in Tuesday's special election for Georgia's sixth congressional district, his campaign manager, Keenan Pontoni, will likely be in high demand in the Democratic Party. (Simone Pathe, Roll Call)
They Can't Quit Nancy: Some Democrats are concerned that House Minority Leader Nancy Pelosi has become a bogeyman on the right. But if they ousted her, the party would have some big shoes to fill. (Eric Bradner and Deirdre Walsh, CNN)
Relying on Ralph: Former President Barack Obama is hitting the campaign trail to support Virginia Lieutenant Governor Ralph Northam, the easygoing pediatric neurologist running for state governor. (Sam Stein, Huffington Post)
---
Visualized
Y or N?: Senate Republicans revealed their health-care proposal this week, and to pass, it needs 50 votes. Here's who plans to vote "yes" on the bill—and who plans to reject it. (Alicia Parlapiano and Mercy Benzaquen, The New York Times)
---
Question of the Week
Since early June, Representative Mark Meadows, the chairman of the House Freedom Caucus, has been calling for Congress to cancel its summer recess in order to pass a few key items on the GOP agenda, like health care and tax reform. But lawmakers are reluctant to give up their summer breaks, partly because the recess gives them time to meet with their constituents back in their home states.
This week, we asked you whether you think lawmakers should go on recess or stick around to focus on work. The responses were mixed. Check out our Notes section to see the range of responses, but for now, here's a sample:
From Jenette Settle:
If there were ever a time when Congress needed a recess to return home, it's now. The country and party is so divided over health care, tax cuts, congressional salaries, immigration … Now more than ever our elected officials need to hear from their constituents.
Conversely, J.B. Johnston hopes the Republican-led Congress will stay in town, and stay focused on President Trump's agenda: "We need the health-care bill passed and tax reform done. Every day is a loss of the benefit they will produce."
Thanks to everyone who submitted responses, and stay tuned for next week's Question of the Week.
-Written by Elaine Godfrey (@elainejgodfrey)
---
* This newsletter originally referred to Steve Scalise as a senator. We regret the error.
We want to hear what you think about this article. Submit a letter to the editor or write to letters@theatlantic.com.
Elaine Godfrey
is a staff writer at
The Atlantic
, where she covers politics.