The Atlantic Politics & Policy Daily: Old McConnell Has a Plan
Senate Republicans released a 142-page proposal that would dismantle parts of the Affordable Care Act.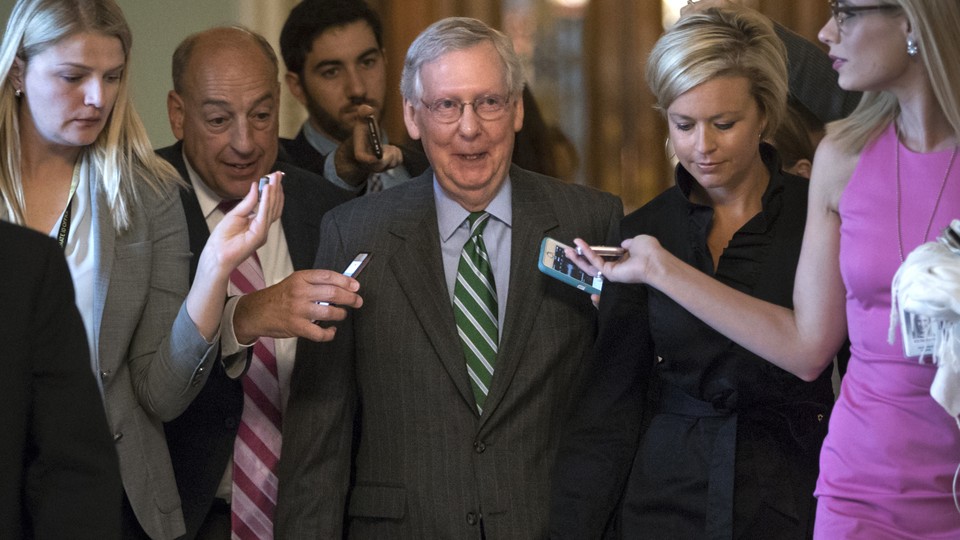 Today in 5 Lines
Senate Republicans released a 142-page proposal that would dismantle parts of the Affordable Care Act. Senators Rand Paul, Ted Cruz, Ron Johnson, and Mike Lee said in a joint statement that they are "not ready" to vote for the GOP health-care bill, but are open to negotiations. Former President Barack Obama also weighed in, calling the bill a "massive transfer of wealth from middle-class and poor families to the richest people in America." Trump said on Twitter that he did not record his conversations with former FBI Director James Comey, despite having suggested "tapes" exist of their talks. Edgar Maddison Welch, the North Carolina man who fired an assault rifle inside a restaurant in Washington, D.C. in response to an internet conspiracy theory, was sentenced to four years in prison.
---
Today on The Atlantic
Medicaid on the Line: Vann R. Newkirk II explains how the new Republican health-care plan will shift benefits from the poor and sick to the healthy and affluent.

What Gives?: Immigration restrictionist groups thought they had an ally in Donald Trump, but after the president fell short on several key campaign promises, those groups are losing faith in him. (Priscilla Alvarez)

'A Big Dem HOAX!': A recent tweet from President Trump suggests that he no longer believes Russia interfered in the U.S. presidential election, putting him at odds with the intelligence community and most congressional Republicans. (David A. Graham)
Follow stories throughout the day with our Politics & Policy portal.
---
Snapshot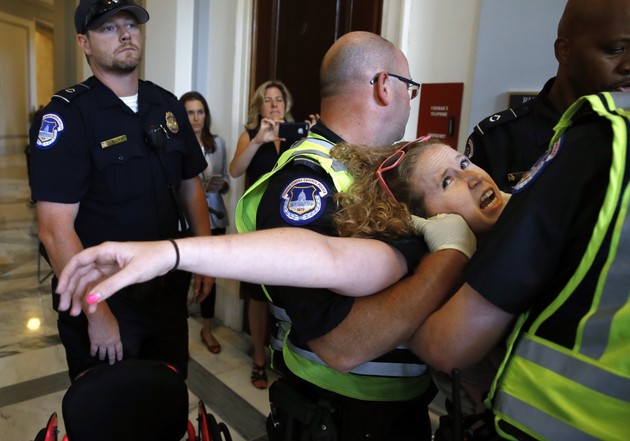 ---
What We're Reading
Sweet Freedom: Years after her failed bid for the vice presidency, and perhaps inspired by the election of Donald Trump, Sarah Palin has embarked on a new business venture: "Running a right-wing content farm." (Olivia Nuzzi, New York)
'North Dakota's Last Democrat?': Senator Heidi Heitkamp's decision whether to seek reelection in 2018 will be central to Democrats' hopes of taking back Congress—and a test of the party's "big tent." (Burgess Everett, Politico)
A Microcosm: In recent years, politics in North Carolina has gone "haywire," writes Jason Zengerle. Does the state's current political landscape offer a glimpse into the future of American politics? (The New York Times Magazine)
Sweet Tooth Sleuths: BuzzFeed reports that several CIA contractors were fired after stealing an estimated $3,314 worth of snacks from agency vending machines. (Jason Leopold and David Mack)
An Unwritten Law: Juries tend to side with police officers in cases where the officer feared for his or her life, writes David French, but "it's imperative that juries understand that not all fear is reasonable, and some officers simply (and wrongly) panic." (National Review)
---
Visualized
Side By Side: After weeks of deliberation, Senate Republicans have revealed their new health-care proposal. Here's how it differs from both the Affordable Care Act and the House's health-care bill. (Kim Soffen and Darla Cameron, The Washington Post)
---
Question of the Week
Since early June, Representative Mark Meadows, the chairman of the House Freedom Caucus, has been calling for Congress to cancel its summer recess in order to pass a few key items on the GOP agenda, like health care and tax reform. But lawmakers are reluctant to give up their summer breaks, partly because the recess gives them time to meet with their constituents back in their home states.
Do you think lawmakers should go on recess or stick around to focus on working through their agenda? And why?
Send your answers to hello@theatlantic.com and our favorites will be featured in Friday's Politics & Policy Daily.
-Written by Elaine Godfrey (@elainejgodfrey)