The Atlantic Politics & Policy Daily: Now, Without Further AHCAdo
Senate Republicans are expected to unveil their health-care proposal on Thursday.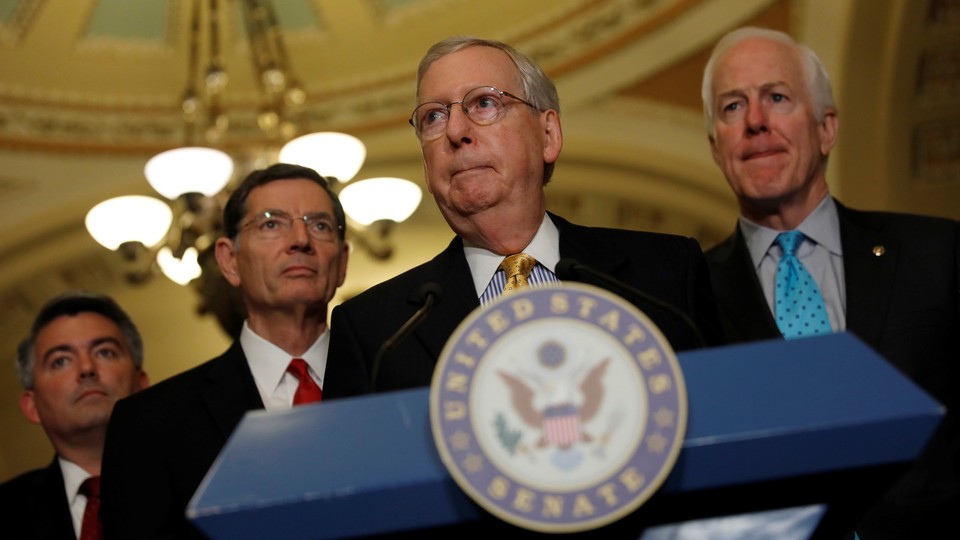 Today in 5 Lines
President Trump celebrated Republican candidate Karen Handel's win in Georgia's special election on Twitter. During his testimony before the House Intelligence Committee, former Homeland Security Secretary Jeh Johnson said Russia organized cyberattacks against the United States to influence the presidential election. Senate Republicans are expected to unveil their health-care proposal on Thursday. Trump will hold his first major reelection fundraiser at the Trump International Hotel in Washington D.C. in June. The FBI confirmed that James Hodgkinson, who attacked a congressional baseball practice in Alexandria, Virginia, last week, acted alone and had no ties to terrorism.
---
Today on The Atlantic
Why Did Ossoff Lose?: The defeat in Georgia is a hard pill for Democrats to swallow, writes Molly Ball from Atlanta: "So far, they have cut into Republicans' margins, but they have not yet figured out how to win, and moral victories get no votes in Congress."

'It's Trump's Party Now': Republican Karen Handel's victory in Tuesday's special election in an affluent, educated congressional district in Georgia will likely embolden Congress to further embrace Trumpism. (David Frum)
Follow stories throughout the day with our Politics & Policy portal.
---
Snapshot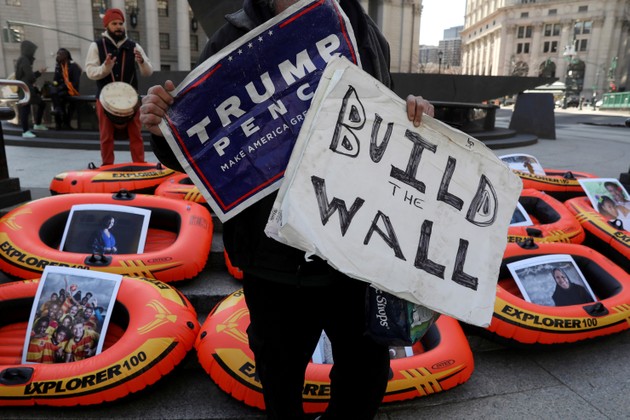 ---
What We're Reading
What Flynn Heard: The New York Times reports that CIA Director Mike Pompeo regularly "briefed President Trump on the nation's most sensitive intelligence" with former National Security Adviser Michael Flynn in the room, despite warnings from U.S. intelligence officials that Flynn was vulnerable to Russian blackmail. (Matt Apuzzo, Matthew Rosenberg, and Adam Goldman)
It's All Greek to Them: China's rising status in the global economy has the Trump administration studying the writings of Thucydides, the ancient historian who chronicled the Peloponnesian War between Athens and Sparta. (Michael Crowley, Politico)
'What Happened to Black Lives Matter?: Four years after its inception, BuzzFeed's Darren Sands writes that the group "is on the verge of losing the traction and momentum that sparked a national shift on criminal justice policy."
Worship in the Wild: From Bryce Canyon National Park to the Badlands of South Dakota, one organization is helping Christians find God in nature. (Kelsey Dallas, Deseret News)
'People Don't Take Him Seriously': President Trump headed to Cedar Rapids, Iowa, on Wednesday for a campaign-style rally. But some Iowa independents who voted for him in 2016 aren't sure they'd vote for him again. (Thomas Beaumont, AP)
---
Visualized
43 Down, 457 to Go: President Trump has more than 500 positions to fill in the executive branch. This database shows who he has nominated so far—and how many posts still require action. (The Washington Post)
---
Question of the Week
Since early June, Representative Mark Meadows, the chairman of the House Freedom Caucus, has been calling for Congress to cancel its summer recess in order to pass a few key items on the GOP agenda, like health care and tax reform. But lawmakers are reluctant to give up their summer breaks, partly because the recess gives them time to meet with their constituents back in their home states.
Do you think lawmakers should go on recess or stick around to focus on working through their agenda? And why?
Send your answers to hello@theatlantic.com and our favorites will be featured in Friday's Politics & Policy Daily.
-Written by Elaine Godfrey (@elainejgodfrey)