The Atlantic Politics & Policy Daily: 'An Attack on One of Us Is an Attack on All of Us'
House Speaker Paul Ryan condemned Wednesday's shooting at a congressional baseball practice in Alexandria, Virginia.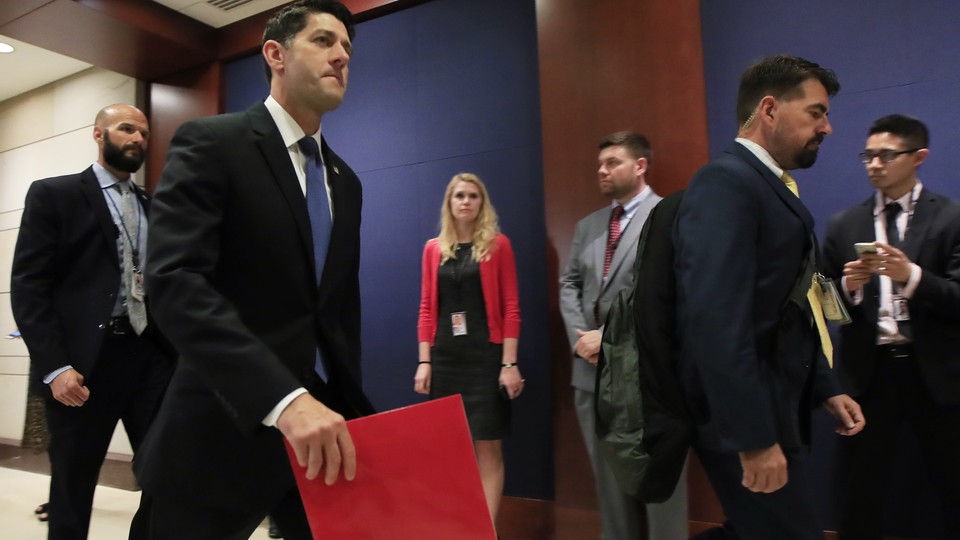 Today in 5 Lines
President Trump called for national unity after a gunman attacked a GOP congressional baseball practice in Alexandria, Virginia. The gunman, identified as James Hodgkinson, shot five people, including Majority Whip Steve Scalise, who hospital officials said remains in critical condition. Members of Congress convened on the House floor, where Speaker Paul Ryan condemned the shooting, saying "an attack on one of us is an attack on all of us." Michigan Health Director Nick Lyon and four other officials were charged with involuntary manslaughter for failing to act on a Legionnaires' disease outbreak related to the Flint, Michigan, lead-poisoning crisis. The Federal Reserve raised its benchmark interest rate to between 1 and 1.25 percent, citing confidence in the steady growth of the U.S. economy.
---
Today on The Atlantic
Confusion at the Convention: A resolution condemning white supremacy and the alt-right caused chaos at the annual meeting of the Southern Baptist Convention, revealing deep tensions within a denomination that was explicitly founded to support slavery. (Emma Green)

'Tone Down the Rhetoric': Research suggests that violent political rhetoric can have an effect on an individual's actions. In light of Wednesday's shooting, progressives must grapple with a key question: How do they express their moral fury without embracing such language? (Peter Beinart)

How Did We Get Here?: Veteran health-care reporter Julie Rovner writes that Senate Republicans' extreme secrecy in drafting a health-care bill "is a situation without precedent." But both Democrats and Republicans are to blame for the breakdown in transparency.
Follow stories throughout the day with our Politics & Policy portal.
---
Snapshot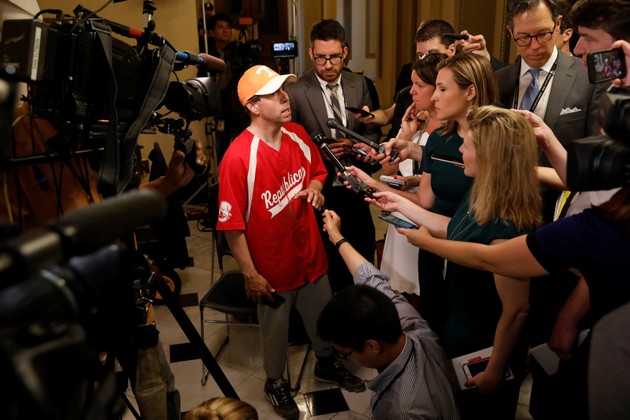 ---
What We're Reading
'It's One of the Best Things We Do': A gunman opened fire at a congressional baseball practice in Virginia early Wednesday morning. Chris Cillizza offers a short history of the annual congressional baseball game lawmakers had been preparing for prior to the incident. (CNN)
The Dream Team: As Special Counsel Robert Mueller begins his investigation into Russian interference in the 2016 presidential election, it's becoming clear that he "is recruiting perhaps the most high-powered and experienced team of investigators ever assembled by the Justice Department." (Garrett M. Graff, Wired)
On the Horizon The Russia investigation is moving quickly. Here are six potentially explosive events that could affect the probe in the near future. (Darren Samuelsohn, Politico)
Trump's Only Hope: Republicans must fight to maintain control of the House in 2018, writes Jonah Goldberg, because if Democrats take the majority, Trump will likely be impeached. (National Review)
The Smoking Gap: Americans who are poor, uneducated, or living in rural areas smoke more—and die more from cigarettes—than other Americans. (William Wan, The Washington Post)
---
Visualized
More Insured, More Jobs?: Axios reports that as states' insured rates have increased in recent years, so has the number of health-care jobs. Check out this interactive graphic to see where your state stands. (Caitlin Owens and Chris Canipe)
---
Question of the Week
June is "National Soul Food Month." The cuisine, writes author Adrian Miller, "has long been the foundation for home cooking in the White House." President Ronald Reagan was a big fan of fried chicken, President John Tyler apparently used to serve hog jowl and turnip greens to his friends, and former First Lady Michelle Obama planted soul-food greens in the White House garden to eat for most of the year.
If you were president, what dish—soul food or otherwise—would you request from the White House chef? And why?
Send your answers to hello@theatlantic.com and our favorites will be featured in Friday's Politics & Policy Daily.
-Written by Elaine Godfrey (@elainejgodfrey)