The Atlantic Politics & Policy Daily: Open Sessions
Attorney General Jeff Sessions testified before the Senate Intelligence Committee.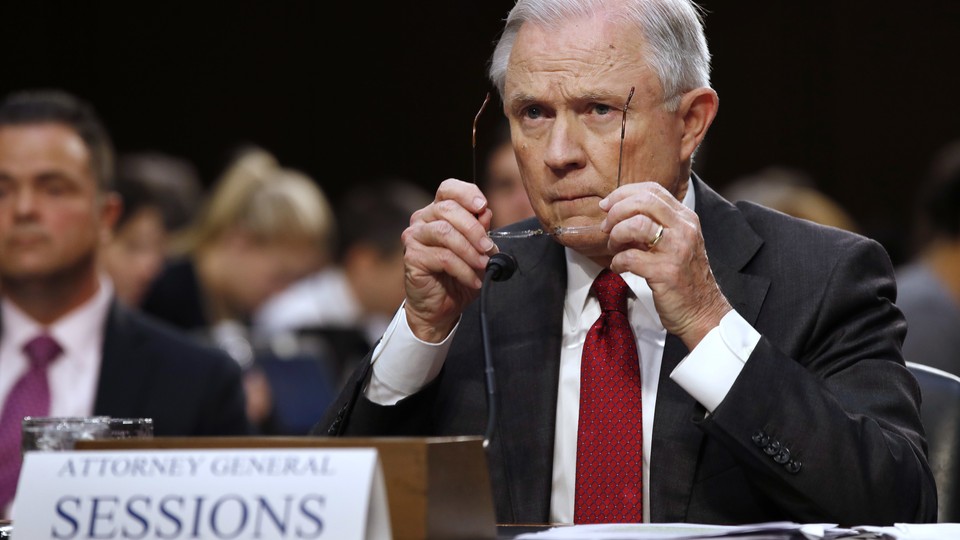 Today in 5 Lines
During his testimony before the Senate Intelligence Committee, Attorney General Jeff Sessions denied "stonewalling" when senators accused him of not fully answering their questions, and vowed to defend himself "against scurrilous and false allegations" related to Russia. Deputy Attorney General Rod Rosenstein told lawmakers that he has not seen any evidence of "good cause" to fire special counsel Robert Mueller amid questions about Mueller's possible dismissal. House Speaker Paul Ryan told reporters that the "smartest" thing President Trump can do is "let Robert Mueller do his job." Virginians head to the polls to vote in the primary election to replace Virginia Governor Terry McAuliffe. American college student Otto Warmbier has been medically evacuated from North Korea in a coma, according to a statement from his parents.
---
Today on The Atlantic
Senator or Surrogate?: Attorney General Jeff Sessions claimed that when he met with Russian Ambassador Sergey Kislyak in 2016 he did so as a senator, not as a surrogate for Donald Trump. But Julia Ioffe reports that some foreign officials sought him out precisely because of his role on the Trump campaign.

'A Fight for the Soul of the Democratic Party': The Virginia primary race will test whether liberals prefer anti-Trump candidates with a message of economic populism—or establishment-backed Democrats. (Clare Foran)

Limiting Reporters' Access: On Tuesday, reporters were told that they would no longer be allowed to film interviews with lawmakers in the hallways of the Senate. The Senate Rules Committee later walked back the decision, but the unprecedented step nevertheless raised alarm among journalists and lawmakers alike.
Follow stories throughout the day with our Politics & Policy portal.
---
Snapshot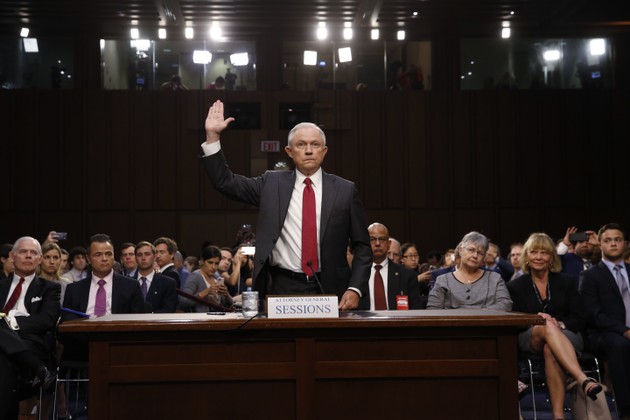 ---
What We're Reading
Firing Mueller: On Monday, Newsmax CEO Chris Ruddy said in an interview that President Trump is "considering perhaps terminating" Robert Mueller, who was tapped in May to handle the Russia investigation. Here's how Trump could remove Mueller—and the issues that would arise if he did. (Jack Goldsmith, Lawfare)
'It Would Be a Disaster': Several prominent Republicans, including House Speaker Paul Ryan, have spoken out against the possible dismissal of Robert Mueller. "It would be a disaster," said Senator Lindsey Graham Monday. (Alan Neuhauser, USA Today)
Crowd Insurance: Crowdfunding sites like GoFundMe and YouCaring are preparing for medical appeals to increase, with or without the passage of the Republican health-care plan. (Suzanne Woolley, Bloomberg)
How Trump Won the Religious Right: American evangelicals recognize that President Trump isn't the most God-fearing leader the country has ever had, but to them, "the most important question is not whether Trump believes in their cause, but whether he can win their wars." (Tim Alberta, Politico)
John Kasich Finds His Brand: In 20 months, the Ohio governor and former 2016 presidential candidate will be out of a job. He's already thinking about how to keep his voice in politics, but for now, he's happy to co-host The View. (Hunter Schwarz, CNN)
---
Visualized
Clash of Countries: This short video explains the rivalry between Saudi Arabia and Qatar. (Max Fisher, Aaron Byrd, and Chris Cirillo, The New York Times)
---
Question of the Week
June is "National Soul Food Month." The cuisine, writes author Adrian Miller, "has long been the foundation for home cooking in the White House." President Ronald Reagan was a big fan of fried chicken, President John Tyler apparently used to serve hog jowl and turnip greens to his friends, and former First Lady Michelle Obama planted soul-food greens in the White House garden to eat for most of the year.
If you were president, what dish—soul food or otherwise—would you request from the White House chef? And why?
Send your answers to hello@theatlantic.com and our favorites will be featured in Friday's Politics & Policy Daily.
-Written by Elaine Godfrey (@elainejgodfrey)