The Atlantic Politics & Policy Daily: Voulez-Vous Marcher Avec Moi?
President Trump accepted French President Emmanuel Macron's invitation to visit Paris on Bastille Day next month.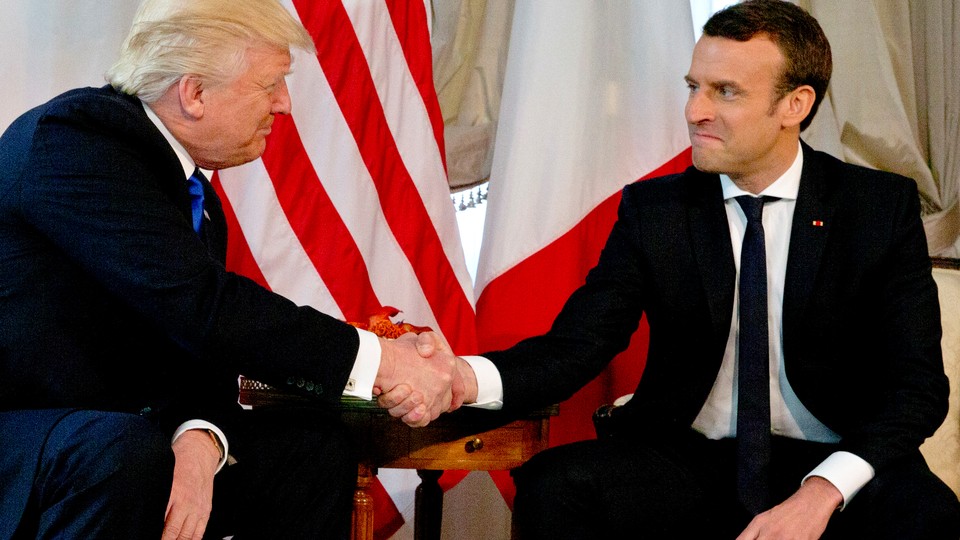 Today in 5 Lines
Senate Majority Leader Mitch McConnell will reportedly try to send a revised version of the GOP's health-care bill to the Congressional Budget Office "as soon as Friday." Trump promised a "big surprise" related to the legislation is in the works, but did not offer further details. Trump accepted French President Emmanuel Macron's invitation to visit Paris on Bastille Day next month. Fox News announced that Utah Representative Jason Chaffetz, who is resigning from Congress, will join the network as a contributor. Department of Homeland Security Secretary John Kelly announced new aviation-security measures for foreign flights arriving to the United States.
---
Today on The Atlantic
Helps the Rich, Hurts the Lower Middle Class: Ronald Brownstein argues that the House and Senate health-care plans have stalled because blue-collar workers, who make up a large share of the Republican Party's base, are realizing the legislation will hurt—not help—them.

A Clean-Water Conflict: President Trump's golf courses might stand to benefit from the Environmental Protection Agency's announcement this week that it would roll back a proposed Obama-era environmental protection. (Jeremy Venook)

Does Philanthropy Undermine Democracy?: Stanford Professor Rob Reich thinks so. Donating to private foundations, he says, is a way of turning private profit into public power. (Yoni Appelbaum)
Follow stories throughout the day with our Politics & Policy portal.
---
Snapshot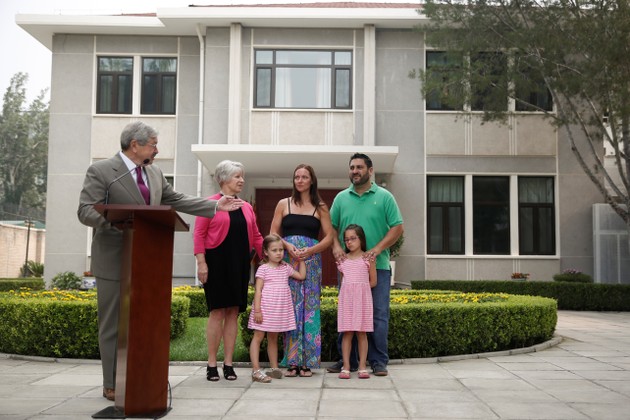 ---
What We're Reading
Fixing the Plan: In order to pass the new GOP health-care bill, Senate Majority Leader Mitch McConnell must compromise. Here are five changes that could make the bill more palatable to senators. (Adam Cancryn, Politico)
What's the Issue?: The current health-care debate highlights a major problem in modern American politics, writes Ben Shapiro: Lawmakers of both parties are bickering over small details, while ignoring the core questions that concern voters. (National Review)
Made in China: At a factory in Ganzhou, China, where some Ivanka Trump shoes are made, workers are reportedly being overworked, underpaid, and sometimes, physically and verbally abused. (Erika Kinetz, AP)
Talking Trump With Susan Rice: In April, President Trump attacked the former national-security adviser for allegedly requesting the identities of Trump transition team officials named in intelligence reports. Rice is still trying to figure out why she became a target. (Michael Tomasky, New York)
Tillerson's Troubles: Competing statements from Secretary of State Rex Tillerson and the White House has "exhausted" Tillerson, according to an associate: "He can't get any of his appointments approved and is running around the world cleaning up after a president whose primary foreign policy adviser is a 36-year-old amateur."(Mark Perry, The American Conservative)
---
Visualized
Medicaid in 2026: These charts show how Medicaid coverage could change in the next decade under the Senate Republican health-care bill. (Kim Soffen, The Washington Post)
---
Question of the Week
On July 4, 2008, former President George W. Bush presided over a naturalization ceremony at Thomas Jefferson's Monticello plantation in Virginia. Eight years later, former President Barack Obama gave a speech honoring military families after a performance by artists Kendrick Lamar and Janelle Monáe.
If you were president, how would you celebrate Independence Day?
Send your answers to hello@theatlantic.com and our favorites will be featured in Friday's Politics & Policy Daily.
-Written by Elaine Godfrey (@elainejgodfrey)