The Atlantic Politics & Policy Daily: Spicer, No Spicing
The White House press secretary refused to provide President Trump's position on climate change.
Today in 5 Lines
White House Press Secretary Sean Spicer and Environmental Protection Agency Administrator Scott Pruitt refused to provide President Trump's position on climate change. European Council President Donald Tusk called Trump's decision to withdraw from the Paris climate agreement a "big mistake" and touted new agreements between China and Europe as demonstrating "solidarity with future generations and responsibility for the whole planet." National Economic Council Director Gary Cohn said the administration expects to provide Congress with a tax-reform plan later this year. Reuters reports that Special Counsel Robert Mueller is taking over the federal investigation into former National-Security Adviser Michael Flynn's lobbying deals with Turkey. The U.S. economy added 138,000 jobs in May, and the unemployment rate fell to 4.3 percent, the lowest since 2001.
---
Today on The Atlantic
'Collective Action Is for Losers': In this short video, Uri Friedman explains why President Trump's decision to withdraw the U.S. from the Paris climate agreement is his most dramatic statement yet.

Welcome to Zooniverse: People are looking for a distraction from the news, writes Marina Koren, and some are finding it by scanning satellite images for exploding stars.

Make the Planet Great Again: Many state governors and local officials have said they will continue to work to reduce greenhouse-gas emissions. But can they actually make a difference on their own? (Robinson Meyer)
Follow stories throughout the day with our Politics & Policy portal.
---
Snapshot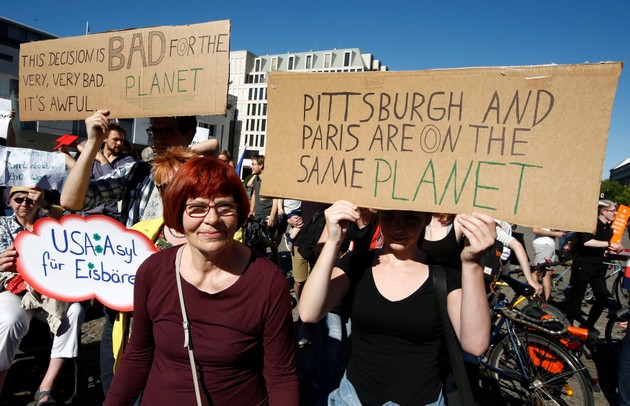 ---
What We're Reading
Gift to China: President Trump's decision to pull the U.S. from the Paris climate agreement has added to the argument that world leaders should rely less on the United States—and more on China. (David E. Sanger and Jane Perlez, The New York Times)
Clinton's Martyr Complex: Jonah Goldberg argues that instead of blaming misogyny or the Democratic National Committee, Hillary Clinton could sum up her election loss by simply admitting that she didn't put enough resources into Michigan or Florida. (National Review)
Surprise Guest: Jonathan Goldsmith, also known as "The Most Interesting Man in the World" in Dos Equis's beer commercials, tells the story of how he befriended former President Obama at Camp David. (Politico)
'God and the Don': Past presidents have often sought religion during challenging moments in office. But Trump, a self-described Presbyterian, isn't much of a churchgoer. (MJ Lee, CNN)
Unfriending: President Trump is facing pressure to follow through on his campaign promise to undo the deal former President Obama made to reset relations with Cuba. Fulfilling his pledge, however, won't be easy. (Michael Weissenstein and Vivian Salama, Associated Press)
---
Visualized
Trump's Travels: Bloomberg used flight data to map where Donald Trump traveled before becoming president. Note: Until he became a candidate, he rarely visited "flyover country." (Vernon Silver, Michael Keller, and Dave Merrill)
---
Question of the Week
On Thursday, President Trump decided to pull the U.S. from the Paris climate agreement, an international pact that aims to reduce greenhouse-gas emissions. This week, we asked you whether or not you're optimistic about the United States' ability to address climate change. Here's what you said:
Betsy Schneier, a Seattle resident, is confident that states like hers can make some progress on their own:
Recently I've asked the same question at fundraisers for various candidates:  Do you envision teaming up with other Western States to protect values that Washington D.C. seems intent on destroying?  Every candidate, from governor to senator to attorney general, assures me that plans are already in place with neighboring states to form a buttress against the damage this administration has and will continue to cause.
William Pierce said what is so "amusing and painful" about Trump's decision to withdraw is that "most of corporate America including many energy companies acknowledge climate change and have begun to take action. They know the consequences. The Trump administration seems ten years behind the curve."
Visit our Notes section for more answers.
Thanks to everyone who submitted responses, and stay tuned for next week's Question of the Week.
-Written by Elaine Godfrey (@elainejgodfrey)