The Atlantic Politics & Policy Daily: He Said, He Said
President Trump refuted former FBI Director James Comey's Thursday testimony, and seemed to contradict Secretary of State Rex Tillerson on the Qatar blockade.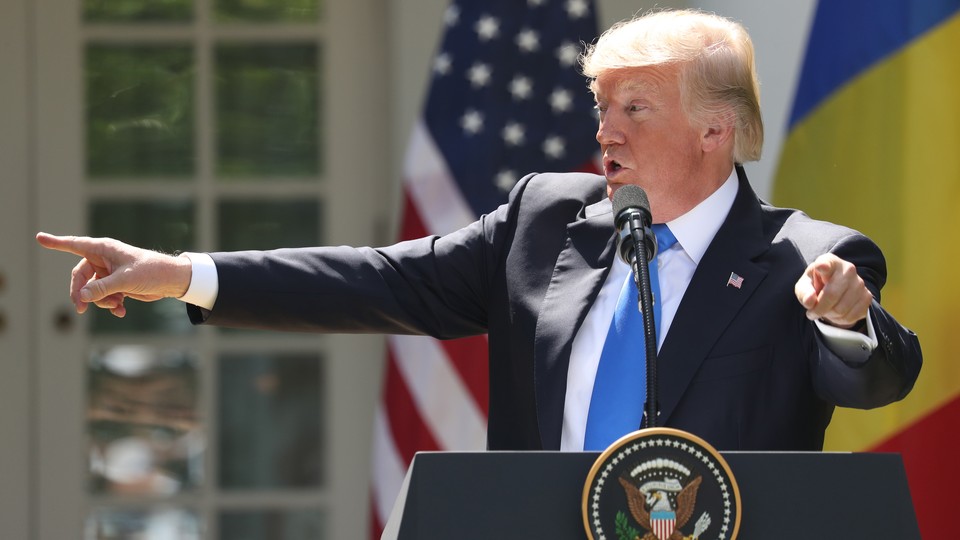 Today in 5 Lines
During a joint news conference with Romanian President Klaus Iohannis, President Trump said he'd be willing to testify under oath about his conversations with former FBI Director James Comey. Trump also called out Qatar for being a "funder of terrorism," just hours after Secretary of State Rex Tillerson urged Saudi Arabia and other gulf countries to ease their blockade against Qatar. In a letter to Trump, Senate Judiciary Committee Chairman Charles Grassley challenged an administration policy that would allow the government to ignore most congressional demands for federal records. The House Intelligence Committee asked the White House to turn over any tapes that might exist of Comey's conversations with Trump. The Justice Department announced that it will charge Adam W. Purinton with a hate crime in connection with a shooting at a bar in Kansas.
---
Today on The Atlantic
'The Most D.C. Thing You Can Do': Washingtonians gathered at bars around the District to watch former FBI Director James Comey's testimony before a Senate panel on Thursday. Michelle Cottle joined them.

What Did Trump Intend?: During Thursday's Senate Intelligence Committee hearing, Republican lawmakers suggested that President Trump isn't guilty of obstructing justice because he didn't try very hard, or he was really bad at it. But, writes Adam Serwer, the "question of intent is ultimately more important than whether or not Trump got what he wanted."

Held Under Detainer: Maura Ewing reports that most pretrial detainees in Philadelphia's jails are there because of minor infractions—not because they can't afford bail.
Follow stories throughout the day with our Politics & Policy portal.
---
Snapshot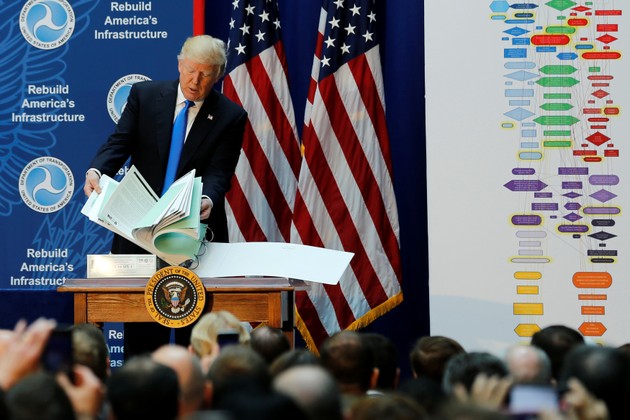 ---
What We're Reading
Hurts and Helps: James Comey's testimony on Thursday didn't bolster the narrative that Donald Trump's presidential campaign colluded with Russian officials, argues David French, but it did support the idea that Trump might have obstructed justice. (National Review)           
Kamala for President?: California Senator Kamala Harris' questioning of two top intelligence officials on Wednesday—and fierce opposition to the Trump administration—has heightened speculation about a 2020 presidential run. (Carla Marinucci, Politico)
'The Green Wall': Vanessa Yurkevich interviewed men and women working in the U.S. Border Patrol about how they cope with the challenges of the job. (CNN)
James Comey in 1980: When the former FBI director was a student journalist at the College of William & Mary, his reporting sparked campus-wide controversy. (Adam Harris, The Chronicle of Higher Education)
What's Happening in the UK?: The Weekly Standard's Dominic Green describes how conservative Prime Minister Theresa May "snatched defeat from the jaws of victory."
---
Visualized
The Universal Language: Alan Gilbert, the music director of the New York Philharmonic, is putting on "A Concert for Unity" to bring musicians together from around the world. Here are five other moments of "musical diplomacy." (Corinna da Fonseca-Wollheim, The New York Times)
Not an Excuse: Republicans defended President Trump's interactions with former FBI Director James Comey by saying that Trump didn't know what he was doing. But in this short video, Yoni Appelbaum explains that ignorance is not a defense. (Daniel Lombroso, The Atlantic)
---
Question of the Week
Former FBI Director James Comey testified before the Senate Intelligence Committee on Thursday, as part of the panel's probe into possible collusion between Donald Trump's presidential campaign and Russian officials.
Ahead of the hearing, we asked you what you would ask Comey if you were on the Senate committee. In our Notes section, we've rounded up some of your most pressing questions, and included some of Comey's answers where possible.
Thanks to everyone who submitted responses, and stay tuned for next week's Question of the Week.
-Written by Elaine Godfrey (@elainejgodfrey)