The Atlantic Politics & Policy Daily: Catch-22 Million
The Congressional Budget Office projects that the Senate Republican health-care bill would leave 22 million more people uninsured by 2026.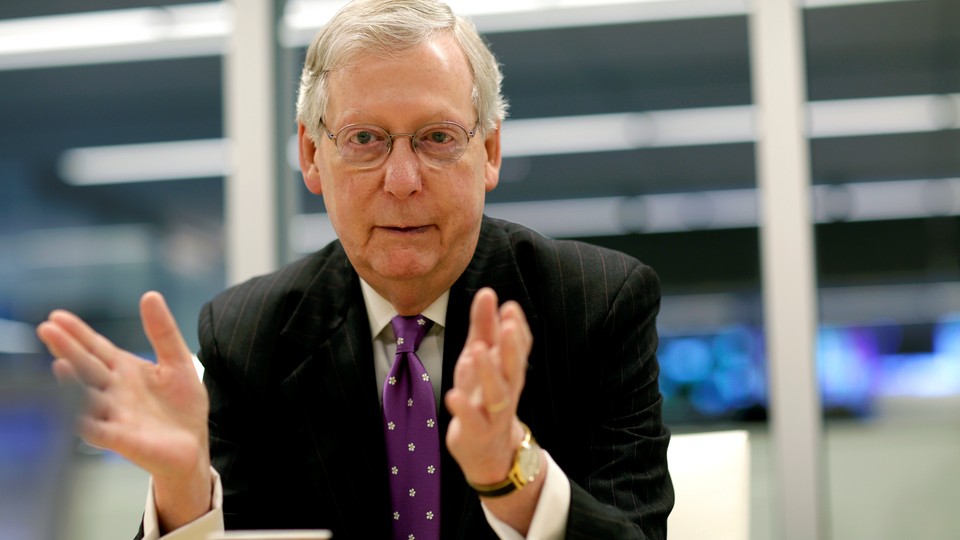 Today in 5 Lines
The Senate Republican health-care bill would leave 22 million more people uninsured by 2026, according to the Congressional Budget Office. Senate Republicans also proposed a provision to the bill that would punish individuals who go without coverage with a six-month waiting period before regaining coverage. The Supreme Court announced it will review President Trump's travel ban in October, and will allow parts of the ban to take effect in the interim. And in a major church-state case, the Court also ruled that religious institutions cannot be denied public funds for secular purposes. President Trump met with Indian Prime Minister Narendra Modi at the White House.
---
Today on The Atlantic
Try, Try Again: While he came impressively close to beating Republican Karen Handel in Georgia's sixth district congressional special election, Molly Ball argues that Democrats will have to do a lot better than Jon Ossoff if they want to take back Congress in 2018.

Trinity Lutheran v. Comer: The Supreme Court's decision on a relatively mundane case concerning a playground in Missouri could have big implications on other policy fights related to the separation of church and state. (Emma Green)

A Useful Villain: President Trump frequently references MS-13, a gang mostly made up of young people with Central American roots, to make a case against illegal immigration. But his fixation on the group is statistically difficult to justify. (J. Weston Phippen)
Follow stories throughout the day with our Politics & Policy portal.
---
Snapshot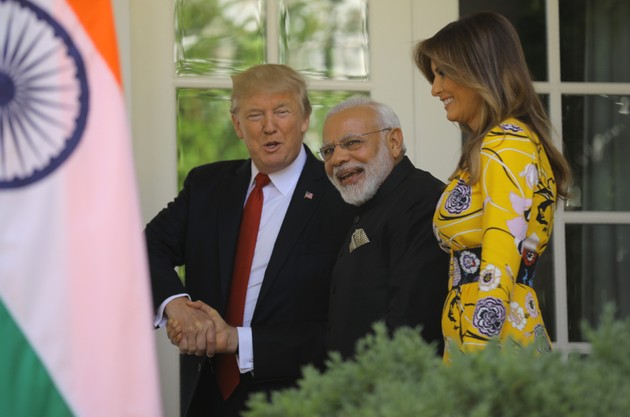 ---
What We're Reading
The New Watergate: Frank Rich writes that careful examination of the Watergate scandal will give anti-Trumpers "reason to hope that the 45th president's path through scandal may wind up at the same destination as the 37th's." (New York)
Face Time With Putin?: President Trump is reportedly looking forward to meeting with the Russian president next month at a summit in Germany, but several administration officials think he should keep his distance. (Vivian Salama, AP)
Trump and the Tabloids, a Love Story: Jeffrey Toobin explains why The National Enquirer, a supermarket tabloid, has "embraced Trump with sycophantic fervor." (The New Yorker)
Crossing the Border for Health Care: If the new Republican health-care bill becomes law, one California woman might have to go to Mexico to see a gynecologist and receive birth control. (Elizabeth Cohen, CNN)
'America's Mayor': With his continued campaigning and public feuding with rivals, Donald Trump is governing like a big-city mayor. The problem is, the presidency is nothing like a mayorship. (Jack Shafer, Politico)
---
Visualized
The Next Flint?: This short video highlights the challenges facing residents of a public-housing complex in East Chicago, Indiana, who are living on contaminated ground and facing displacement. (Leah Varjacques, The Atlantic)
---
Question of the Week
On July 4, 2008, former President George W. Bush presided over a naturalization ceremony at Thomas Jefferson's Monticello plantation in Virginia. Eight years later, former President Barack Obama gave a speech honoring military families after a performance by artists Kendrick Lamar and Janelle Monáe.
If you were president, how would you celebrate Independence Day?
Send your answers to hello@theatlantic.com and our favorites will be featured in Friday's Politics & Policy Daily.
-Written by Elaine Godfrey (@elainejgodfrey)
---
The newsletter dated June 23, 2017, incorrectly referred to Representative Steve Scalise as a senator. Our apologies for the error, and thanks to a reader for pointing it out.