The Supreme Court Tinkers at the Edges of the Machinery of Death
Opponents of the practice won a series of notable cases at the U.S. Supreme Court this term, even as total victory in their war against the death penalty moved further out of reach.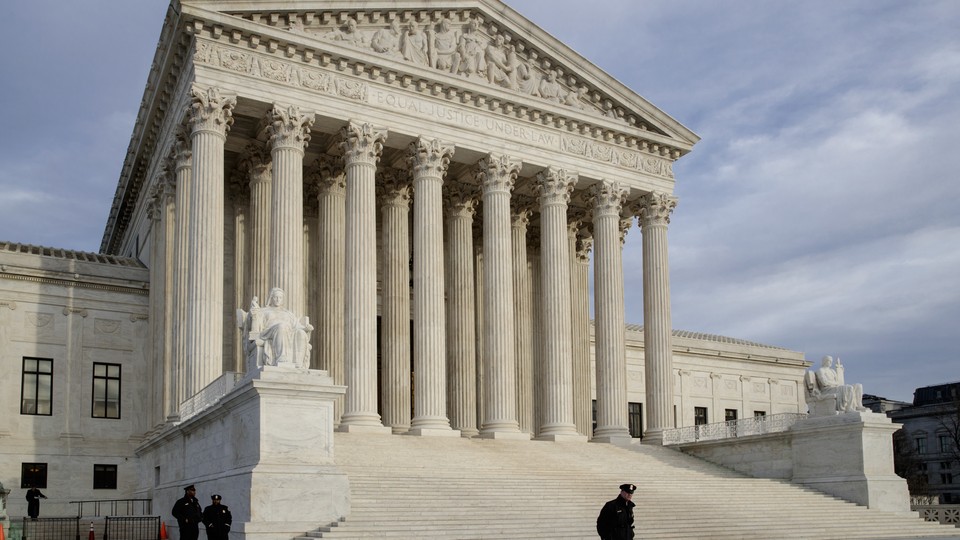 The U.S. Supreme Court's latest term, which ended this week as the justices began their summer recess, saw death-penalty opponents achieve some notable victories even as the Court moved further away from abolishing capital punishment.
In one of those wins Monday, the justices vacated an Alabama death-row inmate's sentence after ruling the state had not given him adequate professional assistance to evaluate his mental health during his trial more than three decades ago. The Court said the state's failure to provide James McWilliams with the experts required under one of its 1985 rulings made his sentence unconstitutional.
"Since Alabama's provision of mental-health assistance fell so dramatically short of what Ake [v. Oklahoma] requires," Justice Stephen Breyer wrote for the majority, "we must conclude that the Alabama court decision affirming McWilliams's conviction and sentence was 'contrary to, or involved an unreasonable application of, clearly established Federal law.'" He quoted from a federal statute governing certain appeals from state courts.
In Ake, the Court ruled that states must provide impoverished defendants with access to "sufficiently independent" mental-health experts for help during trials. Shortly after that ruling came down, McWilliams was charged with the rape and murder of a convenience-store clerk. The trial court appointed John Goff, a neuropsychologist who worked for the state's Department of Mental Health, to evaluate McWilliams as a neutral party. After he filed his report, the court denied the defense's request for an independent expert to help them understand the report and its implications.
The ruling fell along the traditional ideological divide, with Justice Anthony Kennedy joining the Court's liberal wing. Justice Samuel Alito, writing for himself and three conservative colleagues, sharply criticized the majority for disregarding the question the justices had been asked to resolve when they took the case. Instead of deciding whether Ake required a mental-health expert for the defense, and not simply a neutral one for both sides, the majority held that Alabama's assistance to McWilliams fell short of the Court's current standards for indigent defendants with signs of mental-health issues.
"Neither Dr. Goff nor any other expert helped the defense evaluate Goff's report or McWilliams' extensive medical records and translate these data into a legal strategy," Breyer wrote. "Neither Dr. Goff nor any other expert helped the defense prepare direct or cross-examination of any witnesses, or testified at the judicial sentencing hearing himself."
Monday's ruling was the third of four capital-punishment cases the Court heard this term. Their ruling on one final case could come as soon as Thursday morning. In February, the justices vacated the death sentence of Texas inmate Duane Buck in a long-running racial-bias case. At the center of the dispute was testimony from psychologist Walter Quijano, who was called to the stand by Buck's lawyer during the sentencing phase of his trial in 1995. Quijano told the jury about his statistical model for evaluating "future dangerousness," one of the thresholds Texas uses to determine whether a defendant receives life imprisonment without parole or a death sentence. One of the factors in Quijano's model was race.
"It's a sad commentary that minorities, Hispanics, and black people, are over-represented in the criminal-justice system," Quijano told jurors at one point. When Buck appealed his sentence, Texas countered that the statements were only a minor part of days of testimony. But Chief Justice John Roberts, writing for the Court in a 6-2 majority, said it was enough to toss out the sentence. "Some toxins are deadly in small doses," he wrote.
Kennedy and the Court's liberal justices also sided with the inmate in Moore v. Texas, an intellectual-disability case, in March. A Texas jury gave Bobby Moore a death sentence in 1980 for killing a convenience-store clerk during an armed robbery. After the Court banned the execution of people with intellectual disabilities in 2002's Atkins v. Virginia, Moore appealed his sentence on those grounds. A state court gathered a wealth of evidence from doctors and psychologists, concluding Moore should receive life imprisonment without parole and be retried.
But the Texas Court of Criminal Appeals rejected the lower court's decision and instead relied upon an outdated set of seven factors from one of its earlier cases to make its decision. The factors were not grounded in medical authority. Instead, they focused on the subjective perceptions of laypersons and family members to determine a defendant's mental disability. All eight justices agreed the factors were unacceptable for capital cases, but Roberts, Alito, and Clarence Thomas dissented from the means by which the majority reached its decision.
The Court has yet to hand down a ruling in its fourth death-penalty case, Davila v. Davis. At issue in that dispute is an arcane but important procedural question about when a death-row inmate can claim his or her lawyer was unconstitutionally ineffective during the appeals process. At oral arguments in April, the justices appeared to be leaning toward a ruling in favor of the Texas Department of Criminal Justice.
But this term the justices did not take up any cases on a question frequently pushed by one of their colleagues: whether the death penalty itself violates the Eighth Amendment's prohibition against cruel and unusual punishment. In 2015, Breyer dissented from a major case on botched lethal injections and said it was time for the Court to reconsider the constitutionality of capital punishment. His dissent, which was joined by Ruth Bader Ginsburg, reopened a battle over the death penalty that had once faded from the court.
Some observers—myself included—speculated at the time that Breyer's dissent signaled the justices could actually abolish the practice for a second and likely final time. (The Court struck down all death-penalty statutes nationwide in 1972, then approved a raft of revised state laws four years later.) Assuming all four justices on the Court's liberal wing would agree to strike down the death penalty, only the vote of Kennedy—an intermittent voice in reducing the punishment's scope—and the proper case would be needed.
After two years, the Court has yet to consider the question despite multiple petitions asking the justices to do so. Kennedy's opinions on capital punishment have not noticeably changed in tone or tenor since Breyer's dissent in the lethal-injection ruling. And Donald Trump's electoral victory in November increased the likelihood that Kennedy or one of the four liberals could be replaced by a conservative stalwart, which would likely foreclose abolition for a generation.
Breyer has still continued to urge his colleagues to take up the issue. When Arkansas attempted to execute eight inmates in 10 days in April, he sharply criticized the state for putting them to death only because its lethal-injection drug supply was about to expire. "In my view, that factor, when considered as a determining factor separating those who live from those who die, is close to random," he wrote when his colleagues denied a request from one of the inmates for a stay of execution.
A few days later, when the Court rejected the petition of an Arizona prisoner who had spent almost four decades in solitary confinement awaiting execution, Breyer said it underscored the need for the Court to revisit the death penalty. "What legitimate purpose does it serve to hold any human being in solitary confinement for 40 years awaiting execution?" he asked. "What does this case tell us about a capital-punishment system that, in my view, works in random, virtually arbitrary ways?" None of his colleagues joined either of his writings.