Senate Republicans Put Off Health-Care Vote
Majority Leader Mitch McConnell bowed to mounting opposition and abandoned a vote planned for this week on legislation to overhaul Obamacare.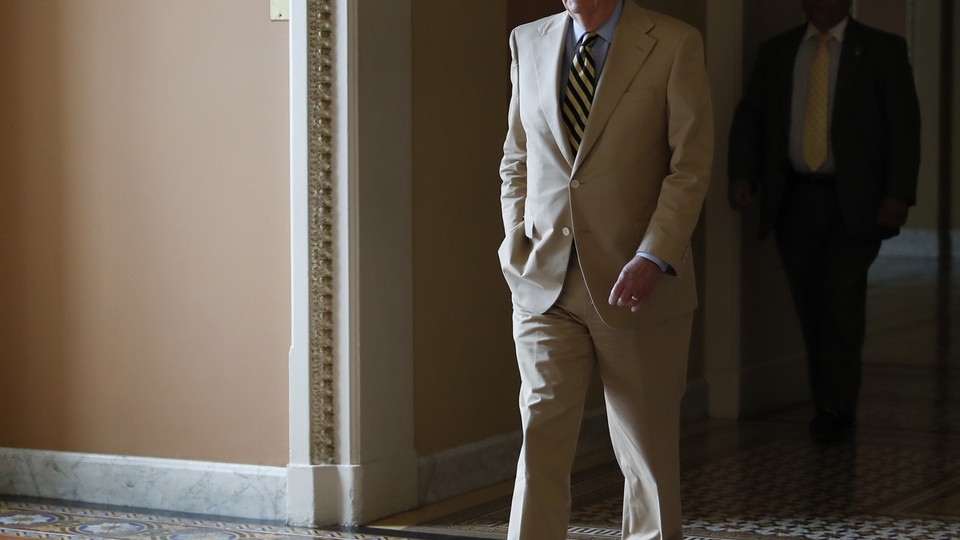 Updated on June 27 at 6:05 p.m. ET
Senate Republican leaders have abandoned plans to vote on legislation overhauling the Affordable Care Act this week, bowing to opposition within their own party and demands from several senators for more time to consider the bill.
Majority Leader Mitch McConnell told reporters after meeting with Republican senators on Tuesday that he would put off a vote until after a weeklong July 4 recess. The move is an abrupt retreat for McConnell, who had been pushing to pass the bill this week just days after releasing it to the public.
"We're going to continue the discussions within our conference on the differences that we have, that we're continuing to try to litigate," the majority leader said. "Consequently, we will not be on the bill this week, but we're still toward getting at least 50 people in a comfortable place."
GOP leaders had argued that more time would not help the public perception of the bill, which is broadly similar to legislation the House passed last month that polls show is deeply unpopular. McConnell also wants the party to be able to move on to tax reform, which it cannot do procedurally until it passes a health care bill or gives up on the issue.
Critics of the bill, who had feared a rushed push to enact it into law, will now have at least two more weeks to pressure senators in their home states and marshal even broader opposition. Yet it would be premature to consider the bill dead. House Republican leaders were also forced to put off a vote on their bill earlier this year only to work out a compromise that allowed it to pass weeks later.
With that recent history in mind, Democrats held off on declaring victory."It's not over until it's over, and it's not dead until it's dead," Senator Chris Van Hollen of Maryland said. "The fact that Senate Republicans have delayed the vote on their health care bill is welcome news, but it means we have to redouble our efforts to fight it over the July 4th holiday and beyond."
McConnell, too, insisted the legislation remained very much alive. Despite an aggressive push to pass the bill this week, he tried to downplay the delay. "We're still optimistic we're going to get there," he said. "Legislation of this complexity almost always takes longer than anyone else would hope."
With the bill in doubt, President Trump stepped in to try to play deal-maker. The president invited all 52 Republican senators to the White House for a meeting Tuesday afternoon after initially having little involvement in the Senate's deliberations. "We're getting very close," Trump said at the outset. He was flanked on either side by two of the Senate bill's biggest skeptics, Senators Susan Collins of Maine and Lisa Murkowski of Alaska. Collins announced her opposition on Monday and expressed doubts that the proposal could be tweaked to win her support, calling instead for Republicans to engage Democrats in bipartisan talks.Trump, who has mused repeatedly about allowing Obamacare to collapse on his own, framed the effort to pass the Senate bill in less than urgent terms. "This will be great if we get it done," he said. "And if we don't get it done, it's just going to be something that we're not going to like, and that's okay, and I understand that very well."
The engagement from the president comes amid tensions between Trump's allies and Senate leaders after a pro-Trump super PAC launched ads attacking Senator Dean Heller over his opposition to the bill. Heller is considered the GOP's most vulnerable senator up for reelection next year, and The New York Times reported Tuesday that McConnell told Reince Priebus, Trump's chief of staff, that the move was "beyond stupid."
McConnell made clear GOP leaders were not yet ready to turn to Democrats in hopes of a bipartisan agreement on fixes to Obamacare. "They're not interested in participating in this," he said. After meeting with Trump, however, McConnell acknowledged that if Republicans could not pass a bill on their own, they'd have to work with Democrats to stabilize the individual market. But Republicans, he said, were unlikely to win Democratic backing for the changes to Medicaid and the private market they've prioritized.
Democrats have told Republicans they would negotiate changes to the law if the GOP dropped its demand for repeal. And while the Senate falls short of a full repeal, Republicans have not relinquished the rhetoric they campaigned on for six years. "While the schedule may have slipped a little bit, we are intent on rescuing Americans from a failed system," Senator John Thune of South Dakota said.
The Senate legislation would repeal Obamacare's taxes and insurance mandates and phase out its Medicaid expansion, but it drew criticism from Republican senators on both ends of the ideological spectrum. Conservatives were miffed that it did not fully repeal the 2010 health law, while moderates opposed its deep cuts to Medicaid and blanched at a projection from the Congressional Budget Office that it would result in 22 million fewer people having insurance over a decade.
McConnell could afford to lose no more than two votes from the 52 Republicans, given blanket Democratic opposition. But at least five GOP senators—Susan Collins of Maine, Dean Heller of Nevada, Ron Johnson of Wisconsin, Mike Lee of Utah, and Rand Paul of Kentucky—said they would vote against even bringing the bill up for debate this week unless changes were made.
"I don't think we should be voting on it this week at all," Johnson said on NPR Thursday morning, reiterating a position he's held since the bill came out last week. "I think we need more time to gain feedback from our constituents, really review the bill."
There were indications on Tuesday that the opposition to the bill among Senate Republicans went well beyond those who had publicly voiced concerns. Shortly after McConnell scrapped the vote, Senator Jerry Moran of Kansas tweeted that he, too, was against the bill. "The Senate healthcare bill missed the mark for Kansans and therefore did not have my support," he wrote. "I am pleased with the decision to delay the vote – now is the time to take a step back and put the full legislative process to work." Moran is generally a reliable vote for leadership who headed the National Republican Senatorial Committee during the 2016 campaign.
Senators Rob Portman of Ohio and Shelley Moore Capito of West Virginai followed suit soon afterward. They had voiced concerns with the bill previously but did not formalize their opposition until McConnell delayed the vote. "As drafted, this bill will not ensure access to affordable health care in West Virginia, does not do enough to combat the opioid epidemic that is devastating my state, cuts traditional Medicaid too deeply, and harms rural health care providers," Capito said. "My concerns will need to be addressed going forward." Portman was facing mounting pressure from his state's Republican governor, John Kasich, who joined Democratic Governor John Hickenlooper of Colorado at a press conference Tuesday to denounce the Senate bill.
Conservatives like Johnson, Paul, and Senator Ted Cruz of Texas were pushing for amendments that would lower premiums and eliminate—or allow states to opt out of—Obamacare insurance regulations, including the provision prohibiting companies from charging higher rates to people with preexisting conditions. Portman and Capito, meanwhile, wanted tens of billions of dollars more to help states fight the opioid epidemic and changes that would soften the $770 billion in cuts to Medicaid.
Despite those demands, senators and aides said McConnell had yet to open the bill up to more negotiation. One senior GOP aide told me Thursday afternoon there had been "zero movement" since the bill was released and that party leaders appeared to be trying to squeeze GOP holdouts into falling in line. With McConnell's decision to delay the vote, it became clear that strategy had failed.